Deaf children are struggling in school as more than a third of councils across England are cutting their education support services, a charity has revealed.
The figures, obtained by the National Deaf Children's Society through Freedom of Information requests, show that deaf children will be losing £4million of support this year, with 45 councils cutting on average 10% from specialist services.
The latest Department for Education data shows that deaf children are falling behind their hearing classmates throughout their education, and at GCSE, two thirds fail to achieve a 'good' grade 5 in both English and Maths, a key government target.
Emma Bishop from the West Midlands is worried about her 11-year-old son's future, as over the last two years Thomas has had all of his specialist Teacher of the Deaf support cut by Walsall Council and they will be cutting deaf children services again this year.
"My son needs to get that extra support at school," she said. "Like the vast majority of parents of deaf children, we had no experience of deafness before Thomas was born, and as a family we rely so much on our support from the council. It's absolutely appalling that cuts like this can be made when they are a complete lifeline to deaf children like Thomas. All we want for him is to have a future like every other child."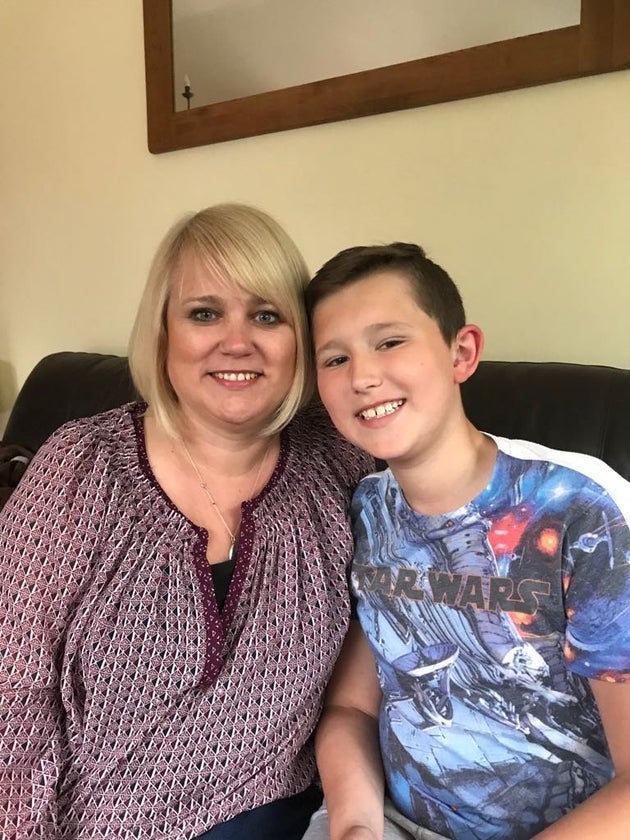 The National Deaf Children's Society warned that in the last four years alone, one in 10 specialist Teachers of the Deaf have been cut.
Sarah Waling from Blackpool is also concerned that her daughter Jessica is losing the support she relies on at school, as Blackpool Council have proposed big budget cuts to their department that supports deaf children – £86,000 this year.
"All children deserve access to education but Jessica has lost her support since she went to secondary school," said Sarah. "My daughter was doing brilliantly at primary school, achieving great grades, enjoying her time at school and was really happy. But since she arrived at secondary school that has all changed. We have lost specialist teaching assistants, and there's no specialist deaf support for Jessica so I am really worried.
"In some classes she's at the back where she can't even read the teachers lips, or hear what they're saying. Jessica is struggling without specialist support, and I'm really worried about what we will do next."
The charity is calling on the government to step in and tackle this "funding crisis" as they fear the support deaf children receive is now reaching "breaking point".
Susan Daniels, the charity's chief executive said: "By not acting, this government is putting the education of too many deaf children at risk, and letting their futures hang in the balance.
"Deaf children can achieve anything other children can, but to do this it is crucial they get the right support. Despite councils having a legal duty to support deaf children, we are seeing the vital support system that they rely on for their education torn apart. Deaf children are falling even further behind at school, and the government's response is nothing short of woeful complacency."
Local Councils Who Revealed They Are Cutting Their Budget For Deaf Children's Services

East of England

Bedford Borough (-14%), Essex (-5%), Norfolk (-3%), Peterborough (-13%).

East Midlands

Derbyshire (-4%), Leicester City (-16%), Nottinghamshire (-21%).

London

Barnet (-6%), Ealing (-1%), Tower Hamlets (-12%), Wandsworth (-1%).

North East

Durham (-9%), Gateshead, (-17%).

North West

Blackburn with Darwen (-31%), Blackpool (-36%), Bury (-2%), Cumbria (-17%), Halton (-14%), Liverpool (-8%), Sefton (-11%), St Helens (-2%), Stockport (-2%), Tameside (-1%), Wirral (-3%).

South East

Hampshire (-7%), Milton Keynes (-7%), Portsmouth (-4%), Southampton (-12%),

South West

Bath & North East Somerset (-19%), Bristol (-7%), Cornwall (-20%), Dorset (-2%), North Somerset (-18%), Plymouth (-7%), South Gloucestershire (-6%), Swindon (-11%).

West Midlands

Coventry (-3%), Telford and Wrekin (-5%), Walsall (-12%).

Yorkshire and the Humber

Bradford (-13%), Calderdale (-10%), Doncaster (-14%), Wakefield (-6%), York (-3%).
Jim Fitzpatrick MP, chair of the all party parliamentary group on deafness believes leadership is needed from the Department for Education to "solve this mounting crisis". "Today's figures should shame us all," he said. "The incredible potential of deaf children is being extinguished because the system that supports them is being completely undermined.
"If Theresa May genuinely wants to make good on her pledge to tackle the burning injustices in our society, then her government needs show more than warm words to the country's deaf children."
Speaking about why deaf children are losing so much support this year, Daniels commented: "No one is in any doubt that this is a complex problem. We have rising numbers of children with special educational needs like deafness, but funding is not keeping pace with increasing demand. Ministers can talk until they are blue in the face about their reforms and record investment in the system, but as this data shows, that is a complete fantasy for deaf children who are facing huge cuts to their educational support.
"The Department for Education like to say that children only get one shot at an education, but so far we haven't seen any action from them to make sure no deaf children end up being left behind."
Daniels said she would like to see the DfE ensuring central government funding keeps pace with increasing demand and considering ring fencing schools' funding. She would also like them to invest in Teachers of the Deaf and commit to regular long term inspections of special needs services.