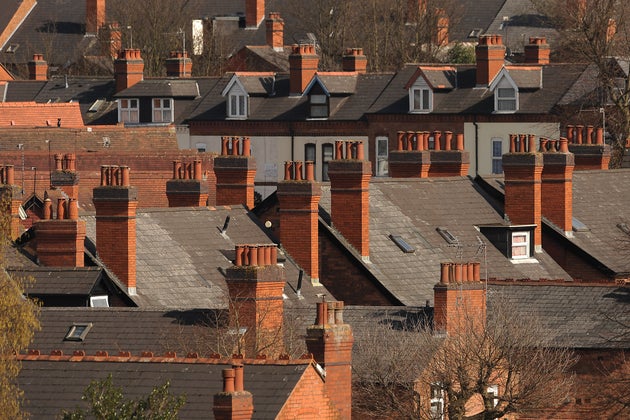 Almost 2,000 Birmingham households have been moved by the council up to 100 miles away in the last five years as a result of the chronic shortage of social housing, HuffPost UK can reveal.
Birmingham City Council says vulnerable families and individuals made homeless in the city are having to live in temporary accommodation – almost always in 'bed and breakfasts' – in cities as far away as Manchester, Nottingham and Leicester.
The data underlines how councils are struggling to cope with long waiting lists for social housing, and that the practice of placing people in temporary accommodation outside of their home area has now stretched beyond London.
The figures, released to HuffPost via a Freedom of Information request, also reveal the problem is getting worse.
In 2013-14, just 81 households were put up in temporary accommodation outside the Birmingham boundary. But the total has risen to 1,191 in 2017-18, an increase of more than 1,300%.
Campaigners warn the "devastating impact" of moving people away from home includes being far away from their wider family and the risk of having to quit jobs and schools.
The homelessness charity Shelter said the "shocking" figures showed the Government needed to get a grip of the "worsening crisis" by building more affordable homes and increasing housing benefit.
Birmingham City Council admitted the nationwide housing shortage is affecting "an unprecedented number of families and individuals across the region", and pointed to a series of its programmes that tackle the issue.
Birmingham MP Jess Phillips said the problem was so extreme in the city that a family-of-seven from her constituency was living in one room of a motorway service station.
Figures provided by Birmingham City Council to HuffPost showing the number of households housed in temporary accommodation outside the Birmingham boundary, and in which local authority.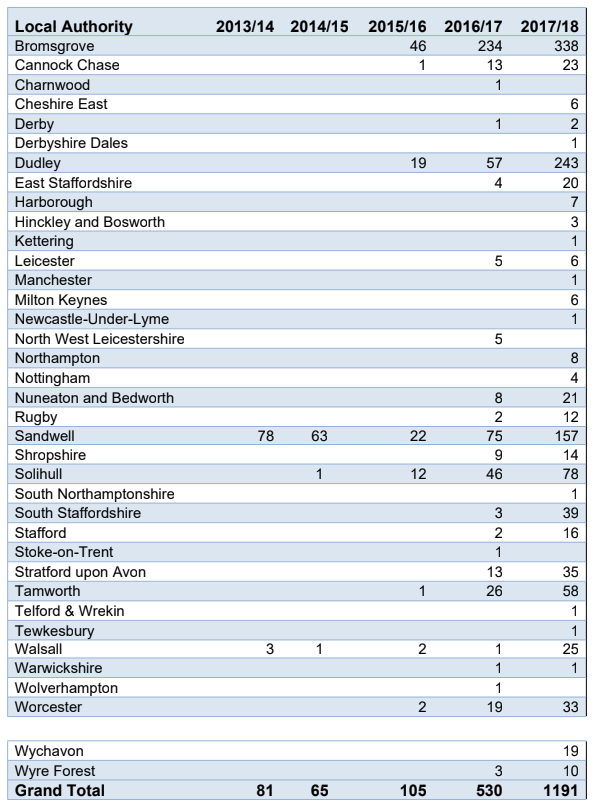 While Birmingham City Council has found temporary accommodation in neighbouring Bromsgrove, Dudley, Sandwell and Walsall, hundreds of people have been dispatched to regions well beyond the West Midlands.
The response also reveals how all but 77 of the 1,972 households housed outside Birmingham over the last five years were placed in B&Bs, rather than in the private rental sector.
Birmingham, in common with many areas, has more than 9,000 households trapped on the council's waiting list, which far outstrips the 3,000 properties the local authority has to rent.
Distance in miles from Birmingham:

Manchester: 113

Milton Keynes: 94

Kettering: 77

Nottingham: 72

Stoke-on-Trent: 57

Derby: 56

Leicester: 54
Two years ago, Shelter produced a report identifying how the number of homeless households being placed in temporary accommodation outside of their home area was increasing.
But it found the bulk of the placements came from councils in London, with little known about how widespread the pattern was outside the capital.
Responding to the Birmingham figures, Polly Neate, chief executive of Shelter, told HuffPost: "These shocking figures are another painful reminder of our worsening housing crisis.
"At Shelter we see first-hand the devastating impact on homeless families who've been forced to abandon jobs, schools, and vital support networks to move miles away.
"Hit by budget cuts and a chronic lack of affordable homes, overstretched councils are struggling to keep homeless families within their local communities. But despite this they must still consider every family's needs before they uproot people's entire lives and cause yet more trauma."
Jess Phillips, MP for Birmingham Yardley, said: "I've had families sent to Burton-on-Trent, we have families of seven living in one room in motorway service stations.
"The reality is we need more homes or to use the millions we spend on unsupported dirty accommodation to fund decent organisations and decent temporary accommodation."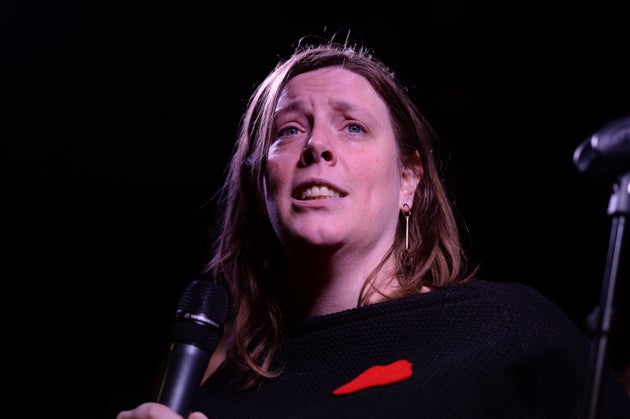 Government guidance states that local authorities are not prohibited from rehousing homeless families away from their home council area, but it adds that it is "neither acceptable nor fair for local authorities to place households many miles away from their previous home where it is avoidable".
Birmingham City Council says it carries out "prevention and relief work" for anyone threatened with homelessness within 56 days, and has established its own house building programme to build thousands of properties.
Robert James, director of housing at Birmingham City Council, said: "Working closely with its partner organisations, the council is fully committed to meeting the responsibilities it has to its citizens and is doing everything that it can to meet these obligations.
"However, Birmingham City Council currently has over 2,000 households in temporary accommodation, over 9,000 people on the housing register and just 3,000 properties to let.
"The housing crisis and access to council housing is a national issue and is affecting an unprecedented number of families and individuals across the region.
"While there is a shortage of social housing everywhere, the council fully intends to provide help and as much support wherever possible to people in Birmingham."
Do you have an experience relating to this story? Have we missed something out?

Use this form, email Graeme.Demianyk@huffpost.com or WhatsApp +44 78968 04043.