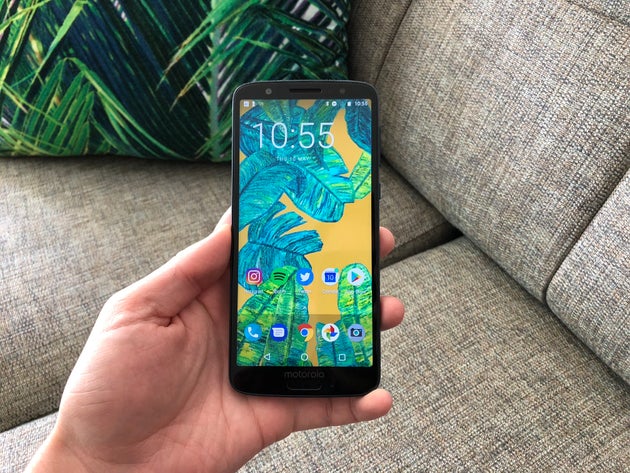 K E Y P O I N T S

The G series has always been focused on value for money while still providing the basic features that many of us expect in a modern smartphone.

This is arguably the most premium G phone Motorola have made with a glossy glass back, dual-cameras and a large display.

As such it's almost £100 more than the original Moto G costing £219 for the 3GB RAM and 32GB storage model.

However, for that price you get a large, bright display that's remarkably high-quality for its price and great for watching films on.

The phone massively punches above its weight in terms of design and build-quality. The metal and glass back feel expensive yet also durable.

To try and compete with phones 3x its value it has a dual-camera that allows it to take portrait pictures. It's not going to win any awards, but it's surprisingly good.
V E R D I C T

As a technology journalist the first Moto G has a special place in my heart.
While most technology companies were rinsing us with useless extras like '3D screens' or '4D vibration', the Moto G was a breath of fresh air. It cost £135, looked great, was practically indestructible and yet had the kind of specs that could happily compete with a phone twice its value.
Motorola has somewhat lost its way since then but in my short time using the Moto G6, this is the closest incarnation I've seen since that feels like a true underdog.
The G6 has an all-new design that makes it look considerably more than its £200 price-tag. There's a glossy glass back that I can resolutely confirm is as scratch-resistant as Motorola claims. What it's not is fingerprint-resistant, in fact by the end of my time with it the G6 was a smudgy mess. This is not a unique problem but it's something to keep in mind if you hate that type of design.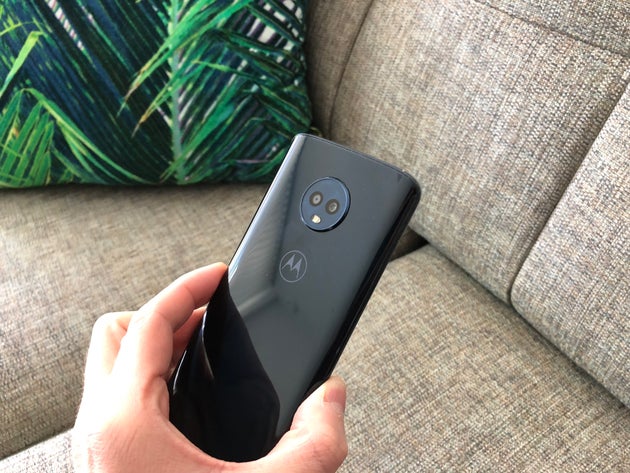 The edges are a glossy metal and all-in-all this feels like a really sturdy phone. One very important thing to note however is all that shiny stuff comes at the cost of durability. You could drop the original and sure the back would ping off but you could just push it back on and everything would be fine.
With this phone however I'm worried that if I did drop it I would be left with a rather unsightly scratch/dent and not the kind that would give it 'character'.
On the front there's a huge 5.7-inch Full-HD display that's crisp, responsive and bright. You're not going to get the kind of deep colours that you would find with an AMOLED screen but then that's why Samsung and Apple's phones cost over £800. However for £219, you still get a great screen with the same small bezels that we're seeing on more and more expensive smartphones.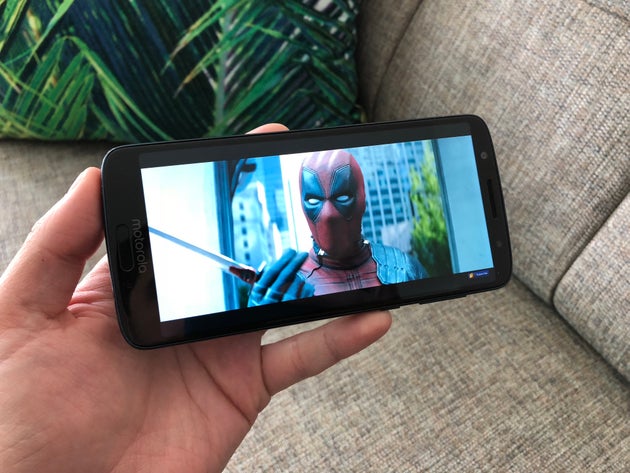 At the bottom there's a slim fingerprint reader that should in all honesty have been placed on the back. Because it's so slim you never really feel like you're getting good contact with it when you unlock the phone, it just doesn't feel intuitive.
One aspect of the Moto G6 that does feel intuitive is the software. This phone is running Android Oreo 8.0 and apart from some silly Windows apps that are pre-installed it's a great operating system. Android feels so much more clean and enjoyable to use in its purest form and where Motorola has added its own features it has done so sensibly.
The Moto app is the best example of this. It's a hub that helps you get more out of your phone by offering you suggestions based on how you use it. Running out of storage? The Moto app gives you a one touch button that'll clear up old pictures or apps you're not using.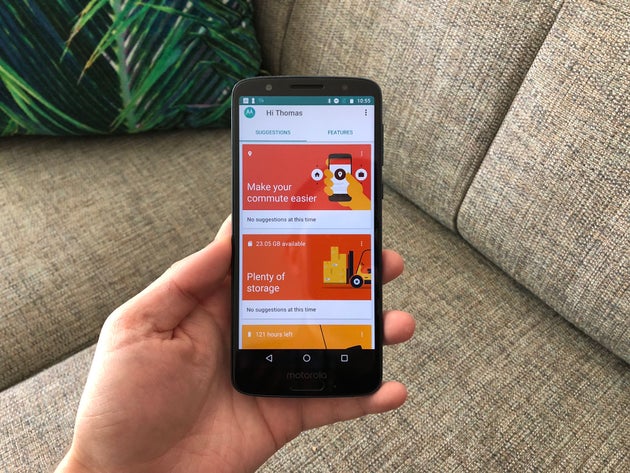 Other features inside the app include Moto Key, a password manager that lets you securely create and store all your passwords. It works on the phone but also as a desktop app. The sheer fact that Motorola are giving you a free password manager gets a big thumbs up from me.
The Moto G6 also goes above and beyond in the camera department. There's a dual camera system which boasts 12MP and 5MP resolutions respectively.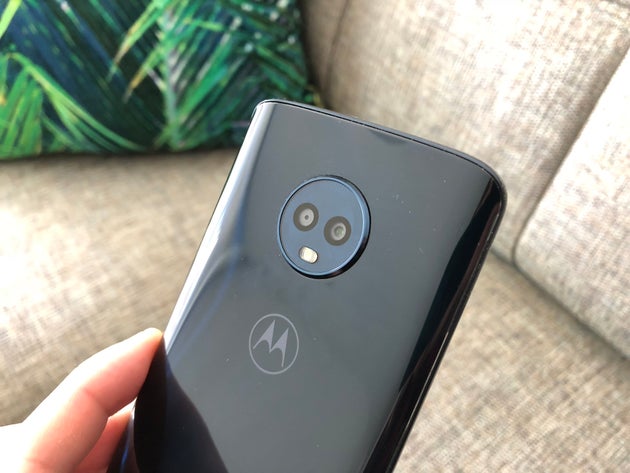 While that's not very high, it does allow Motorola to offer some features that, when combined with the phone's AI capabilities, wouldn't normally be available at this price. These include Portrait Mode, text scanner, landmark recognition, selectively removing colours, face filters and a very respectable manual mode.
How they perform varies wildly I'll be honest. Portrait mode is actually very decent but the resulting images are a bit low-resolution. Landmark recognition is laughably hit and miss and text scanner works fantastically but will only really be useful to a very small number of people.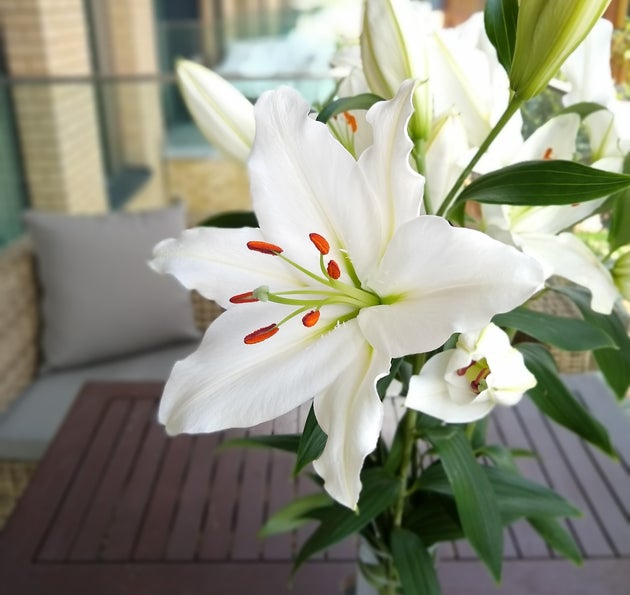 Above all though the biggest annoyance is just how slow the camera is to respond to your instructions. However, with some heavy tweaks and artful filters the Moto G6 can more than adequately provide you with Instagram-worthy pictures but if you were planning on printing them off and putting them up on your wall, I'd definitely recommend spending more money.
Battery life is really good, although honestly I would expect nothing less considering that has been one of the headline features of the G range. I easily got a day out of it and I suspect those who aren't as addicted to Netflix as me would get even longer.
S P E C I F I C A T I O N S

Display: 5.7-inch IPS LCD

Processor: Qualcomm 450 processor

Camera: Rear facing 12MP & 5MP cameras, front facing 8MP camera

Storage: 32GB

Connectivity: WiFi, Cellular, Bluetooth and NFC

Software: Android 8.0 Oreo

Price: £219 SIM-Free
T A K E H O M E M E S S A G E

The Moto G6 is fantastic value for money. It looks great, is incredibly fast and responsive, and above all boasts some features that you normally wouldn't find without spending upwards of £500.
The camera is sadly hit-and-miss but there's enough good here to outweigh the bad. Overall the G6 feels like it's worth a lot more than the £219 asking price and so if you're looking for a solid, reliable smartphone with a great screen the G6 is a great starting point.