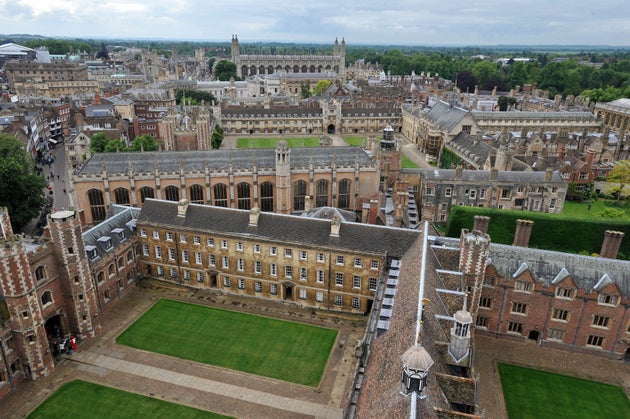 Cambridge University's student union has said it has received a groundswell of support for a campaign to overturn the "archaic" system the institution uses when dealing with sexual misconduct claims.
On Thursday morning more than 800 students signed an open letter addressed to university bosses claiming the current system "actively discourages" victims of sexual assault from coming forward.
The top tier university currently relies on the criminal standard of proof, beyond reasonable doubt, for disciplinary cases, but students say the University is not a criminal court and "should not behave as such".
The university confirmed it was "one of few universities" that have a criminal standard of proof.
Speaking after a day of huge media interest in the proposed changes, Daisy Eyre, the president of the Union, told HuffPost UK the university was "completely out of touch with the rest of the country".
She added: "Most professional bodies will use the balance of probabilities because they recognise they are not a criminal court and don't have the ability to behave as a criminal court. So its really out of step with the norm.
"I think overwhelmingly students are supportive, especially as it's clear that victims are really supportive of the change."
The letter states that by requiring cases to be proven 'beyond reasonable doubt,' the university "places undue burden on someone who has experienced a traumatic event, especially because we know that the police routinely fail to rigorously investigate cases of sexual violence."
The university has launched a consultation on possible changes to its disciplinary processes, which is expected to last eight weeks.
Eyre said she is hopeful that, after the consultation period, the university will change its practices. "There's a high chance that they are going to make a change on this issue," Eyre said. "Students are not going to let them continue to have this archaic system."
Earlier this year the University of Cambridge admitted it has a "significant problem involving sexual misconduct" as it was revealed the establishment received 173 anonymous complaints.
Sarah D'Ambrumenil, the university's head of student conduct, complaints and appeals, said: "The university is currently in a period of consultation about the disciplinary procedure – the discussion is an ideal opportunity for all members of the university to bring forward their views about the standard of proof.
"This will enable the review committee on discipline to reach the best decision for the university, which would ultimately be subject to further university consultation, but we cannot pre-judge what that decision will be."