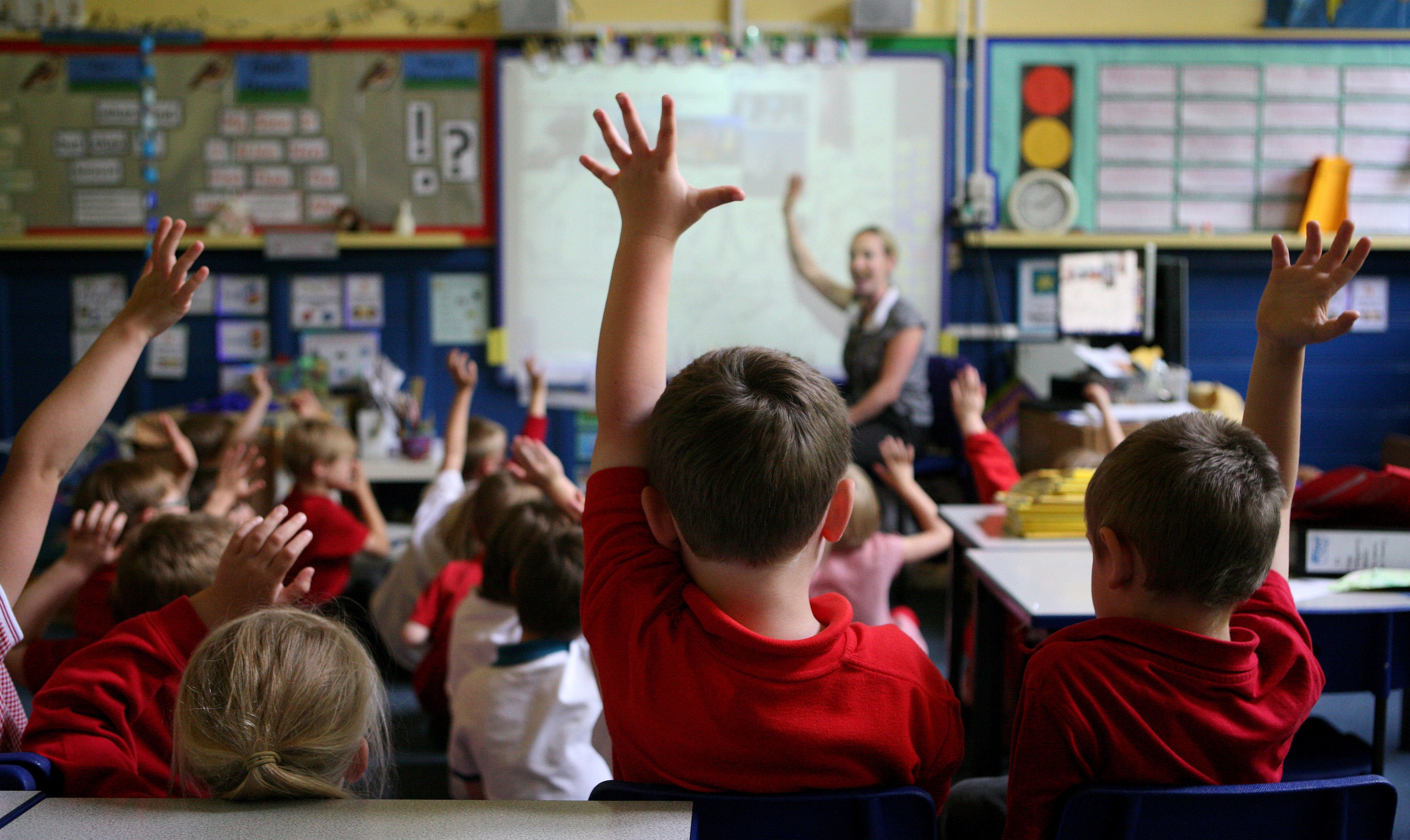 130 schools fail to show any improvement in a decade
Inspector concerned over rising exclusions and homeschooling
Report calls for new powers to tackle unregistered and illegal schools
Some ultra-conservative, illegal faith schools have been found teaching pupils that women must consent to sex with her husband, Ofsted has said.
HM Chief Inspector of Schools, Amanda Spielman, has sounded the alarm on a number of unregistered – and therefore illegal – "highly conservative" Christian, Jewish and Muslim faith schools in England.
Her team of investigators discovered the number of these illegal establishments was growing. Some were distributing "sexist and misogynistic" literature and spreading beliefs that directly clash with UK equality law.
Spielman told the BBC Radio 4 Today programme: "We have found some very worrying books and materials in these kinds of establishments; books encouraging misogyny and violence to women; teaching boys and girls that women must consent to sex with their husbands.
"We are very concerned about what is happening in these schools."
Spielman released her annual report on the state of education and children's services in England today.
She said in the report: "British society depends on some fundamental shared values as well as a culture of mutual tolerance and respect. But we have found an increasing number of conservative religious schools that are spreading beliefs that clash with British values and equalities law."
The report called for additional powers to tackle the growing menace of unregistered and illegal schools.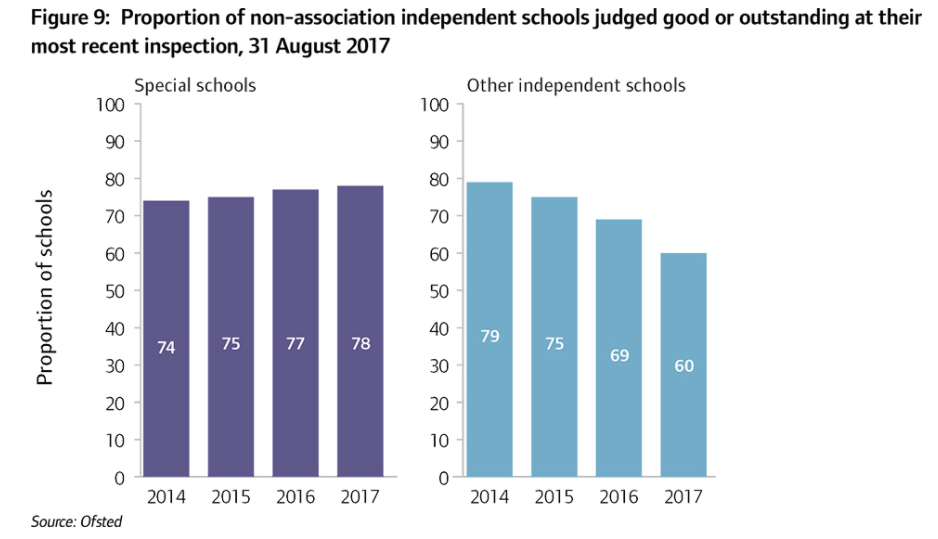 Overall, education and care provided to young people was "better than ever", with around 90% of primary schools and 79% of secondaries rated good or outstanding, the report said.
But more than 500 primary schools and around 200 secondaries have been judged as requiring improvement or being satisfactory at their last two inspections.
Spielman said the proportion of independent schools judged less than good increased this year from 31% to 40%.
It comes as scores of local authority schools switch to becoming an academy or free school.
"Ineffective safeguarding is of particular concern," the report said. "We have found safeguarding to be ineffective in 17% of independent schools inspected since September 2015."
Of the 124 independent schools judged inadequate for overall effectiveness since September 2015, 98 had ineffective safeguarding, the report said.
Among Spielman's other main concerns was the rising number of exclusions and homeschooling. She warned teachers against attempting to improve grades by pushing 'difficult' children into alternative provision or homeschooling.
Spielman told the BBC: "We need to make sure that no matter how difficult a child, we collectively take responsibility for educating all children because every child matters."
Research has shown there are five times more children being educated in schools for excluded pupils than official data suggests.
National figures from the Department for Education show that 6,685 pupils were permanently excluded from schools in England in 2015-16 – the majority in the run-up to their GCSEs – marking a 40% increase over the past three years.
The rate of exclusions for children with special educational needs was "particularly high" in some areas, Ofsted said, while children in care and those with mental health problems were also targeted with the practice, known as "off-rolling".
Spielman said: "Off-rolling is an invidious example of where schools have lost sight of the purpose of education.
"Dealing with students of different needs isn't always easy but in the end the job of educators is to do what's right by children. That does not mean passing the job to parents, without professional expertise, to home educate their children. Children with special educational needs are not a problem to be pushed out of sight and out of mind."
A hard core of 130 schools has failed to show any improvement over the course of a decade, the report finds, with unstable leadership, high staff turnover and difficulties recruiting at the heart of the problem.
Spielman also said funding for schools overall had to improve if standards were to get any better.
Of those inspected this year, around 80 primary and 50 secondary schools were found not to have been rated good or outstanding at any point since 2005.
She said, however, she had seen evidence of schools "competing" over the number of pupil premium children enrolled.
Disadvantaged pupils should not be used as an excuse for chronically under-achieving schools, she said, warning that although the under-performing schools had a high proportion of children from deprived backgrounds, they had received "considerable attention and investment".
Spielman said: "I do find myself frustrated with the culture of 'disadvantage one-upmanship' that has emerged in some places."
Shadow Education Secretary Angela Rayner, meanwhile, said early years is the key to boosting social mobility, as she claimed the failure to give teachers a pay rise was fuelling a recruitment crisis.
Rayner told the BBC: "The Government have missed their teacher recruitment target.
"One in three of our Sure Start centres have closed. Many teachers have lost up to £5,000 of their real-terms wage over this period.
"But it's not just about money … (it's) the workload, the pace of change, the difficulty with restrictions and being able to give every child those opportunities."
More than half of apprenticeship providers were judged as inadequate or requiring improvement.
In the 2016 to 2017 academic year, just 6% of apprenticeship providers were found to be outstanding, despite boosting apprenticeships being a flagship Conservative Party policy since 2010.
The quality of early years providers, meanwhile, has improved, with 94% judged to be good or outstanding compared with 74% in 2012.
Separately, while 86% of secure children's homes were judged good or outstanding, all of the secure training centres have been judged less than good.
Sir Kevan Collins, Chief Executive of the Education Endowment Foundation (EEF), said: "While it is good news that standards are improving on a national level, it just isn't acceptable that there are 130 English schools that have not been rated 'good' in the past decade. The Chief Inspector is right to highlight capacity in the system as a barrier for changing this and we must do more to support more effective collaboration between schools.
"Children and young people deserve to be well-served by the education system no matter where they live and no matter what their background. We know that there are many schools where poorer pupils perform just as well as their classmates so disadvantage should be no excuse for underperformance."
Kevin Courtney, Joint General Secretary of the National Education Union, said: "The Ofsted report by Amanda Spielman is one of the most balanced Ofsted reports we have seen.
"The Chief Inspector acknowledges the reality that schools in challenging circumstances have 'unstable leadership teams, teacher turnover and difficulties recruiting'."