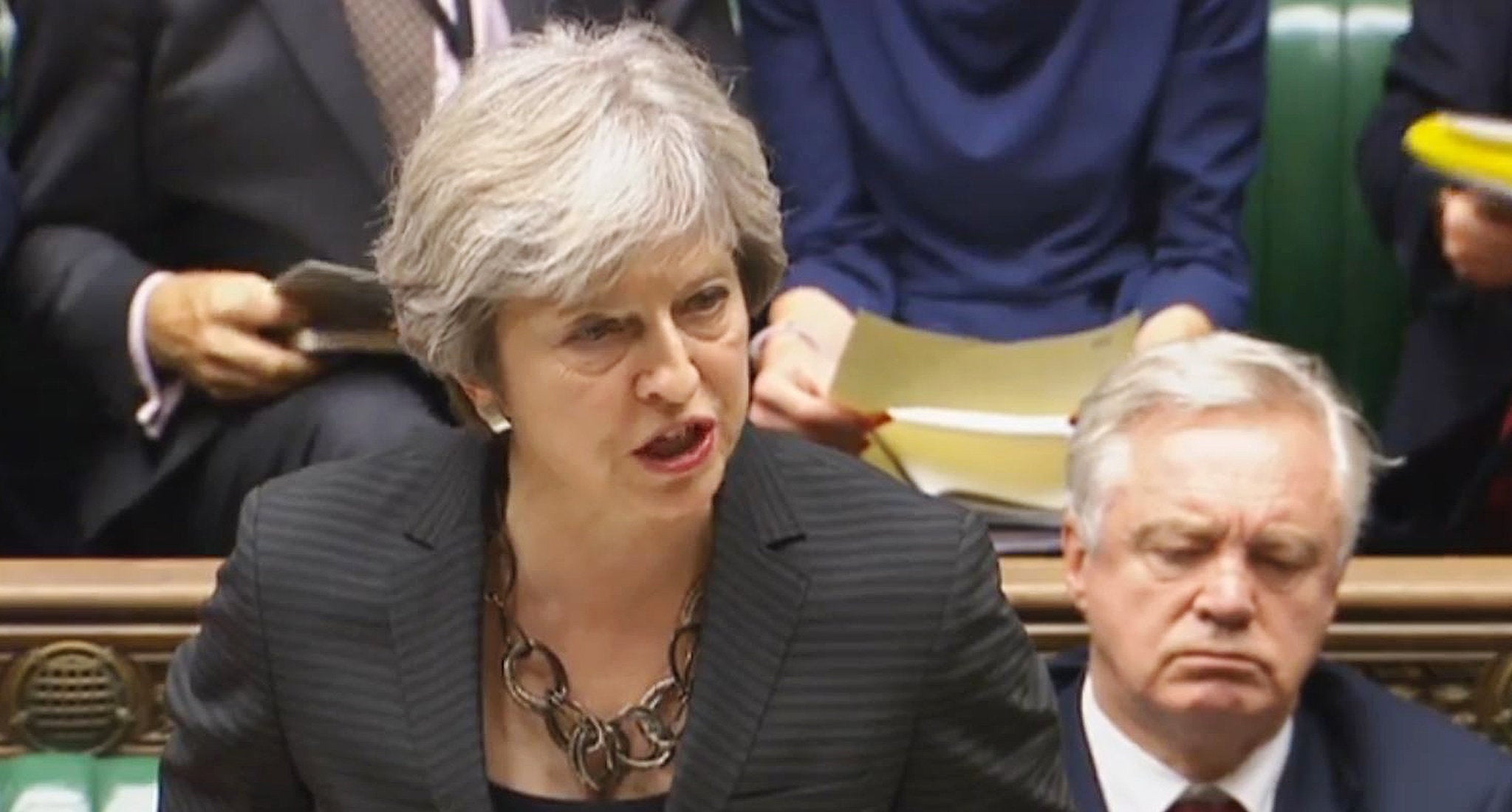 This morning's Waugh Zone is written by Ned Simons. Paul is away.
1. NOTHING IS TRUE IN ALL OF THIS
Sitting round a table eyeing each other with mutual distrust, they all gingerly raise their hands, not wanting to be first or last, hoping to bind each other to a united approach to the country's transition from one era to the next. That's a scene from Armando Iannucci's 'The Death of Stalin' which I saw last night and was pretty good. In other news. The Cabinet meets today.
This morning's Brexit excitement in some papers is Theresa May's indication that she will not agree the details of a transitional arrangement with the EU until the final trade deal is clear. It is something David Davis has implied before. And to set up a transition, presumably you have to know what you are transitioning to.
But with the shape of the future UK-EU relationship unlikely to be agreed until next summer, a row has naturally ensued. Businesses need to know sooner than six months before the UK leaves the EU in March 2019 what sort of Brexit they are stepping into, the PMs critics argue.
It is precisely that which caused Philip Hammond to urge the "need for speed" in moving beyond the haggling over the divorce bill. He told the Treasury committee just last week a transition arrangement was "a wasting asset" which needed to be agreed soon. "It has a value today," he said. "It will still have a very high value at Christmas and early in the New Year. But as we move through 2018, its value to everybody will diminish significantly."
Michel Barnier, the EU chief Brexit negotiator, said on Monday the UK can expect a future trade deal that is similar "the agreement signed with Canada" than anything closer to the current situation. He has also revealed he plans to step down in March 2019 – and will not be in place during any transition period.
Speaking to MEPs in the European Parliament this morning, Donald Tusk, the president of the European Council, said "no one can divide the 27 in these negotiations" and warned "if we fail it, the negotiations will end with our defeat, we must keep our unity regardless". He added: 'It is in fact up to London how this will end, with a good deal, no deal or no Brexit.'
Tory MP Charlie Elphicke helpfully has an adjournment debate in the Commons later today on "preparedness to leave the EU with no agreement". And some backbench Tories are growing increasingly bullish about leaving without a deal. John Redwood told May yesterday to "prepare for a smooth transition to World Trade Organisation terms". Owen Paterson argued the EU "would lose far more if we moved to WTO than we would".
Down the more Remainy side of the Tory benches, Anna Soubry told May she should move to "rule out no deal". While Ken Clarke urged the PM to appoint a "trusted minister" to liaise with Labour to help present a stronger negotiating position to Brussels. That, the prime minister observed sounded "rather like a job application". She carefully avoided any mention of the leaks to Frankfurter Allgemeine Sonntagszeitung (FAZ) that suggested she had "begged" Jean-Claude Juncker during a private dinner for him to help with Brexit.
Expertly doorstepped by the BBC's Adam Flemming coming up some stairs, the EU Commission President rejected the FAZ report. "Nothing is true in all of this," he said. The prime minister, he added, was "in good shape, she was not tired". Angela Merkel, The Times reports today, is "furious" at the leaks against May. Which may or may not be why everyone is denying it was them what did it.
Ministers will be forced to defend Universal Credit today after John Bercow agreed to Labour's request for an emergency Commons debate. It will last for three hours.
It comes after the government irritated the Speaker by ordering Tory MPs to abstain on an Opposition Day motion on pausing the roll out of the benefit shakeup. As a result Labour won the vote 299 votes to zero.
Applying for the debate yesterday, Debbie Abrahams, the shadow work and pensions secretary, said the defeat was as "serious rebuke" to the government and it had a duty to respond. Some Conservatives were equally annoyed at the government's decision to ignore parliamentary convention. Edward Leigh warned it would lead to "tyranny".
The government is under sustained pressure to cut the amount of time Universal Credit claimants have to wait to receive the new benefit from six to four weeks. Ministers argue the point of paying the benefit in arrears is so it more accurately mirrors the world of work.
But Iain Duncan Smith, the architect of Universal Credit, has distanced himself from that specific part of the policy. "The idea of the extra days was not something which I or my colleagues came up with," he told ITV. "It was a Treasury matter at the time and I think it's certainly worth them reviewing that to see whether or not they can get rid of the waiting days – they're not wholly necessary."
Also today, an army of parents, teachers and school workers will descend on Westminster today to demand the Government spends more money on children's education.
Labour MP Jared O'Mara quit parliament's equalities committee last night a series of sexist and homophobic comments he made online over a decade ago were revealed.
The Sheffield Hallam MP, who ousted Nick Clegg at the snap election, made rape jokes, asked Girls Aloud for an orgy and branded British women "fatties" in online comments reported by the Guido Fawkes website. A second story suggested he had called gay people "fudge packers" who "drive up the Marmite motorway". The comments were made when O'Mara, 36, was in his early twenties.
Appearing before his fellow MPs at the PLP meeting last night, O'Mara apologised. A senior Labour source told Sky News that O'Mara's speech was "a very brave thing to do" and "a few MPs praised his courage after he spoke".
Labour MP Wes Streeting said after the meeting that O'Mara had explained the "journey" he had been on. "The battle for equality is increasingly a battle for hearts and minds and that must surely mean that people are allowed to change their views and offered a second chance. I hope I don't end up eating my words and that Jared demonstrates his commitment to equality through his actions as a new MP. I think we owe him that chance," Streeting added.
Angela Rayner, the shadow education secretary, told BBC Radio 4′s Today programme this morning she was happy to sit alongside O'Mara on the Labour benches. "He changed his views," she said. "That's the important thing. He recongised those views were absolutely abhorrent and wrong."
Others were less convinced. "Sheffield Hallam deserves a by election," Tory MP Sarah Wollaston said. Before his resignation from the committee, Lib Dem peer and former leader of Sheffield Council Lord Scriven said: "It seems like a nasty pattern of sexist language and misogyny is developing from the Labour MP for Sheffield Hallam."
There would never be a good time for Labour for such comments be exposed. But now seems as bad as any given women MPs are speaking out about the sexist abuse and sexual harassment they have had to endure.
Eddie Izzard tells the The Guardian today he intends to stand once again for Labour's ruling NEC to increase representation of LGBT, disabled and minority ethnic members. Here's a video of HuffPost UK asking Izzard at Labour's conference last month if Corbyn would win the next election.
BECAUSE YOU'VE READ THIS FAR…
Here is Baroness Trumpington speaking to Newsnight about retiring from the House of Lords…
The Daily Mirror reports this morning that 17 House of Lords peers claimed more than £400,000 in expenses despite failing to speak or submit questions. Last month it was revealed that 115 peers failed to speak in the chamber at all in 2016/17 – but still claimed almost £1.3m.
At the time, a spokesperson for the Lords said the reports were unfair it did not recognize the other work done by peers, including "asking the Government written questions and serving on Select Committees". But today's research says 73 of those 115 did neither.
Electoral Reform Society chief executive Darren Hughes said today the revelation "leaves a nasty taste when a significant chunk of those are claiming more than the average worker takes home in a year".
5. TRUMP IS ARGUING WITH A WIDOW
Over in the US, Donald Trump is still having a public row with the widow of an American soldier killed in Niger. "He couldn't remember my husband's name," Myeshia Johnson told ABC's Good Morning America referring to the presidential condolence call that ignited a weeklong controversy. "I heard him stumbling on trying to remember my husband's name."
Trump then tweeted: "I had a very respectful conversation with the widow of Sgt. La David Johnson, and spoke his name from beginning, without hesitation!"
On Sky News last night, Kay Burley refused to let retired US four-star general General Jack Keane dodge her questions about the President's call. It is worth a watch.
The family of a US Army corporal killed in Afghanistan has finally received a cheque from Trump months after the president promised to give the soldier's grieving father $25,000 in a phone call.