Every day it seems I read an article about the march of robots into our jobs and our lives. They can drive cars, milk cows and make burgers, apparently. And often, enthusiasts claim, they will do these jobs better than us flawed human beings. Logically then, let's turn to robots to solve our most intractable problems. Human beings seem unable to kick the habit of fighting and killing one another. Enter the peacebot.
In our increasingly uncertain world, more than one in five people's lives are affected by the rising conflicts, over 40 wars are being fought and we face the greatest humanitarian crisis of our time. Those who believe in division and foster hatred have grabbed the microphone and are dominating the airwaves. It is time that all those who work quietly for peace raise their voices more loudly too if we are to be heard over the cacophony of hatred. So to celebrate UN International Day of Peace on 21 September, at International Alert we will be creating and letting loose a flock of peacebots who have been programmed to tweet away their messages of compassion supporting #peaceday.
It's a fun action, and one that reminds us how our everyday actions can contribute to peace. As Martin Luther King said: 'We can very well set a mood for peace out of which a system for peace can be built'.
Both the mood and the system for peace are badly needed urgently, with recent figures showing the amounts invested in proactive measures to prevent violent conflict, to bring people together and to rebuild after war are absolutely dwarfed by the towering expenditure on the military. The Global Peace Index estimates total expenditure on peacebuilding at around $10billion in 2016, just over half a percent of the $1.72trillion global military expenditure. It would be a joke except it isn't very funny.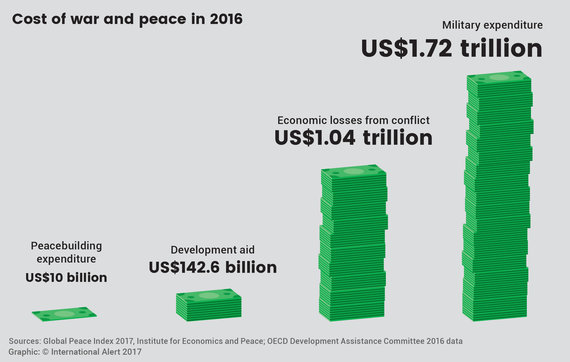 That is why we are calling on global leaders to at least double the current amount spent on building peace. We know that money will be well-invested. In a report published on International Peace Day, we have surveyed the literature and case-studies to see if there is evidence that peacebuilding does work. And the evidence is there.
Of course, peacebuilding is no recipe for immediate success. There are countless examples of when governments and communities turn their backs on dialogue, preferring die-hard habits, to pick up their trusty AK47s or to send in the troops. That is why some conflicts such as in the Philippines, have dragged on for over half a century.
But there is also extensive research and a myriad of evidence-based examples showing how peacebuilding has tangibly contributed to reducing violence and helping communities and nations rebuild and reconcile once the guns have fallen silent. From training provided to Muslim and Christian community leaders in the Central African Republic, improved political collaboration across sectarian lines in Lebanon, through to mediating land conflicts in the Philippines and community-friendly policing in Afghanistan, examples abound of initiatives that have demonstrably contributed to reconciliation or resilience. At a macro level, our report shows how a range of initiatives contributed to a critical mass of energy for peace in Northern Ireland, Nepal and South Africa.
Obviously that is good news for people. But it also makes hard economic sense. According to the Institute for Economics and Peace, every $1 invested in peacebuilding, reduces the costs of conflict by $16. Clearly, conflict costs, and peace pays.
At the UN and many member states, the rhetoric on peacebuilding is good, sometimes very good. But it just isn't yet backed-up by the hard cash and serious policy follow-through that would deliver results. New polling by Conciliation Resources and the Alliance for Peacebuilding shows that this would be popular. In the UK over seven out of ten respondents believe that peacebuilding plays a vital role in ending violent conflicts, and six out of ten state that the UK should be investing more in peacebuilding. The responses were even higher in Germany. And in the US, 74% agreed that peacebuilding plays a vital role in ending conflicts and supported greater investment in it – a significant finding in light of threatened cuts to peacebuilding budgets.
So we will be knocking on the doors of governments around the world, showing the evidence that peacebuilding works, is popular and even cost-effective. And meanwhile, we will also be getting on supporting all those communities who undertake every day peace actions: from the brave people gathering in the park in Yangoon to call for peace in Myanmar, to the refugee teachers giving traumatised children a chance to play again. These everyday actions deserve our support. Now more than ever. Let's hope the peace bots do a great job at creating that mood for peace and that our humanity catches up.
Our new report "Redressing the Balance: why we need more peacebuilding in an increasingly uncertain world" is available to download here.
International Alert organises the Talking Peace Festival, a global arts and cultural platform designed to engage people in issues of peace and conflict around the world. Now in its fourth year, the festival celebrates the International Day of Peace and takes places from 21-24 September.
— This feed and its contents are the property of The Huffington Post UK, and use is subject to our terms. It may be used for personal consumption, but may not be distributed on a website.