We are delighted and extremely proud to have been awarded a contract to build the world's biggest offshore wind farm – Hornsea Project Two. It's a breakthrough moment for offshore wind in the UK and for us at DONG Energy.

author's own
The 1,386MW Hornsea Project Two offshore wind farm will bring online enough clean energy to power almost 1.5million UK homes, but this project, and all the other CfD winners, are about so much more than just energy.
Our world-beating project will support more than 2,000 jobs throughout its construction and up to a further 130 permanent jobs during its long-term operation, as well as supporting opportunities for education and skills training. It will help strengthen an already growing industry supply chain – creating opportunities for local contractors and service providers, as well as manufacturers across the UK.
What makes this even more of a breakthrough is the fact that all this is being done at the lowest-ever electricity price ever for offshore wind in the UK – with a strike price of just £57.50/MWh.
This is an incredible achievement not just for us as a company but for the industry as a whole. It clearly demonstrates the rapid reduction in costs and reinforces the enormous potential of offshore wind.
Putting this progression into context, just five years ago, the UK government set the industry a challenge to bring the cost of offshore wind down from £142/MWh to £100/MWh by 2020. For many, this target was viewed as a real challenge for a technology that was in its infancy. However, the industry has responded with gusto – smashing the target three years ahead of schedule.
Rapid technology advancement, increased wind farm scale, greater efficiencies across project builds and a solid supply chain have all been key factors in the success story to date. We cannot, of course, overlook the role of successive governments too in providing the certainty needed for continued investment in offshore wind, enabling it to become the thriving industry it is today.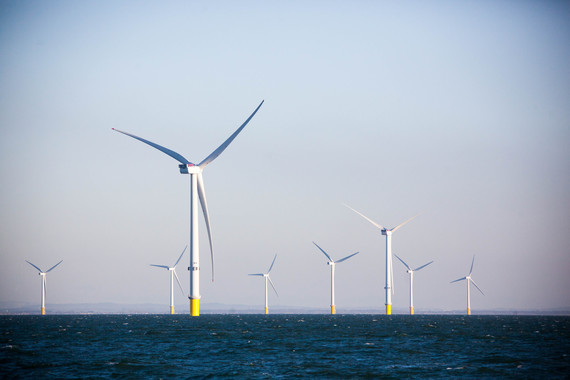 author's own
So, the industry has reached another key milestone in its maturity, but what does the future hold for its coming-of-age?
Well, for DONG Energy, our long-term ambition is to reach a total global offshore wind capacity of 11-12GW by 2025. In the UK, construction is well underway for Hornsea Project One, Walney Extension and Race Bank. We will now move forward with Hornsea Project Two and consultations have also started for Hornsea Project Three.
With this in mind, DONG Energy continues to invest in the long-term future of offshore wind. Our recent partnership with leading academic research centres at Durham, Sheffield and Hull Universities alongside Siemens Gamesa will see even more investment aimed at addressing current and future industry challenges. I firmly believe that a strong collaboration between industry, academia and Government will be key to maintaining the UK's position as the global leader in this sector.
Offshore wind has already come such a long way and I now truly believe it can become the backbone of the UK's energy transformation. We're seeing the benefits of commitment to this technology and what's so exciting is that there's still a lot more to come.
— This feed and its contents are the property of The Huffington Post UK, and use is subject to our terms. It may be used for personal consumption, but may not be distributed on a website.