Today, we announce the national winners of the James Dyson Award – a global, international student design competition. The UK winner is Petit Pli.
Designed by Royal College of Art graduate Ryan Mario Yasin, Petit Pli employs the Negative Poisson's ratio to allow garments to expand in both directions – enabling them to continuously fit children as they grow. A neat solution to the problem of quickly outgrown clothing, so familiar – and frustrating – to parents.
Prior to his time at the Royal College of Art, Ryan studied aeronautical engineering at Imperial College London. His thesis looked into deployable structures for satellites, and focused on how to fold structures into as small a space as possible.
In preparation for today's announcement I spent a day with Ryan, getting to know him and learning more about the ins and outs of his design. Over lunch, I asked him whether – given that Petit Pli is in many ways a foray into the world of fashion – he still thought of himself as an engineer.
"Of course!" he exclaimed "I'm very proud to be an engineer – there's engineering in every aspect of this project. I feel like too often engineers can be looked on as introverts or socially awkward, and that engineering itself is seen as boring. It's undervalued, but it shouldn't be. Something I hope this project does is help people understand that engineering is actually really cool and interesting."
Having spent the past three years working for Sir James Dyson's charity, the James Dyson Foundation, set up to inspire the next generation of engineers, this was music to my ears.
There is a huge shortage of engineers in the UK, but despite the stimulating work and excellent pay, it's a gap we can't seem to fill. In many ways, Ryan cut straight to the nub of the issue: for some inexplicable reason, engineering just isn't sexy.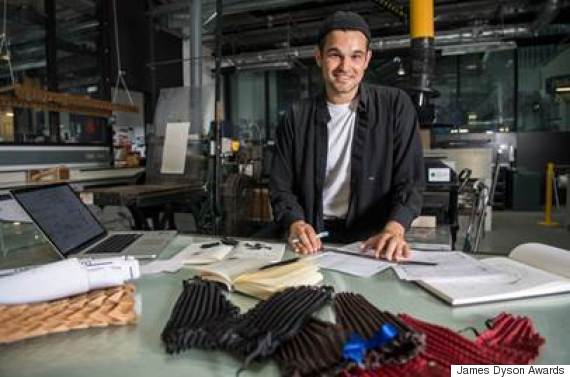 Research shows that boys and girls alike associate engineering with fixing, mending and maintenance – and think it is messy and dirty. There's an exercise we conduct in the James Dyson Foundation in which we ask school children to draw what an engineer looks like. The pictures we get back are more than a little demoralising; so often a figure with a dirty face, spanner in hand, fixing a domestic appliance.
Clearly, there is a significant disconnect between what the word engineering conjures up for young people and reality: the incredible spectrum of high tech, exciting, creative jobs working on everything from stem cell research to smartphones to special effects. So what's to be done?
If we're going to change perceptions we have to start early, by talking about engineering in the context of invention, and offering opportunities to get an insight into what careers in the field actually look like. To this end, the James Dyson Foundation offers free educational resources to schools. Among them the Engineering Box – an opportunity for students to take apart a Dyson vacuum cleaner and think about how it works. And we carry out invention workshops in schools, challenging students to work in groups to come up with problem-solving ideas, and prototype them.
But it's not all about new initiatives. It's also about embracing the existing potential of the school curriculum: Design and Technology (D&T) has a fundamentally important role to play. Too often dismissed as a practical, easy-option for the non-academic, D&T is the only school subject that offers students a window into the world of engineering. No longer the realm of bird boxes and clocks, modern D&T is all about inventive solutions to real-world scenarios, prototyping and iteration, and the integration of software and hardware. It's engineering in the classroom. Schools need to champion D&T – and government needs to back them. Granting the subject EBacc status as a science subject, protecting it from the swathe of funding and time-table cuts beleaguering so-called 'creative' subjects, would be a good start.
Educational reform is one side of the coin. Industry support is the other. There are many ways in which employers can collaborate with educators to celebrate engineering. They can work with schools to set real-life engineering briefs for children to work on. They can help teachers and careers advisors to understand the opportunities available and the skills required. They can open their doors to young people, for them to see what engineering environments actually look like.
And they can release their Ryans, full of passion and excitement and love for engineering, into the classroom – to take centre stage and explain why engineering is brilliant.
— This feed and its contents are the property of The Huffington Post UK, and use is subject to our terms. It may be used for personal consumption, but may not be distributed on a website.