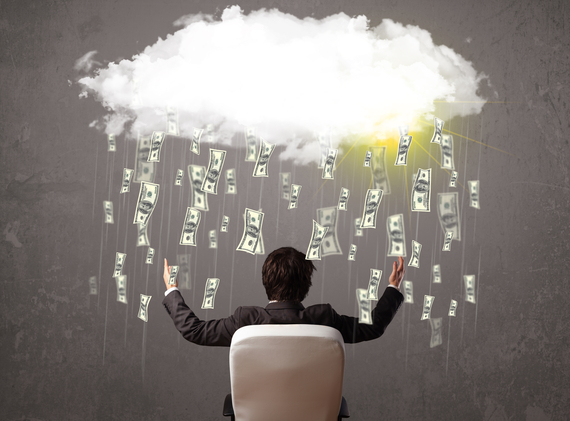 https://www.shutterstock.com/image-photo/business-man-suit-looking-cloud-falling-183139214?src=download_history
Cloud computing – where IT resources and services are delivered remotely rather than on local platforms – is one of tech's biggest trends.
The concept has been around for many years, but it's in the last decade or so that it has really gained a strong foothold. In one way or another, if we are users of the Internet, smart phones or indeed, just about any connected device, we are users of the cloud.
From simple consumer-focused data storage services at one extreme, to global businesses moving their entire IT infrastructure to the cloud at the other, there's huge financial momentum behind it.
But when we talk about big tech trends, how big is big?
Analyst house IDC predicted that the public cloud market will grow from $95bn last year to $195bn by 2020. These are huge numbers, but to give those billions some context, Apple, the most profitable company in the world, brought in revenues of $233bn, according to Forbes 2016 rankings. Microsoft, a massive worldwide success story and employer of 94,000 people, generated a 'mere' $85.3bn in the same year, a figure just ahead of the entire revenue of the worldwide information security market.
Or look at it this way – the GDP of Portugal (population: 10.4m) is around $200bn.
So yes, it's a lot. But it's actually just the start.
According to analysts, Bain, cloud computing actually makes up a relatively minor segment of the IT industry – just 16% of the $1.1 trillion enterprise technology market as a whole.
So where are we heading? The cloud market is increasingly competitive and nuanced. Services aimed at businesses and consumers alike, such as cloud storage, are growing enormously. Whole industry sectors, from the Cloud Service Providers (CSPs) who offer various elements of cloud-powered IT infrastructure, to the Managed Service Providers (MSPs) who make sure cloud can be used successfully, employ a new generation of 'cloud people', experts and innovators. They represent just a few layers of the cloud industry 'onion'.
Cloud will play a major role in enabling and supporting the nascent Internet of Things (IoT) industry, which is expected to sky rocket in value in the years ahead. From quirky, and some might argue unlikely, devices such as IoT hairbrushes, umbrellas and bins to the emerging connected cities where infrastructure, buildings, businesses, vehicles and people become 24/7 data generators, cloud services and storage will be a huge part of that future.
This exponential hyper growth in data is consuming vast amounts of storage space – IDC estimates that a mind boggling 1.8 zettabytes of digital data will exist by 2020 (to give it some context, a zettabyte is 2 to the 70th power bytes, or around a billion terabytes). And, while cloud is just one of the storage options open to organisations, the general trend for everyone is massive, sustained demand.
This IoT gold rush will take an industry that didn't exist 20 years ago, to one that will overtake many established markets in the years ahead. According to McKinsey, it's an industry where – for once – "hype may actually understate the full potential". They believe it could generate up to $11.1 trillion a year in economic value by 2025.
For those of us involved in tech, cloud certainly seems to command perhaps more than its fair share of headlines and discussion. But unlike the costly false dawns of tech trends such as the dotcom bubble of the late 90s, it's a movement founded much less on
— This feed and its contents are the property of The Huffington Post UK, and use is subject to our terms. It may be used for personal consumption, but may not be distributed on a website.