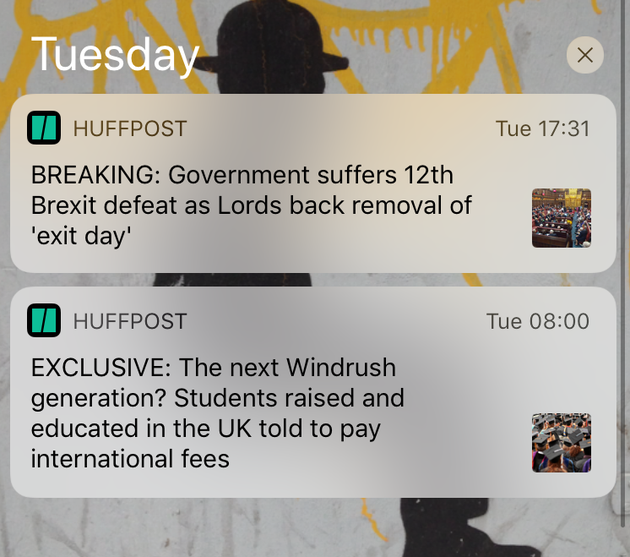 With everyone from social media firms to TV broadcasters in on the push notification game these days, it can mean a lot of buzzes, beeps, or those little red dots on your smartphone.
Throw in your emails, Whatsapp messages and Insta updates, and it can all get a little overwhelming.
Which is why we're trialling a strategy at HuffPost UK to clearly label each alert with a kicker so you can immediately see why we're updating you.
We'll introduce each alert with one of the following:
BREAKING: Bringing you developing stories of significant scale.
UPDATE: For rolling breaking news when a major development happens.
EXCLUSIVE: Showcasing the best of our scoops.
REVEALED: When we've shone a light on something that has been hidden from scrutiny.
HUFFPOST VERDICT: Our editorial analysis of something new – from a major prime ministerial to an election result, or a tech gadget, boxset or a film review.
HUFFPOST REPORTS: Significant stories where we've added distinctive HuffPost depth to our reporting.
ANALYSIS: Deep dives on anything from election results to unfolding international crisis and what they actually mean for everyone.
EXCLUSIVE BLOG: HuffPost's blogs are the best place for people to share ideas, expertise and their real, lived experiences. We regularly get people who have been in the news to blog exclusively for us about what they've been through. Here's a recent example.
The new strategy's not rocket science, but hopefully these simple changes will help as you swipe through your smartphones to see why we think each of our updates deserves your attention.
Unless there's huge breaking news, we only plan to send you one or two alerts a day.
If you've got any feedback for us, be it good, bad or both, drop me an email on andy.dangerfield@huffpost.com