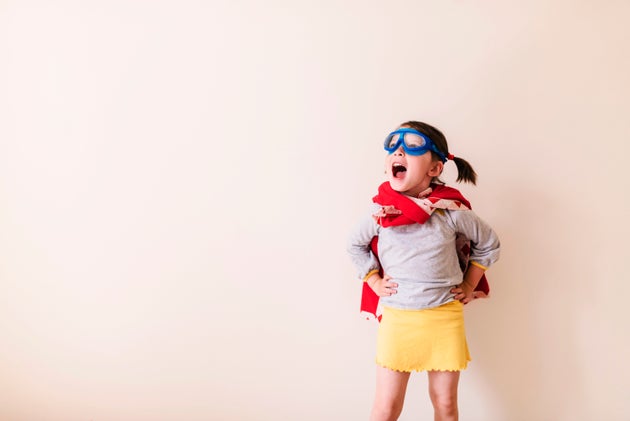 The future for girls seems bright. Last summer, 71% of female exam entries at GCSE were at least at C/4 grade. At A-Level, 18-year-old female and male students achieving A*-A grades did equally well. The educational attainment of women at all levels appears to be higher than that of men. We know that over three quarters of girls feel confident in their digital skills, readying them to take on new challenges in the future. We're glad to know that 95% of 11-21 year olds believe more positive, diverse representations of girls and women should be depicted in advertising. These are things we can celebrate, but there's still much to be done. Despite their results, their skills and their increasing confidence, girls looking to women will see them earning less and more men in leadership roles. Of course, boys face numerous challenges too, but after International Women's Day is over, let's not forget those difficulties faced by girls.
It's useful to think about how girls see themselves, especially given, according to Girlguiding's Girls' Attitudes Survey (GGAS), 55% of girls between 7 and 21 believe 'gender stereotypes affect their ability to say what they think'. Girls under 10 think they're better at doing homework, doing chores and being kind, whereas 42% of them think boys are better at being strong. Rather than being encouraged to explore, pursuing their own destiny, many girls feel restricted by gender stereotypes, such as the expectation to be 'quieter, neater, more emotive and more creative', in contrast to boys who are expected to be 'physically stronger, louder, more sporty and more logical'. Girls fear that 'stepping outside the norm' can 'result in teasing and labelling from their peers'.
This is particularly apparent in terms of STEM (Science, Technology, Engineering and Maths). STEM stereotypes continue to juxtapose against traditional beliefs concerning femininity. Such views may be oversimplified, overexaggerated and simply inaccurate, but they remain pervasive. Across all age groups, girls feel Science, Maths, ICT and PE are more for boys, whilst art, music, drama and English are more for girls. Although girls tend to associate their gender with gaining high grades and working hard, they tend not to link this success to their own intellectual ability. Put simply, six-year-old girls, for example, 'are less likely than boys to believe that members of their gender are "really, really smart"'.
These gendered perceptions are limiting, diminishing girls' chances of seeing themselves engaged in these subjects when they're older. The 'Drawing the Future' survey shows that although the range of roles aspired to by girls has become more diverse, a hugely positive step forward, the ideas that nurturing and caring roles are largely feminine and that certain jobs can be thought of as 'male' or 'female' cling on resiliently in their minds. We might hope that as girls grow up, their ability to reject these limitations increases, but there is evidence to suggest that 'traditional or conventional ideas about jobs are cemented in a child's mind at a young age and prevail well into their teenage years'. Gendered preconceptions need to be challenged so that girls feel empowered to aspire.
It's not just the roles they'll take on in the future, but the role models they have to guide them so they might feel acceptance, respect and self-worth. Among girls, there is increasing dissatisfaction with how they look. In the Children's World Survey, young people in England were found to hold particularly poor levels of satisfaction with their bodies and appearance. Such dissatisfaction means a 'higher prevalence of depression and low self-esteem among girls'. The GGAS states that more than half of the girls and young women they surveyed had seen 'airbrushed images in the past week that made them feel pressured to look different', whilst many had seen 'stereotypical and sexist representations of women and girls that made them feel less confident in what they can do'. Female celebrities can be enormously positive role models, especially those who make feminist discourse more accessible, not just to girls, but to boys as well, an equally important step forward. However, those images which girls recognise as false and yet still feel pressured to conform to demonstrate just how problematic it is for young people to negotiate such contradictions.
So how can we help girls see themselves not just more positively now, but in the future? We certainly need to challenge the confused messages they see and the anticipation of a life they will lead, rather than a life they want to lead. Positive representation must be more prevalent. Career advice must be offered earlier. Gender stereotyping cannot be allowed to hold sway over their lives. Expectations can weigh us all down. We have to ensure we allow girls to balance these with their dreams.