As the planet struggles on, trying to heal itself of the damage being inflicted by industrial and post-industrial nations, it is refreshing to see certain transitions within contemporary society that are acting to help provide a future that is eco-friendly and sustainable for all inhabitants. Whilst we have so often seen politicians promise and fail on delivering real, plausible alternative energy solutions; one field that has started to excel in the area of sustainability in recent decades is that of design and architecture
Sustainability has never been such a poignantly discussed and debated topic. As more and more studies are being undertaken around the world, the dawning realisation of our own global footprint becomes increasingly apparent each day. Simply put, a sustainable future is a necessary future, and such a future is rooted in solving three crucial and interconnected factors: the relentless depletion of finite fossil fuels, climate change as a direct effect of increased CO2 emissions, and lastly the ever-rising costs of providing energy and water.
Since the 1970's sustainable design has developed from a movement into a conscious philosophy. The current debate on sustainability embraces a wide-array of expertise from multiple fields. In the past architecture and design have been on both sides of the argument, receiving condemnation as well as praise for their efforts which on one hand destroy the environment but on the other offer solutions for preserving it.
The overarching principle here is the central idea of how to progress the current debate on sustainability for the better. It is a concern that should be shared by all, and treated with due caution, as it is our own future, the future of humanity, which we have the power to shape.
I found a possible solution in the design by BLDA Architects of an offshore power plant, called SUN TOWERS, at a remarkable site: the stretch of sea directly in front of the Santa Monica Pier in California. In order to achieve this BLDA Architects had to think outside the box and they collaborated with light artist Steven Scott and XCO2, environmental expert and energy engineers.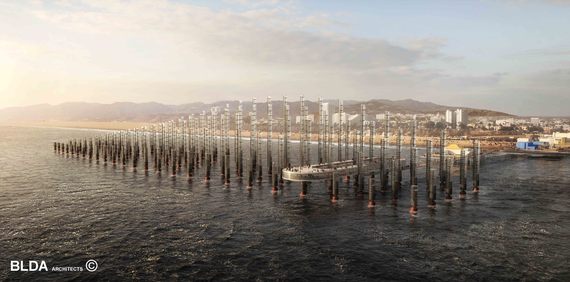 What convinced me that this particular project is an inspiration to find a solution to our dilemma are in the words of Matteo Melioli the BLDA designer behind this outstanding project:
"At BLDA we believe architecture plays a fundamental role in advancing our understanding of human living as well as our impact on the environment. Buildings have the potential to destroy or regenerate the ecosystems they exist in, the latter casting a larger responsibility on the art of design."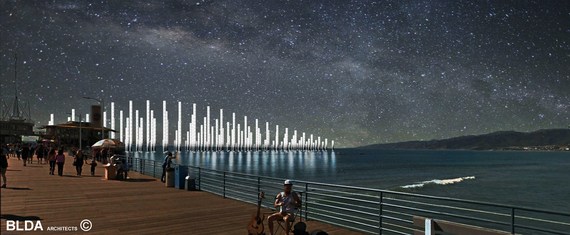 The project location being between land and water plays a strategic and vital role as the potential life-support for the entire bay of Santa Monica. Experience tells us how energy and water are intertwined and as California faces severe water shortages in the coming years, the amount of energy required for water production and transmission is guaranteed to increase.
In designing an off-shore structure, well visible from the city, BLDA first intention was to move away from the old centralized power plant of territorial proportions. Instead opting for smaller, multiple and standardised, self-sufficient power units, or 'power cells'. Each cell is a highly efficient micro plant, shaped as a slender mast emerging from the sea. The offshore plant is designed to be entirely solar-powered, in which each of the photovoltaic cells were grouped upon each elegant masts. Whilst visual impact on the horizon is also considered, with the internationally renowned light artist Steven Scott designing the cells so that waves during the night, waves of light and colour would 'sweep across the installation, rising and falling with tide and swell'.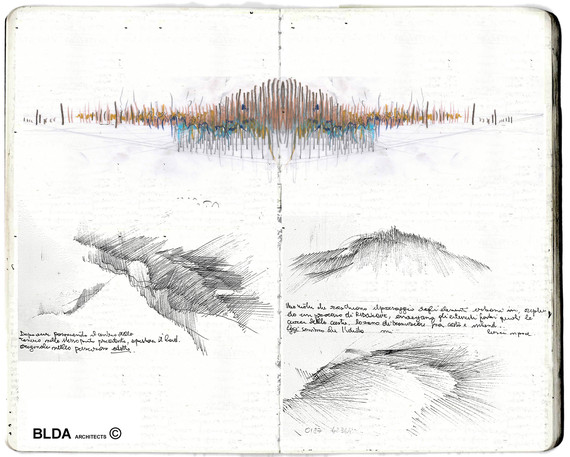 It is progressive designs such as these that are so fundamental to all of our futures. To be able to provide clean water and energy, in an environmentally friendly and sustainable manner, to a mass number of people, is an incredible achievement; but it is imperative that we see this happening across the entire planet. It is a shift that will take time and investment, two things that so often hinder progression. However, in order to reverse the damages we have and still are inflicting on our planet, it is absolutely fundamental that we start to think in this way on an international level.
In order to succeed with projects of this nature we must be self-aware and critical of the longevity of the design. If we examine the history of architecture, I find one instance particularly relevant to our current situation: In the early 1930's in Germany the Existenzminimum Architects faced a similar question, whether the design of a single residential unit could affect the living condition of the whole working class or not? The Modern movement proves the answer to be yes, provided that the unit is flexible enough to fit any working class family.
I believe a similar principle can apply to sustainable design today. If we find a structure that allows us to turn local resources into energy and water, a structure that is made by standard prefabricated units, that is flexible enough to be placed in every climate and in every place. If we comply with these simple but un-negotiable conditions, we can secure a sustainable and continuous growth for human kind in the decades to come.
BLDA applied this very principle to the Santa Monica brief by designing these so called 'power cells', a modular structure that, using state of art technology, turn light, wind and tide into clean energy and water. The answer to creating long-term sustainability with a lasting impact lies in more innovative design such as this, occurring on a global scale. We need increased funding and more efforts being put into the future of the world we design and build for ourselves. It is time to move on from the industrial past, and embrace the renewable and sustainable future; it is time for real change.
BLDA efforts are now focused on sites such as the Thames Estuary and the Venice Lagoon, where they found a good mix of renewable energies in densely populated environments. BLDA believes that the ongoing research will demonstrate how large-scale energy fields can integrate well with precious ecosystems and at the same time provide clean, low cost energy to support human life in such environments.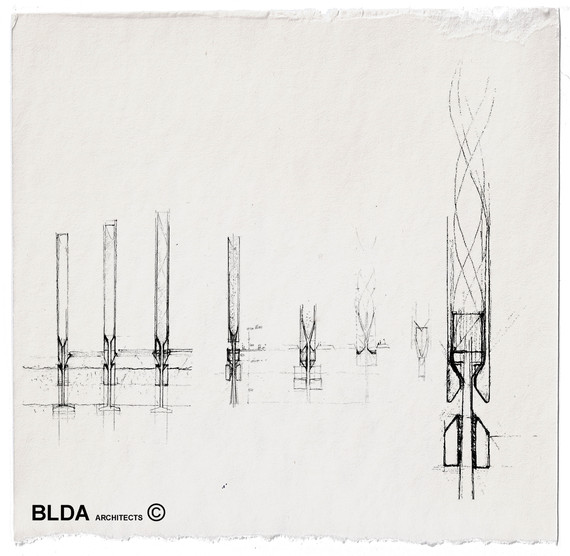 PROJECT AND IMAGES CREDITS
John Perry
Partner in Charge at BLDA Architects London
jpx@blda.co.uk
Matteo Melioli
Lead Designer at BLDA Architects London
Ramone Dixon
Designer at BLDA Architects London
Terie Harrison
Designer at BLDA Architects London
Kris-na Butkute
Designer at BLDA Architects London
Steven Scott
Visual Ar0st and Light Ar0st at Studio Steven Scott
steven@studiostevenscott.com
Tom Kordel
Senior Energy Consultant at XCO2Energy, London
tomk@xco2energy.com
Sherleen Pang
Senior Sustainability Consultant at XCO2Energy, London
Kostas Mastronikolaou
Senior Energy Consultant at XCO2Energy, London
— This feed and its contents are the property of The Huffington Post UK, and use is subject to our terms. It may be used for personal consumption, but may not be distributed on a website.