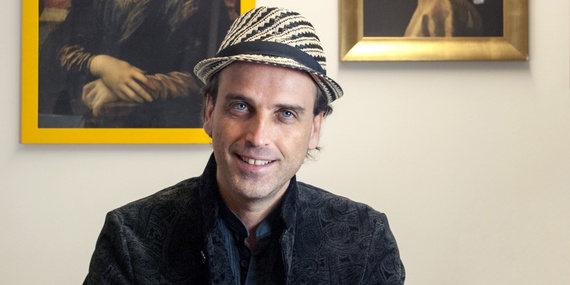 Smiley is one of the most iconic and universally recognised images in the world. The simple yellow face that bore the origin of the emoticon and inspired the emoji has become the de facto global language. As we live more globally and try to transcend language barriers, Smiley (and its emoji descendants) are being adopted for increasing purposes. What began as a shortcut for happiness, evolved into a cultural movement in the late 20th century and now acts as a symbol for self-expression and positivity at the heart of culture and society.
Yet little is known about the story behind Smiley. The first ever Smiley was found carved into a stone in Nîmes, France in approximately 2500BC, however, the yellow smile that we are so used to today was first brought to life as a brand by my father, Franklin Loufrani. In 1972, he created and trademarked the iconic and original Smiley in a newspaper promotion to simply remind people to Take Time To Smile. Up until this point, the world had only known Smiley from one-off promotional uses, including WMCA Radio's Good Guys show in New York during the 60s and 70s, where music icons including Mick Jagger, among others, were photographed wearing the Smiley WMCA sweatshirt.
With recognition for Smiley already starting to grow, Franklin transformed these one-off and singular uses of Smiley by founding The Smiley Company. Turning Smiley into a global brand and trademark, the overall ambition was to spread positivity and establish happiness as the core value at the heart of everything the company did.
This unique message ensured Smiley was quickly adopted within the worlds of popular culture and music in particular, featuring on the iconic artwork for Talking Heads record 'Psycho Killer' and on Bomb The Bass hit single 'Beat Dis', before finding its place at the heart of electronic music revolution in the 1980s and 1990s. During this era, Smiley became the icon of the acid house movement (named after the acid sound of the sounds of the Roland TB-303 electronic synthesizer-sequencer), gaining global recognition that would continue to grow over decades that followed.
Due to the close links between music and fashion, Smiley then started to find a powerful place within the world of couture in the late 1990s and early 2000s. Boasting collaborations with the biggest names in fashion during this period of time including John Galliano, Moschino and Jean Charles De Castelbajac – the good news just kept on spreading. It is due to this work that Franklin and I have done for over 45 year in promoting Smiley in this way – as a lifestyle synonymous with happiness and cool – that it continues to be embraced by the world with open arms.
These links between Smiley, music and fashion remain as strong today, continually being used as a powerful marketing message by some of the biggest artists in the world, including Chris Martin, Nicki Minaj, Katy Perry and Ed Sheeran. Smiley's presence also continues to be as strong as ever across the catwalks of Europe, with collaborations in the industry currently on-going with some of the world's leading brands including Anya Hindmarch, Moncler and Palm Angels.
By the time Smiley was firmly established as the shortcut for happiness in advertising and marketing, I had the very simple idea of how to evolve it in a way that ensured it actually meant something to people. The 1990s were characterised by the use of ASCII emoticons – weaving together punctuation marks to convey meaning – but it was clear to me that a picture really does tell a thousand words. That's when in 1997 I started creating 3D Smileys and by 2001 had reached almost 900 variations that corresponded to a variety of different human emotions. Suddenly people were able to express themselves in what became a universal language: pictograms were replacing text properly for the first time.
This is arguably what made its simple, yet powerful, message so appealing throughout subsequent decades, helping lead to the emoji phenomenon we're seeing today. Its evolution formed the basis of a new language that made self-expression synonymous with Smiley, enabling people to bring emotion to life within what was previously limited to just text. It also created a new way of helping children develop their emotional intelligence from an early age through its simplicity, providing a fun and interactive way of exploring a wide range of human emotions, and how to communicate them.
The various milestones of the use of Smiley and emoji show how the face became used more and more as a shortcut to symbolise an ever-expanding range of emotions and experiences, underpinned by its unique ability to express so many feelings in one single image. From the Oscar-winning film Forrest Gump, where Forrest accidentally creates a Smiley t-shirt; the Watchmen comic using the iconic yellow Smiley face and blood spatter on the cover of its very first issue and beyond, to Kevin Spacey's legendary line "Smile! You're at Mr. Smiley's" in one of the 1990s most famous movies American Beauty, it's clear that the uses of Smiley are vast, but ultimately all have one thing in common: self expression. The question is, where next can the power of Smiley be felt?
In everyday life, the power of Smiley – and through it – the power of emoji, can be felt by the increasing diversification of emojis, often forming the basis of a powerful toolkit for social campaigners. People want to see emojis that reflect the true diversity of modern life. Smiley, however, which ultimately led to the emojis we know and love today, was always intended to be gender and race neutral, with the iconic yellow colour embodying the colour of the sun, which is the root of all life on earth, and through that becoming a tool to represent emotions for all people.
In its simplest and yellow form, Smiley's purpose and reason for being couldn't be clearer. It's all about unifying people in a positive way by enabling them to easily represent emotions for all. There is no room for misinterpretation, no matter what the country or culture: it is its own language that has the power to bring people together, something it has done for generations past, and something it will continue to do as we move into the next phase of Smiley.
Learn more about The Smiley Company.
— This feed and its contents are the property of The Huffington Post UK, and use is subject to our terms. It may be used for personal consumption, but may not be distributed on a website.