Thursday was a big day in Russia as President Vladimir Putin gave his annual news conference, a four-hour marathon that gave us remarkable moments such as this, when the head of a fish-processing plant posed as a journalist to complain about his chicken rivals.
The price of fish aside, here are five things we learned about Russia's strongman-in-chief.
1) VLAD AND DONNY ARE ON FIRST NAME TERMS
Putin said on Thursday he was on first name terms with US President Donald Trump and said it was important that world leaders establish effective working relations with each other, reports Reuters.
Putin also had praise for Trump and an appeal to the American people.
"It's not for me to evaluate the president's work. This needs to be done by the voter, the American people. We are objectively seeing that there have been some major accomplishments, even in the short time he has been working.

"Look at how the markets have grown. This speaks to investors' trust in the American economy. It speaks to what President Trump is doing in this sphere. With all due respect to Trump's opponents, this is an objective fact."
Only thing is, it's also an objective fact that Trump's repeated claims of Stack Market success …
… are almost entirely a product of the Obama era.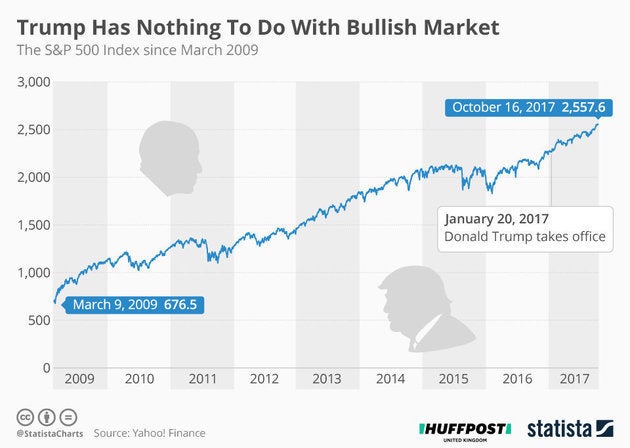 2) PUTIN IS NOT SYMPATHETIC TO THOSE WITH MENTAL HEALTH ISSUES
Speaking about Grigory Rodchenkov, the whistleblower who exposed the doping scandal that led to Russia's Olympic Committee being banned from the Winter Olympics in Pyeongchang.
"This (the doping scandal) is the mistake of the people, the bodies that put him in that position. You can't work with people who try to kill themselves… And you can't base a decision on the testimonies of these people.

"He is under the FBI's control and protection. This is not an advantage for us, it's not a disadvantage. It means that he works under the control of the American special services.

"What medications are they giving him so he says things?"
3) HIS TAKE ON THE POLITICAL OPPOSITION IS … INTERESTING
"It's important not to just make noise on public squares and speak about the regime, but it's important to propose something to make things better. Of course there are a lot of dissatisfied people today.

"But when you start to compare what the leaders of the opposition are proposing, especially the leaders of the non-systemic (liberal) opposition, there are a lot of problems. A real agenda needs to be proposed, one that people would believe."
President Putin has systematically oppressed liberal opposition during his 18 years in power (he still pulled all the strings during his four-year stint as PM in 2008-2012). This is longer than veteran Soviet leader Leonid Brezhnev and outstripped only by dictator Josef Stalin.
The current target of this oppression is Alexy Navalny, an anti-corruption campaigner who was set to challenge Putin for the Presidency in 2018 but is now barred from the race on what he claims are trumped-up charges meant to silence him.
When Putin mentioned "a real agenda needs to be proposed" Navalny tweeted a link to his detailed liberal agenda for the 2018 campaign.
It details a number of ways to transform Russia into a thriving democracy, tackle Government corruption, increase living standards and remove power from the hands of the Kremlin elite.
All of which Putin seems to not like for some reason.
He likened Navalny to former Georgian President Mikheil Saakashvili who came to power in his own country in 2004 after a peaceful revolution and is now heavily involved in politics in Ukraine, where he is calling for the impeachment of Ukrainian President Petro Poroshenko.
"Do you want tens of people like Saakashvili to be running around public squares?" Putin asked.
4) HE DEFINITELY DIDN'T MEDDLE IN THE US ELECTION
"This is all invented by the people who oppose Trump to give his work an illegitimate character. The people who do this are dealing a blow to the state of domestic politics in the country."
Sounds familiar.
5) HE WANTS TO BE A FATHER FIGURE TO RUSSIANS
"I'm thinking about the fact that the political environment, as well as the economic environment, need to be competitive. I will strive for us to have a balanced political system."
Putin, whom critics have accused of using state TV, the courts and the police to demonize and marginalize the liberal opposition, said earlier this month he would run for re-election in March 2018 – a contest he seems sure to win comfortably and extend his grip on power into a third decade.
But in a sign the former KGB officer is keen to strengthen his role as a father of the nation figure rather than as a party political figure, Putin said he planned to run as an independent candidate and garner support from more than one party.
The ruling United Russia party has traditionally backed Putin and is likely to do so again this time, but Putin clearly wants to generate a higher turnout by styling himself as someone who is above the often grubby fray of Russian party politics.