The mum of an 11-year-old whose speech about getting bullied went viral has explained why she decided to make the video.
The clip showed Keaton, from Knoxville, US, describing how kids at school were bullying him, as he sat in the car with his mum because he was afraid to go to lunch with his classmates.
"They make fun of my nose," he said in the video. "They call me ugly. They say I have no friends."
Speaking about her decision to film her son while on 'This Morning' on Thursday 14 December, Kimberly Jones explained her original intention had just been to share it with his teachers.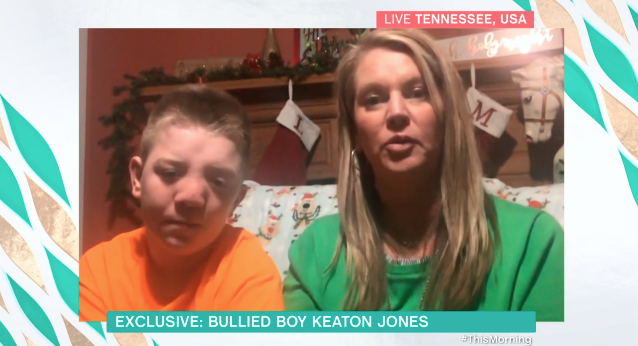 The mum continued: "We discussed it weeks before to just put it on my very own Facebook page and raise awareness in our own community and hope maybe word got out and there could be a little something started to see what we could do to make some changes."
She explained Keaton is yet to return to school after the video went viral worldwide.
"He didn't want to go back to school," she said. "After seeing how big it got, it seemed like maybe we should let it die down a bit before we made any decisions, so that we could have a reality of what life was going to be like."
The mum went on to say how bad the bullying had got for her 11-year-old son.
"Keaton asked me not to do anything," she added.
"We kind of talked about different things, and prayed about it, and went with different strategies, until it got to a point that there was absolutely no way that we could just keep our mouths shut anymore."
Asked what he would say to the bullies, Keaton said: "Why do you do that? Why do you bully? What's the point in it? It makes me feel awful."
'This Morning' is on ITV on weekdays from 10.30am-12.30pm.