It's very easy to get swept up in the current climate of fear, suspicion and depression. The news is filled with horrors, the worst of humanity and warnings of impending doom. Our innate fight or flight instincts makes us insular and sceptical about anything and everyone. Those that choose to feed off that, and cultivate it know that personal attacks will only allow this fog to permeate our lives more.
The attacks on the Bataclan and Manchester have been direct assaults on our souls. Attacking our enjoyment, our music. Families have shattered and lives have been destroyed. The easy thing to do would be to close our doors and hide. But luckily there's hope in the darkness.
A lot was made of the surge of support for Manchester, but after the Bataclan a charity was born dedicated to music changing lives; the Nick Alexander Memorial Trust.
Created in memory of Nick Alexander, who was selling band merchandise on the night of the attack, the Trust's aim is to enrich and improve lives through music. Started by Nick's family after their loss, they birthed hope through tragedy. As Zoe Alexander (Nick's Sister) put it:
"When you break a mirror the initial smash is awful. It's horrible, but when you look down at the pieces of mirror on the floor; there's beauty there."
Probably the thing I like most about NAMT is the idea of holistic therapy through music. Being a depressive, who has also worked in adult social care, I've seen directly that regular therapy isn't always the answer. In fact I'd go as far as to say that without a holistic backup, I don't think anyone can truly function. It won't end the fear or stop terror taking a load of ukuleles to a rural community school, but by cultivating small patches over time you take horror and turn it to joy. We can't change the world in broad strokes, but maybe we can do it one bit at a time.
This defiance in the face of fear and hate was never clearer than at the second A Peaceful Noise concert on Saturday 25th November. A gathering together of musicians who knew Nick, the gig at ULU was the follow up to last year's sell-out at the Shepherds Bush Empire.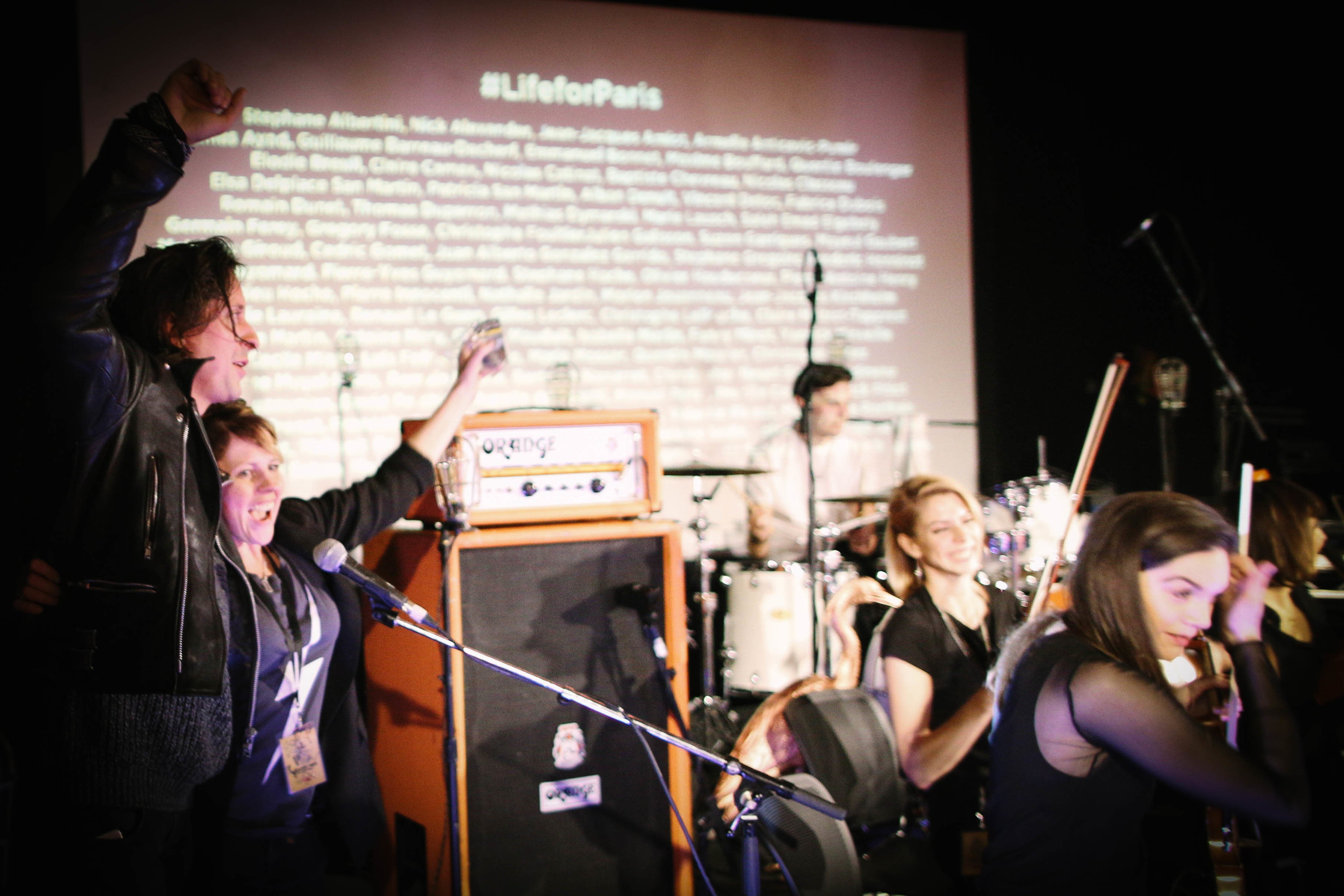 Featuring False Heads, Frank Turner and Band of Skulls, my personal favourite was an appearance by Queens of the Stone Age frontman Joshua Homme. A Peaceful Noise also benefited the Sweet Stuff Foundation, Homme's charity that provided financial assistance to many directly after the Bataclan attack.
Zoe's sentiment (which she followed up by saying "Christ, that sounds wanky") rang through the whole night. The crowd did a minute's applause in memory of all those lost to terror; a peaceful noise.
The night was awash with emotion, and you couldn't help but be swept up in it. Each artist not only gave incredible heartfelt performances, but their positivity in general was a shining example. What could have been a sombre affair was joyful.
The instinct after hearing Zoe's heartfelt (and true) statement, or the musicians' messages is to agree that it does sound all sound a bit wanky. It's ridiculous that we almost have to apologise to have sentiment, and not wallow in our despair. People like the Alexanders who grab us by the hand and pull us forward, should be celebrated and spurred on. We should dispel the British/modern belief that sincerity should provoke eye rolls. As Homme put it, "follow the light."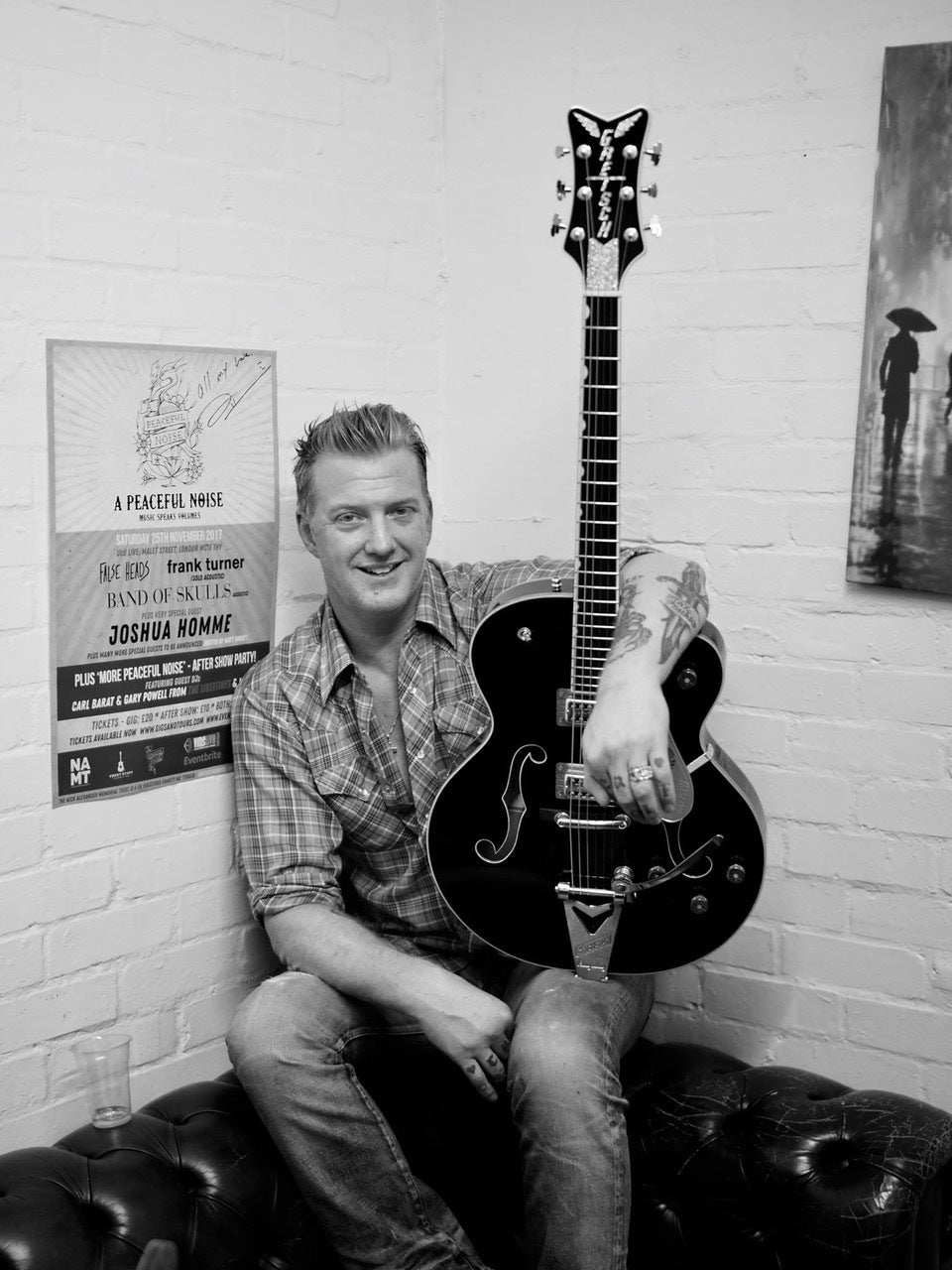 Frank Turner said on the night "it's also an evening to remember the reasons we get together for shows and the values we think are important within them".
Whatever your beliefs on the current state of the world, helping people and enriching lives is never going to be a bad thing. There are small glimmers of light in the darkness, and we need to hold onto them because otherwise we might as well curl up into a ball.
Having fun and enjoying life doesn't dilute the tragic loss of 89 people at the Bataclan, or the 22 in Manchester. But taking the positivity from our support and harnessing it to something that can improve the lives of others is a lasting tribute.
If you'd like to know more on either charity:
The Nick Alexander Memorial Trust
Useful websites and helplines:
Mind, open Monday to Friday, 9am-6pm on 0300 123 3393
Samaritans offers a listening service which is open 24 hours a day, on 116 123 (UK and ROI – this number is FREE to call and will not appear on your phone bill.)
Get Connected is a free advice service for people under 25. Call 0808 808 4994 or email: help@getconnected.org.uk