A mum has written a touching tribute to the Santa in her local shopping centre who made her shy son's grotto experience a magical one.
The mum, named Virri, shared the open letter on Imgur, alongside a photo of her son smiling down at Santa.
"Dear Mall Santa, I hope you see this," she wrote on 11 December. "My one-year-old son was super shy and not having any of the Santa thing.
"Not quite in full tears, but I'm about 95% sure that I would have had the 'super meltdown' picture if we went anywhere else."
The mum continued: "Luckily, you and your elves had nobody else in line and were super patient with him – encouraging him, engaging with him and letting him explore your workshop.
"This picture is the result of a man who clearly loves his job. Thank you so much! Virri."
The photo was taken at Fairview park mall in Ontario, US.
"He took a few notes from 'Miracle on 34th Street'," one person wrote. "This is wonderful."
Another person commented: "That man is perfect for his job."
Heartwarming stories about Santa often pop up as we enter the festive season. Back in 2015, one Santa really did mirror the scene from 'Miracle on 34th Street'.
The little girl was sat on Santa's knee at the Cleveland Centre in Middlesbrough but was unable to initially understand what he was saying. Santa tapped the young girl on the arm and used sign language to talk to her.
She looked up at him appearing to understand what he said to her and managed to sign back.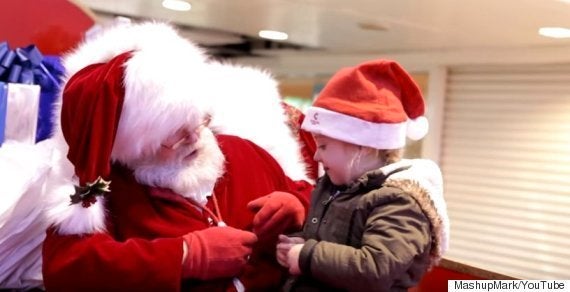 "This guy deserves a medal. Best video I have seen in long time. He made that little girl's year right there," wrote one person on the YouTube video at the time.
"So sweet, wonderful of him to make a connection with her. What a great guy and what a precious girl," commented another.