I have to travel for business. It's a perk, and sometimes a drawback, of the job. And while I travel, there's nothing more important to me than to stay connected. Connected to work and family, yes, but also connected to 'things'. That sounds strange doesn't it? Needing to be connected to my things. However, more and more, my life is being dominated by things that are connected and controlled over the internet. My house alarm, heating and hot water are the things I stay connected to when I'm away with work. It's a list that's steadily growing.
So, as I was passing through St Pancras train station in London recently I noticed with interest a poster proudly declaring it to be 'London's most connected station'. They've got a strong case. As the UK's gateway to the rail networks of Europe, you can make your way from here to the markets of Montmartre as easily as you can cover the distance to Derby. Of course, what they're also promoting is how well they're connected in a digital sense – the technology they offer commuters and travellers to keep them online. This is what grabbed my attention as connecting people, places and things is what motivates me.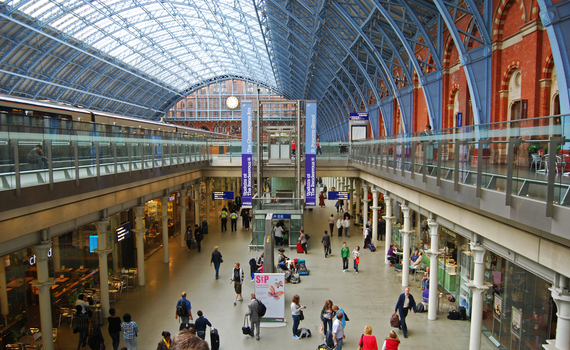 Source: Creative Commons
Information boards at the station are updated live with details of arrivals and departures. These are simultaneously updated on the station's smartphone app, exactly in time as the official station boards so travellers and commuters are kept bang up-to-date with the latest developments. The St Pancras app also offers travellers help in navigating a sprawling station which not only houses hubs for national and international train travel but also a suite of retail outlets and a wealth of eating and drinking establishments. It can direct users from exactly where they're standing, giving them tailored directions to a chosen venue in the station, also taking into account the lifts and levels along the way. Of course, being in central London, there's superfast 4G signal above ground in the station, as well as free, unlimited, superfast Wi-Fi throughout.
The Eurostar introduced free Wi-Fi in 2016 and numerous on-board entertainment options, proudly announcing that "passengers can now unlock more than 300 hours of popular TV shows and movies, games, magazines and Wi-Fi all from the comfort of their own seat." When transport operators offer Wi-Fi to passengers, the need for content filtering and the policies that govern it will invariably arise. Transport companies may wish to prevent downloads, streaming, and inappropriate content. Cloud-based software enables IT managers to customise content preferences and monitor network security in real-time.
In the new fleet of Eurostar trains, Wi-Fi is operational across borders and while travelling through the tunnel itself. All seats on their new fleet of trains have power sockets that can accommodate both British and European-style plugs – a vital and welcome addition for countering the battery-draining effects of a three-hour journey to or from the continent.
For the train and travel sector these days, a key challenge is simply making sure that travellers are met with an acceptable standard of customer service. Clare Gilmartin, chief executive of train ticket website trainline.com, recently warned that consumer demands are constantly increasing, with their customers' expectations "being raised by the likes of Amazon and Uber."
Consumers expect a decent level of device connectivity wherever they are. They want connectivity almost as much as they want a seat and an on-time arrival. Transport companies that offer guest Wi-Fi enhance the traveller's experience and offer commuters heightened productivity while blocking undesirable content and managing bandwidth usage.
— This feed and its contents are the property of The Huffington Post UK, and use is subject to our terms. It may be used for personal consumption, but may not be distributed on a website.