An 86-year-old veteran undergoing chemotherapy has raised £108,000 in just 48 hours after a chance meeting on a train propelled his fundraising into the spotlight.
Jeffrey Long from Yorkshire had planned to walk 86 miles along the Thames on his 86th birthday (31 October) to raise £1000 for the Royal British Legion.
But the pensioner, who was in the Parachute Regiment and has an MBE for his charity work, has now smashed his original target one hundred times over.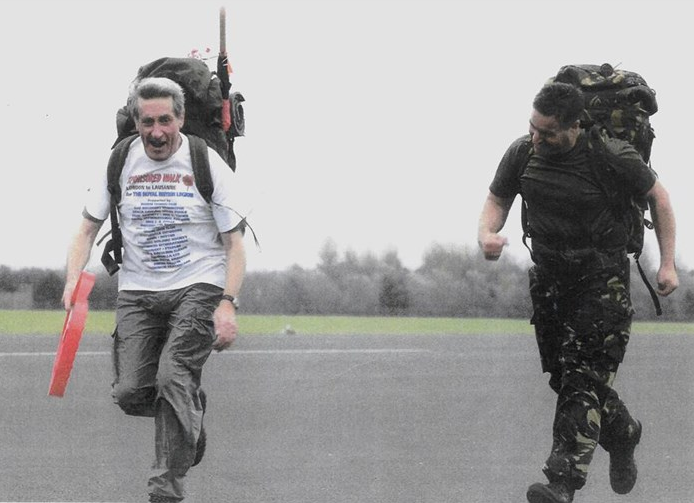 On Monday, Jeffrey boarded a train at Windsor railway station on his way to the starting point of his river walk, when he met Paula Modeste, 46, from South London.
The NHS manager started talking to Jeffrey about why he was wearing full combat gear, and after hearing about his birthday plans and the £80 he had raised so far, she took a selfie and posted it to her Twitter and Facebook page.
Paula said: "I put it on Facebook and Twitter knowing that my friends are a good lot and I kept seeing more notifications."

And, in a chance happening, comedian Jason Manford then spotted Paula's post and shared it with his 240,000 followers.
The JustGiving page has since received donations from over 15,000 individuals sending the total skyrocketing from £300 to £108,000 in just 24 hours.
When Jeffrey heard the news from a friend in Bradford, he cried: "What can I say, words are inadequate here."
This isn't the first walk that Jeffrey has done – to celebrate his 84th birthday he walked the 84 miles of Hadrian's Wall and for his 85th birthday he walked 85 miles along the Leeds and Liverpool canal – but he says this is the hardest so far.
He explained: "I broke my ankle a few years ago, and that's been playing up along with my hamstring.
"Plus, I'm currently on chemo treatment as my doctor found that I'm producing too many platelets, so I'm in danger of getting a blood clot. The chemo does make you tired, not as good as you were."

On his JustGiving page, Jeffrey writes: "The Royal British Legion is at the heart of a national network that supports our Armed Forces through thick and thin – ensuring their unique contribution is never forgotten."
"The money raised through this page will go towards ensuring that the Legion can continue to assist the Armed Forces Community with a broad range of services from debt advice to Admiral Nurses and Care Homes."
To donate to Jeffrey Long's cause, you can visit his JustGiving page.