UK interest rates will rise for the first time in a decade, the Bank of England announced today.
The rate, which anchors millions of British mortgages and savings accounts and governs the cost of borrowing, will increase to 0.5%, a rise of 0.25 percentage points.
Bank governor Mark Carney told a press conference that two further rate rises can be expected in the next three years, confirming further increases in the coming period and ruling out a "one and done" move.
"The time has come to ease our foot a little off the accelerator," he said.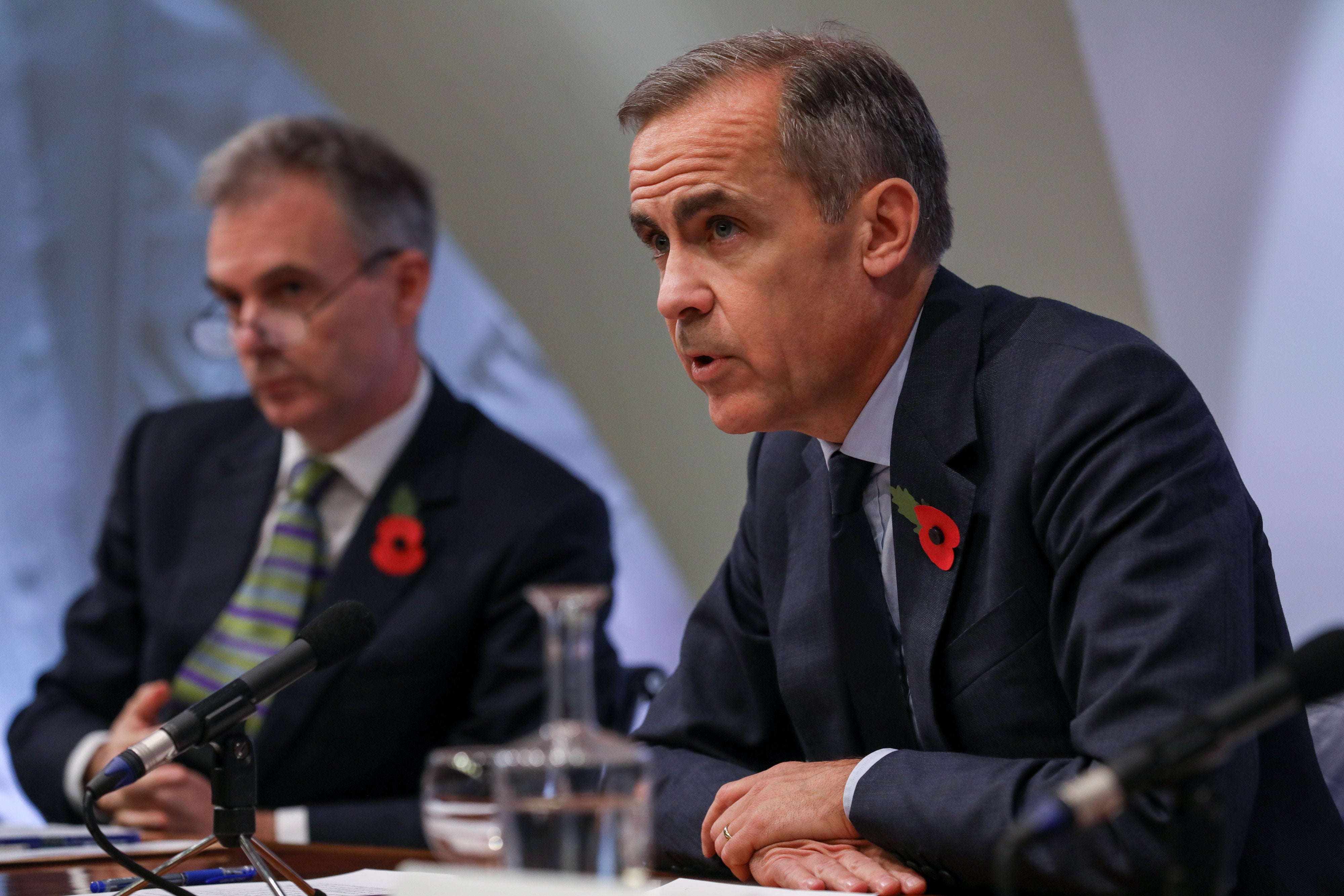 Asked about those people who are already struggling to get by, Carney said: "There are more people in work than ever before. People are in the labour market and working.
"What we're doing is easing our foot off the accelerator this is a modest adjustment in investment rates. It will have a moderate impact on borrowers and a moderate impact on savers."
Carney said he expected banks to pass on the 0.25% interest rate rise to both borrowers and savers. However, TSB bank confirmed it would only increase its variable rate savings accounts by 0.15%.
Carney also blamed the impact of Brexit on the labour market for creating "headwinds" in the economy.
The nine-member Monetary Policy Committee voted by 7 to 2 to tighten monetary policy and introduce a rise.
Read the full PDF decision document from the Bank of England here.
The increase could cost some variable rate mortgage holders as much as £200 a year per £100,000 of borrowing, according to MoneySavingExpert.com.
But for the first time in many years, most people are not on a variable rate mortgage. More home owners are on fixed-rate deals, unaffected by short-term changes.
The decision was expected.
City analysts who spoke to HuffPost UK ahead of the decision predicted a modest rise. And it was largely "priced in" to the market by about 90%.
But it is also controversial.
Former Monetary Policy Committee member Danny Blanchflower warned earlier that inflation, currently running at 3% above a target of 2%, and which an increase seeks to counteract, isn't a real threat to the British economy.
And the Financial Times urged the Bank to hold the rate, describing an increase as "jumping the gun".
The end of 'uber-cheap' mortgages
Martin Lewis, founder of MoneySavingExpert.com, said: "Millions of people on variable mortgages will see a direct increase in cost of roughly £200 a year per £100,000 of outstanding mortgage. And most lenders will pass on the full 0.25% if not more. Lenders change their standard variable rates not only based on interest rate moves, but for their own competitive advantage. Do not be surprised if some lenders use this move as an opportunity to sneak rates up further maybe 0.3%.
"The bigger picture though is this is likely to be the beginning of the end of uber-cheap mortgages. New fixes are already a tad costlier as the market's anticipated rate rises; yet for now, deals are still incredibly cheap. And it's important to understand that most lenders set aside a tranche – say £30m worth – that they're willing to loan at the current rate.
"Those deals stay till that tranche is gone, so if rates do rise, there's still a window of opportunity for the next couple of weeks to get current cheap deals. Everyone should check to see if they're overpaying."
On savings accounts, Lewis added: "Low interest rates have been a plague for many with savings, especially those who retired and expected to live off the interest. So rate rises are generally good news for them – indeed we've already seen rates crawl up in expectation.
"The top easy access deal is now 1.3%, compared to just 1% a few months ago. This means I doubt we'll see the top best-buys rise by the full 0.25% over the next few weeks. With a little bit of crystal ball gazing I'd say we'll see them max out at 1.4% to 1.5%."
Wake up call for borrowers
Hannah Maundrell, Editor in Chief of money.co.uk said: "This base rate rise doesn't come as a great surprise, but it should be a wake up call for borrowers and savers alike.
"While the rate rise does mean some people will pay more on their mortgage, it's not as devastating as it first sounds.
"The many homeowners on variable rate deals should check whether they could save money by switching to a fixed rate or, if you have significant savings, offset mortgage; this would have the added benefit of giving you some protection against subsequent rate hikes too
"The difference could be thousands so it's worth exploring.
"I don't expect to see the cost of other types of borrowing shoot up dramatically although we may do in the future. The key thing is to always shop around for the cheapest option and borrow the smallest amount for the shortest period you can.
"I'm not expecting savers to start rejoicing, even if this small increase is passed on by the banks, average savings rates will still fall far short of inflation. If you have savings it's worth checking if you can make your money work harder for you while it's in the bank – this may well mean paying down debts instead."
Call to 'get finances in order'
Tashema Jackson, money expert at uSwitch.com, says: "This first rise in interest rates for ten years could well serve as a warning call to millions of mortgage holders to get their finances in order, as many will have never experienced a rate rise and the knock on effect it has on their finances.
"Depending on the type of mortgage that homeowners hold, the increase in the Bank of England's base rate could have an effect on mortgage repayments. For customers on a tracker rate mortgage, or a standard variable rate, there is likely to be an immediate impact.
"However, even for the 2.1 million people who are coming to the end of their fixed rate deal in the next 15 months, this rate rise could have implications as lenders remove their lowest fixed rate deals."
Banks react
The TSB bank said in a statement: "Interest rates on TSB's variable rate mortgage and base rate linked credit card accounts will increase by 0.25%.
"Interest rates on variable rate savings accounts will increase by 0.15%."
Jatin Patel, product director at TSB, said: "It's been over a decade since base rates have increased and customers will have many questions about how the increase will affect them.
"We will be putting our customers' variable rate mortgages and savings back to the position they were at before the Bank of England reduced rates last year."
This is a breaking news story and will be updated. Check back for the fullest version. Follow HuffPost UK on Twitter here, and on Facebook here.