Well, this is it. Part three and the last blog about my Bali trip. So far I've told you about the hotels I've seen, popular areas like Kuta and Seminyak – and some of the stories that have come along the way.
The next area on the list is Uluwatu/Jimberan.
These areas are located at the far south peninsula of the island, taking up the south and lower west coast. This area is particularly beautiful, it's a rare sight in Asia but this long coastline is dominated by huge cliff faces spread all along the coast, met by golden sands and emerald green waters.
Not amazingly ideal if you like a leisurely walk to the beach, but it does make for stunning pictures as a great vantage point to see out for miles in every direction.
Most of the hotels in these areas will offer some kind of lift or elevator that carries you down the cliff-face to the beach.
The Uluwatu/Jimberan area is ideal for couples who don't mind spending big money on where they stay, and are more interested in a luxury hotel vibe rather than any culture.
These areas are without a doubt the most expensive and luxurious on the island as far as hotels go and are really made for the high-end traveller who want privacy and aren't worried about the price tag that comes with it.
These areas are renowned for their incredible sunsets and cliff-top bars, the most famous, or notorious, being the Rock Bar at the Ayana Hotel.
Now this place is in very high demand and quite frankly, it's not for me. Unless you are staying at the Ayana, (which is a massive hotel complex built up of three sub-hotels) you can find yourself queueing for literally hours to get in, only to get presented with a bar stool! Not exactly a great night out in my opinion.
There is not much in the way of other bars and restaurants in these areas, most of the good places are inside hotels. The hotels I would personally recommend in this area are the Four Seasons Jimberan and the Bulgari Hotel Uluwatu. Seriously, these are both incredible hotels of the highest standard.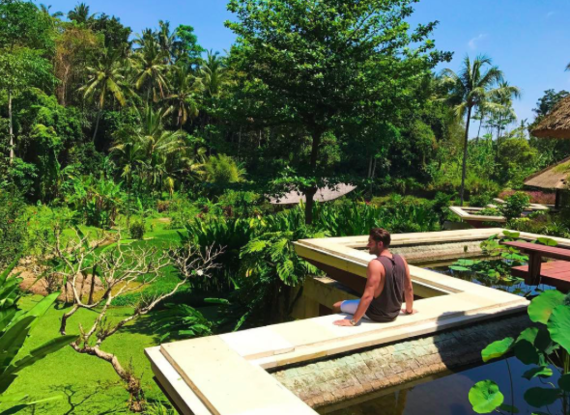 Last but not least is the beautiful jungle town of Ubud (my personal favourite). Ubud gets its name from the Balinese word ubad (medicine) – and with all the natural food there, it's easy to see why.
I'm always a fan of unconventional destinations and I think Ubud brings to the table what the majority of other holiday destinations do not.
Most people opt for sandy beaches and blue seas whereas Ubud is in the heart of the Balinese jungle and is more reminiscent of something out of Indiana Jones.
It's the kind of place where you trade a pina colada on the beach for lunch in the rainforest with families of monkeys running past you.
For authetic Balinese culture and natural beauty, I wouldn't be able to recommend any other town.
Ubud has successfully kept its authentic feel throughout and when I'm there – I'm always in awe; temples, beautiful jungle, old Balinese architecture, and really spiritual vibe throughout.
This place is in the heart of the island and is relatively close to most of the main sights in Bali. It's also basically vegan heaven with raw juices and raw food cafes wherever you look. But if raw food isn't for you and you're a die-hard carnivore – you'll still survive in Ubud. The only places I would recommend outside of your hotel for dinner and drinks are Bridges restaurant in Ubud town, their food is second to none. If you're craving meat, ask for the steak Rossini. It's actually no longer on the menu but the chef will prepare specially for you on request. It's not like a steak you'll ever taste anywhere else, it's incredible.
And for drinks I would recommend the Laughing Buddha, it's a small place but it has a good vibe and live entertainment.
You can easily rent a car for the day in Ubud to visit these places for around $30US. Definitely pay a visit to the monkey forest to walk through a temple of doom feeling jungle which is home to literally thousands of wild monkeys. But there's one thing to beware of – bites! The park managers feed the monkeys sweet potatoes three times a day. Bananas are available for visitors to feed them, but don't tease them. Monkeys may become aggressive if they are teased with food. Monkey bites are considered a serious medical emergency. Imagine going on holiday and coming back with a monkey bite!
Other notable places to visit are Mount Batur, Tirta Empul temple (holy spring temple), and the astonishingly large Rice Terraces.
Ubud is also home to some of the worlds leading hotels, the most gorgeous among them being the Hanging Gardens hotel, a game-changer for hotels in Bali – in my opinion as it's just ridiculously good.
Other hotel recommendations include the Four Seasons Sayan and the Viceroy Hotel, both of which are amazing too.
So that's it from me and my beloved Bali, truly the island of the Gods as it's known. The most spiritual and magnetically attractive place I've ever visited – and as for what I have in store next? Well, it'll be very different indeed…