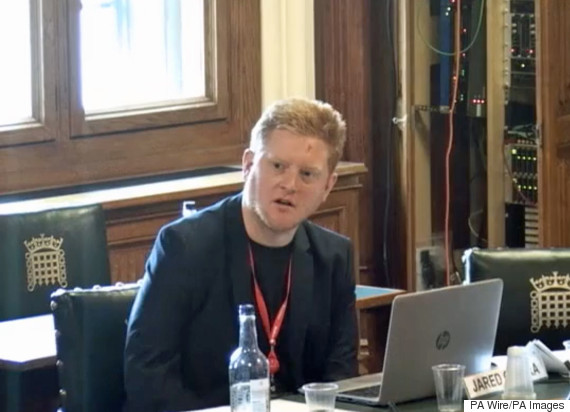 Like most of Britain, I hadn't heard of Jared O'Mara before he defied all expectations and unseated former Deputy Prime Minister and Liberal Democrat leader Nick Clegg at the last election. Mr O'Mara has cerebral palsy, which many thought would make him a champion for diversity and made him an obvious choice for the women's and equalities committee.
How naive we were. Mr O'Mara has been the subject of intense scrutiny and scandal since Guido Fawkes revealed that, some fifteen years ago, he'd made a series of misogynistic and homophobic comments on message boards. Then, on Tuesday, a woman appeared on The Daily Politicsaccusing Mr O'Mara of calling her an "ugly bitch" and using transphobic slurs in March of this year. This was bolstered by a fuller account posted, again, on Guido Fawkes' website. As of Tuesday evening, Labour has launched a full investigation into Mr O'Mara's comments.
It's right that there's an investigation. Few within the Labour commentariat are disputing that. But what I do see is equivocation on whether Mr O'Mara should be suspended or even have the whip removed. I understand why – I myself am conflicted over whether we should punish someone for views they espoused a decade and a half ago and which they claim they no longer hold.
I largely agree with Owen Jones, who wrote in the Guardian that "by explaining why he had these nefarious views and how he came to reject them, he can help set an example in what remains, after all, a society steeped in sexism and homophobia." Owen goes on to point out that younger MPs are going to have larger digital footprints.
This is a lesson we should've learned two years ago, when the SNP MP Mhairi Black's (admittedly much more innocent) tweets became fodder for public ridicule. The fact is, as Millennials continue to enter parliament, and indeed any employment, we as a society are going to have to grapple with some pretty unsavoury revelations from their past and figure out how we're going to reconcile who someone was with who they are today.
So I would be willing to forgive Mr O'Mara if he could demonstrate he'd changed, that – as Owen Jones wrote – he has rejected these bigoted opinions. After all, as a gay man, I know many former homophobes who have become staunch allies. People evolve, and thank God for it.
But allegations made by two women about an incident in March of this year indicate Mr O'Mara hasn't forsaken his previous misogyny. Speaking to The Daily Politics, a young woman from Sheffield accused Mr O'Mara of using transphobic slurs and calling her an "ugly bitch," among other things too lewd and offensive to broadcast on daytime tv. The alleged incident occurred at a nightclub in Sheffield, which an open letter from another woman published again on Guido Fawkes' blog alleges Mr O'Mara verbally harassed them and that two bouncers in his employ attacked her, leaving her with a black eye.
This wasn't 15 years ago. It was seven months ago. 10 weeks or so before Mr O'Mara was elected as an MP.
And so Labour now faces a very different dilemma. This isn't about past malfeasance for which someone has made amends. Mr O'Mara denies the women's accounts, but if things transpired as alleged, his behaviour was wholly unacceptable and deeply misogynistic up to very recently. Are we really to believe it isn't still so today? After all, being elected to parliament doesn't suddenly make you a feminist. Just ask Philip Davies.
Philip Davies is a Tory, though, and Labour is supposed to be better than the Tories – on women's issues, on LGBT issues – on everything, really. Labour holds itself to a higher standard when it comes to advancing equalities. And on just about every issue, its record is light years ahead of the Conservatives, who were, at the time Mr O'Mara was making homophobic comments on message boards, still supporting Section 28.
But Labour has never been led by a woman, let alone seen a female Prime Minister. And just last week a video surfaced of Norwich MP Clive Lewis telling someone to "get on their knees, bitch" at a Labour conference fringe event. A lot of people, mostly men, were quick to defend the statement as just a bit of banter, especially since Lewis was saying it to a man. Doing so, however, ignores the obvious gendered connotation of the word and the misogyny which gives it its sting.
Women in the party, from Bex Bailey to Jess Phillips to Emma Burnell have been talking about sexism within the party for years. It isn't new. But here we have an example of some truly reprehensible comments from a sitting male MP and allegations of aggressive misogyny earlier this year. And the party has to decide how it's going to handle not only Jared O'Mara but all the men – from MPs down to everyday party members – who abuse women or sideline their concerns.
I believe Labour policies are the best for LGBT people and for women. But I'm not sure being in the party is always the best for women, not when you look at the level of sexist abuse people like Jess Phillips, Stella Creasy, Luciana Berger, Angela Eagle, and others receive from party members.
It's time for a hard reckoning about the sexism within the Labour Party. Jared O'Mara opened the conversation. Now let's have it, because we can't continue on as is. It's not enough to say "we're better for women than the Tories." Labour actually has to be better for women than the Tories.