Men in Britain enjoy an average of 40 minutes' more leisure time a day than women, new figures suggest.
They had six hours and nine minutes of free time per day in 2015, compared with five hours and 29 minutes for women, according to the Office for National Statistics (ONS).
The gender gap was greatest in the North West, where men enjoyed around seven hours more leisure time than women every week.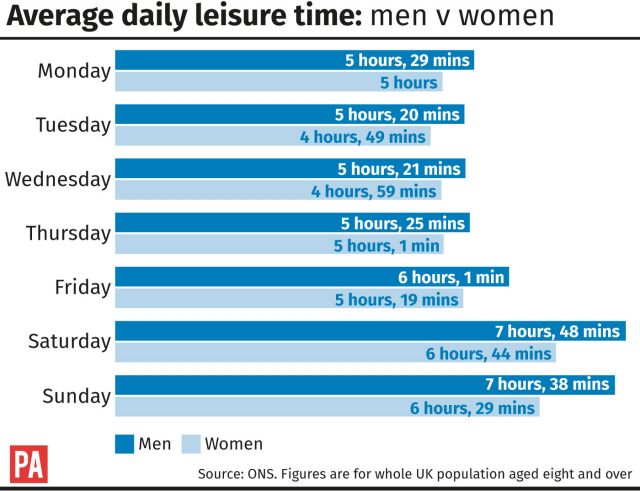 However, the gap was smallest in Northern Ireland, where free time was identical for men and women.
ONS statistician Christopher Payne said women may take less leisure time because they tend to do more unpaid work, including childcare, volunteering and cleaning.
But women spend longer socialising, with both sexes spending roughly the same time eating out and resting, according to the survey.
Consumption of mass media was by far the biggest time-occupier for both sexes – with men reading, listening to music, and watching TV for around two more hours a week.
The analysis, for 2015, focused on people aged over eight, drawing on data from the UK harmonised European time use survey.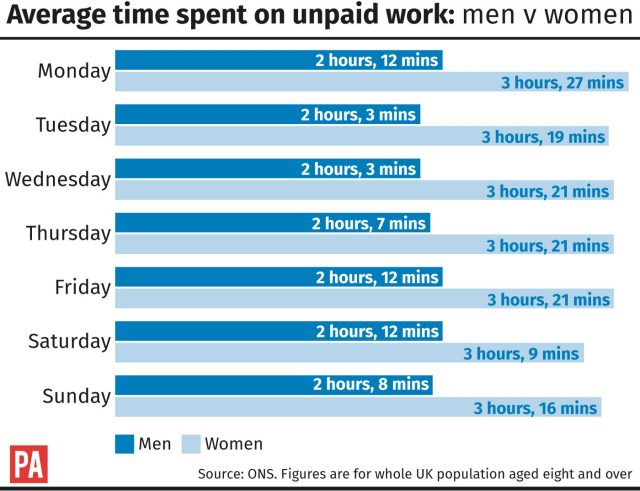 The figures also show that, on average, 16 to 24-year-olds enjoy the same amount of leisure time as people aged 55-64 – six hours per week.
For people aged 65 and over, the amount increases to seven hours and 10 minutes a week.
The least leisure time was taken by 25 to 34-year-olds – four hours and 46 minutes per week.
In terms of regional differences, people in south-east England spent the most time on leisure activities (five hours and two minutes per week).
By contrast, people in Northern Ireland spent the least – four hours and 22 minutes per week.
The majority of leisure time for both men and women was spent consuming mass media, such as watching TV, reading or listening to music (16 hours and 24 minutes per week for men and 14 hours and 23 minutes for women).