I'll start with this: time is a gift. Time is necessary to declutter, to harness our creativity, and to be productive.
Twenty minutes on the tube with no WiFi is twenty minutes I could have spent preparing for my board meeting, or emailing my team with information they need to be productive. When we are disconnected, communication is suspended, and being productive is near impossible.
This is why Sadiq Khan's 'Not-spot' team is such a great solution for tackling London's patchy signal. Working with local authorities and communications services providers, the team will travel to areas of poor signal, or Not-spots, and find ways to address the problem.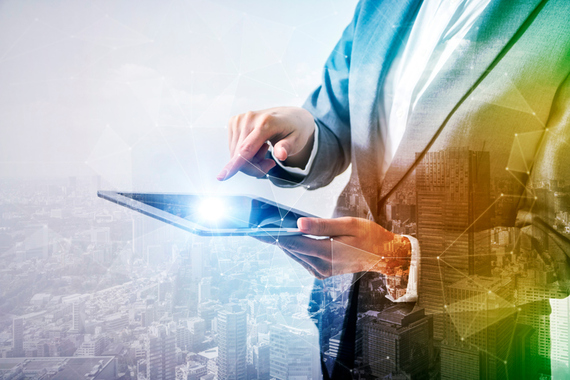 Credit: Cradlepoint
London is one of the leading centres of tech and digital development, but its areas of poor mobile and broadband service don't reflect this. Measures taken to change the digital connectivity landscape of London can only be good for the city as a whole.
Connectivity: Expectation vs Reality
When communication shifted online, our expectations of people's availability changed. Because we could now access our emails from anywhere, we struggled to empathise with the recipient who had 'bad service.' There should be no waiting for an email – we expect instant, secure and 24/7 service, because this is what we were sold. Instant access to everyone and everything, with any connected device.
However, the reality is different. Connectivity is still dictated by location and, unfortunately, in areas such as the City of London, Rotherhithe and Westminster people are still not receiving fit-for-purpose broadband services.
Fixed location Not-spots aren't the only problem. One of the main challenges facing the Not-spot team is connectivity on the go. Going somewhere on the underground? You can expect 10 second intervals of connectivity when the train stops at a platform interspersed with complete connectivity blackouts. For commuters within London, this is a regular inconvenience that the Not-spot team hopes to tackle.
As a city, London wants to attract new businesses, but when connectivity is such a key part of working life, London loses some of its attraction for businesses looking to move. If we want others to invest in London, London must invest in itself – which is exactly what this initiative is doing.
How the Not-Spot Team will Connect the Capital
The Mayor's reasons for the project were clear:
"If we are to remain competitive in the global economy, we need to ensure every Londoner is able to access a fast and reliable digital connection. That means working to boost connectivity across London – tackling Not-spots, delivering connectivity in the London Underground and working with local authorities to provide digital infrastructure fitting of a global tech hub."
One way Khan aims to achieve this was outlined in his letter to the 33 London local authorities. He would start by "tackling London's biggest Not-spot, the Tube, by delivering 4G mobile connectivity to London Underground, both in station and tunnels from 2019, future-proofed ready for 5G."
Khan has also said that the new Crossrail will have mobile coverage when it launches in December 2018, "giving continuous phone coverage and access to the Internet, apps and email as trains move through tunnels across the network."
The idea of a connected commute for Londoners has been in the works since 2015 and some are still sceptical that these promises will be kept. One of the main concerns was funding. Where will the money come from to create this 'connected capital?' Khan's answer: "The Digital Connectivity Funding Forum." City Hall will conduct a summit that aims to bring London's local authorities together in support of the project and its application for the Government's Digital Infrastructure Funding.
If Khan can get this funding and the support he needs to carry out the project, the Not-spot teams will make a huge difference to digital connectivity in the city. It will save time and money and boost business productivity. Londoners will have the freedom to commute and work, keeping open those lines of communication that keep the city and its inhabitants connected.
— This feed and its contents are the property of The Huffington Post UK, and use is subject to our terms. It may be used for personal consumption, but may not be distributed on a website.