It's no secret to those who watch the tech world closely, but the fitness tracker marker is dying. Almost as quickly as it arrived, sales are in decline and huge brands that rode the wave of the segment's popularity are starting to fall away.
Jawbone is dead – as a consumer producer of gadgets anyway – and questions have to be asked about Misfit, which looks worryingly lifeless as we await the delayed Misfit Vapor sports smartwatch nearly a year after its unveiling.

Credit: Wareable
And then there's Fitbit. The company is openly pessimistic about fitness tracker sales, and has gone all-in on its impending Fitbit smartwatch – a risky venture that could cause an implosion if it's not received well this holidays.
There are other signs of ill health, too. IDC data has shown an 37.7% slowdown in Fitbit sales between Q1 '16 and the same period this year. The same report predicted just a 1.2% increase in the shipments of wristbands between now and 2021. And even worse news is that Xiaomi is now the market leader, peddling its cut-price trackers – a sure sign of a market in decline.
As my colleague Hugh Langley eloquently wrote last week, fitness tracking technology is stuck – caught between the rock of emerging sensor technology that isn't yet ready for prime time, and the hard place of cut-price sensor tech, cannibalisation of fitness features by smartwatches and general consumer apathy.
Step tracking is no longer a reason for someone to invest in a band. And too many other features, even ubiquitous ones like heart rate and sleep tracking, haven't solved the "so-what?" question that causes many to abandon trackers early.
But it's not necessarily the end of the road.
On the horizon are a host of sensors that could totally reinvigorate the market – the problem is that few are ready here and now. Fitbit has talked about new features that could tackle conditions such as sleep apnea, hypertension and arrhythmia. Blood oxygen, blood sugar and hydration are the subject of serious investment from brands like Samsung, which has a stake in the recently-delayed LVL hydration-tracking wearable.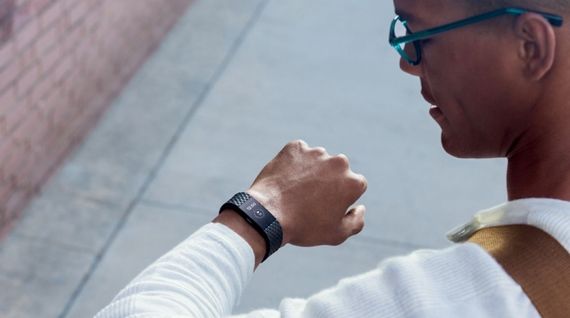 Credit: Fitbit
So it's possible the fitness tracker will rise again, but this time far more sophisticated than ever before.
What's more, while the fitness tracker market for plastic on wrist is in decline, the idea of quantified fitness isn't going anywhere. Wearable companies are increasingly becoming software focused, with Jawbone and Mio both looking to provide health platforms which are more device agnostic. Many wearable companies (such as Mio) only started manufacturing tech as a vehicle for their algorithms and software, so this kind of play makes a lot of sense.
Less walled gardens and more open health platforms could lead the way to seeing sensors in more of our lifestyle items: clothes, jewellery, smartwatches, phones. We're set to be tracked by more devices than ever – it's just the format of a specialist black plastic band that's in decline.
At Wareable we've always said that the problem with fitness trackers was that they never passed the test of whether you'd return home for yours, if it was forgotten. Three years on, few people would return for their Fitbit – but there's still a chance that these devices could become indispensable.
It's still the beginnings for fitness trackers – but they could look drastically different to how they do today.
— This feed and its contents are the property of The Huffington Post UK, and use is subject to our terms. It may be used for personal consumption, but may not be distributed on a website.