Coming from a broken home, an only child, subjected to abandonment, rejection and lack of nurturing, I left school at 16 with few qualifications and very little going for me. I had no role models, no network and no plan. But! I did have a curious mind, a vivid imagination and a wicked sense of mischief and it seemed opportunity and luck were always by my side.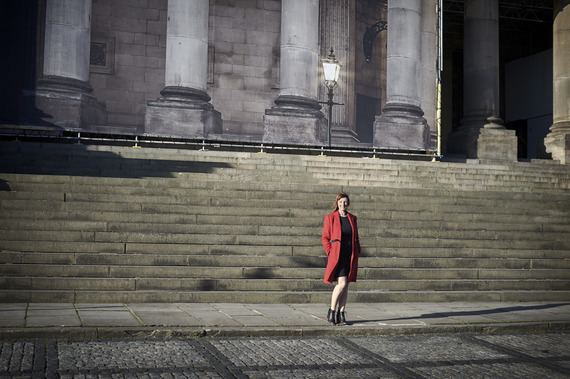 Carolyn pictured in Leeds. Photographed by Amelia Troubridge as part of Innovate UK's #infocus women in innovation campaign, an initiative to create diverse models for women in STEM.
I fell onto the bottom rung of the technology ladder and painstakingly dragged myself up, inch by inch. After completing a part-time degree in IT and Business, I then picked up an MBA with distinction. I found my love of learning, on my terms. The formative years of my career were always in male teams, men who were generally paid more than I to do the same job. It was from these men that I learned some of my biggest lessons: to take a shot at anything I wanted, irrespective of whether I was qualified to do it; to shamelessly talk about my achievements; and to sometimes use so-called 'macho' behaviour = to get things done. I earned their respect because I could hold my own in a technical discussion and life was OK. All my money was spent on my biggest passion – travel – and I've always been a ferocious champion of women and a role model for women in technology. The top of the corporate ladder was pretty cool. I led technology teams for ITV, BBC, Sony Music and easyJet and these jobs afforded me lots of international travel. One of those trips changed my life. In 2008, after a particularly boring solo stay in LA, with no opportunity to get out and see the city, I decided to put my technology skills, my passion for travel and my drive to support other women together to create a social platform to connect women business travellers. Maiden Voyage was born and I waved goodbye to the security and status of corporate life.
With opportunity and luck by my side, the press loved it and Maiden Voyage quickly became recognised as an innovative start-up. Within one year it had won the Business Travel Show Innovation Awards beating big brand names such American Express and Carlson Wagonlit. Of course it hasn't been easy: I've run out of money, had a serious meltdown, a crisis of confidence, and danced over and over again with my familiar friend 'rejection', but I wouldn't have it any other way. Not a day goes by when somebody doesn't tell me how much they appreciate the difference I'm making for other women. Likewise, the most amazing women have stepped into my circle and I'm now blessed with an enviable black book of awesome women mentors, sponsors and role-models.
Last year I entered the infocus Women in Innovation Awards. I won't lie, the process was arduous, the detail required to enter was epic and the interviews were ferocious! They really put me through my paces, and there was no question about this being 'easy, free money'! Winning the business support package however has brought with it the most amazing opportunities, like being featured in the Infocus exhibition at the Getty Gallery alongside women who inspire me to tears; women who are working on cures for cancer, space systems or just really innovative ways to challenge long-established norms. I think it was super innovative of the UK government to collaborate with one of the world's top photographers Amelia Troubridge. Amelia's energy is breath-taking, really very special. In that day she did more to unshackle and liberate me from the old macho habits that my male corporate colleagues had taught me than all those years where I'd tried, unsuccessfully, to be a 'honorary man'. I suddenly had permission to not just be an innovator but to be a woman innovator and proud, and that inspires me every day to steer other women away from the mistakes I've made throughout my career and entrepreneurial journey, to get them to their desired results faster and fearlessly.
To see the rest of the #infocus women in innovation photography series, shot by Amelia Troubridge in partnership with Innovate UK and Getty Images, visit: http://www.gettyimages.co.uk/collaboration/boards/DPwzhXTL606QygeKCaWd0g
If you're an entrepreneur or innovator, visit the Innovate UK website to find out more about upcoming funding opportunities. www.gov.uk/government/organisations/innovate-uk
— This feed and its contents are the property of The Huffington Post UK, and use is subject to our terms. It may be used for personal consumption, but may not be distributed on a website.