From the defined edges of The Shard, to the curvature of the ever-rising One Blackfriars, London's skyline is an array of both confident and subtle shapes. Combine that with the structures that have been here in London for centuries, and you have a juxtaposition between old and new that somehow just seems to work. As someone who likes to discover shapes and then embellish them with paper cut-outs, London is the perfect playground for what I do.
The variety of architecture in cities all over the world should be celebrated, but a quick scroll through Instagram and you'll see the same buildings and landmarks popping up. Thousands of photos of iconic landmarks are taken and shared every day, and whilst I love seeing them, it does beg the question 'How do you take a unique photo of something that's been photographed a thousand times?' I asked myself that question on Westminster Bridge whilst looking up at Big Ben. Then I had an idea.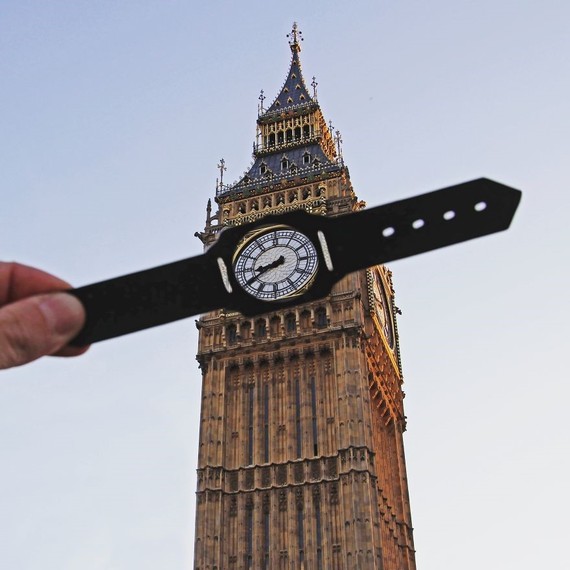 I decided to create a paper cut-out of a wristwatch, placed it in front of my lens, then captured the angle perfectly in my viewfinder for a new take on Big Ben's famous clock face. A man and his daughter walked by and took an interest in what I was doing. I showed them the photo I'd just taken and they both smiled. "Is this something you've done in other places?" he asked. "No" I replied, "This is the first time I've tried it". "You should do more" he said, so I decided to create more cut-outs, and take more of these playful shots.
My work tends to be fun, whimsical and sometimes surprising. I've even surprised myself with some of my ideas- it's like seeing another layer in the cities that I've visited and that's an incredibly exciting way to travel and see the world. I encourage everyone to walk around the streets with their eyes open and I especially encourage looking up. We're all rushing around so often that we miss many of the beautiful views we pass each day, there are hundreds of creative opportunities that jump out at me every day and inspire new shoots for the future.
To inspire others to think creatively I held a workshop at Old Spitalfields Market where I collaborated with LG on its Paper-thin Home to launch a first of its kind TV – one that is so slim it's like paper. The pop-up showcased how elegantly thin LG's SIGNATURE OLED Wallpaper TV is, as it seamlessly fitted into a living room made entirely of paper. Whereas usually the paper in my work brings objects to life, this time the wallpaper-thin OLED TV and 3D paper structure worked in harmony to create a fun, playful world. The paper workshop allowed me to share the secrets of how working with such a thin delicate object can transform your subject focus.
Participants at the workshop created their own shapes to be used in photographs around the city. I advised what to look out for on the streets, and fun way to incorporate everyday items against skyscrapers and the colourful graffitied walls around Shoreditch. Capturing an accurate illusion takes some practice and lots of experimenting with new angles, prop placement and depth of field.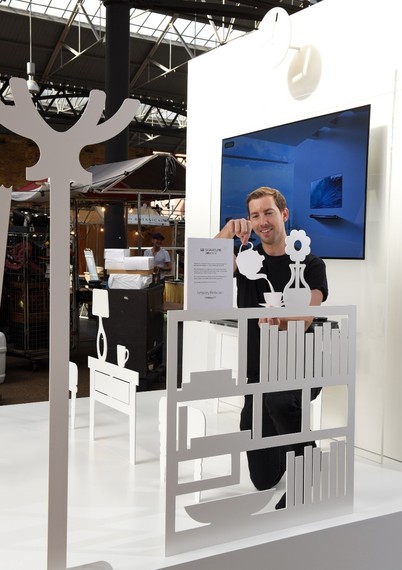 I even added some of my own fun additions to the LG Paper-thin Home including a sausage dog (which was very popular). Often a lot of my cut-outs are very small and intricate, once I have the concept for my shoot I'll draw and design my stencil which I then go on to cut with a scalpel on black paper. It was refreshing to work on a bigger scale, it brought the objects to life and it was great to see real life reactions rather than just digital likes on my Instagram
I first started working with paper a long time ago. My friends were in a band and were looking to create a music video without any costs involved! I was inspired to help them with something simple yet effective, so I produced a stop motion animation making all the characters out of paper. It was all home-made and a bit rubbish looking back, but a great lesson in taking the time to craft something so elaborate.
For those keen to experiment with paper, all you need is card or paper and craft scissors. I tend to opt for card as the thickness helps when working in various weather conditions outside. You can draw freehand or design your objects on the computer before printing and tracing them. If you find you want more detail in your designs you can use a scalpel and cutting board, going on to experiment with different papers. On a recent trip to China I couldn't believe the thinness of the paper used by master paper cutters in art, the intricacies and quality of work was astounding, it inspired me to bring new materials to my work at home, as well as taking on projects that pushed me outside of my safe zone.
I do lots of research before I head off on trips, looking for the top landmarks and attractions in each city or area, it's fun to play with iconic places that lots of people know about. Sometimes I'll even look at Google Maps to check out the vantage points from different streets or buildings. It's good to go to a destination with a number of locations in mind. I went to Korea earlier in the year and was amazed by the diversity of architecture between Seoul and Jeonju, from towers reaching into the sky to the sweeping roofs of the Hanok Village. The varying skylines of the world will always inspire my work, and challenge me creatively forever more.
To see my latest ventures around the world, take a look at my Instagram page – www.instagram.com/paperboyo
LG Electronics collaborated with Instagram Artist, Paperboyo to launch the new LG SIGNATURE OLED W TV. At 2.57mm the TV is a technology first offering a unique and unbeatable picture quality.
Find out more information by visiting: www.lg.com/uk
*TV measures 3.85mm when including wall bracket
— This feed and its contents are the property of The Huffington Post UK, and use is subject to our terms. It may be used for personal consumption, but may not be distributed on a website.