Donald Trump's decision to hold a face-to-face meeting with Kim Jong-Un with no official note-takers is already proving problematic, after North Korean media reported a different version of events to the one relayed by the US President.
According to a report by the state-run Korean Central News Agency, Trump "expressed his intention" to lift sanctions against the isolated country, as a response to Kim's promise to "denuclearise the Korean peninsula".
But Trump had said in a news conference on Tuesday that although he would like to lift sanctions, they would remain in place until "nukes are no longer a factor".
The subtle difference in phrasing reveals two quite different positions, and could cause friction between the two notoriously unpredictable leaders, particularly as no other officials were present in the room for the 48-minute meeting, apart from translators.
Trump, when asked about this during a press conference afterwards, said: "I don't need to verify, as I have one of the great memories of all time."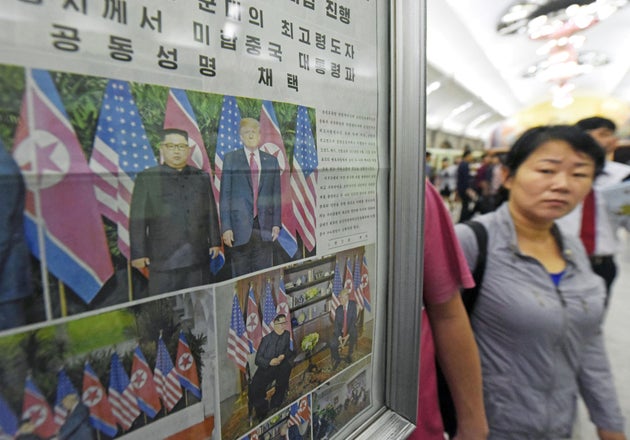 The development comes after North Korea experts had already questioned just how successful the summit had been.
Anthony Ruggiero, senior fellow at Washington's Foundation for Defense of Democracies think-tank, said it was unclear if negotiations would lead to denuclearisation, or end with broken promises, as has happened in the past.
"This looks like a restatement of where we left negotiations more than 10 years ago and not a major step forward," he said.
The response in North Korean state media could not have been more different – photos on the front page of the ruling workers' party newspaper showed images their leader Kim warmly shaking hands with Donald Trump.
The treatment the North Korean delegation received in what even Pyongyang is celebrating as a "historic" meeting in Singapore underscores what many critics have suggested in a propaganda coup for the North.
A summary of the summit by the state-run Korean Central News Agency read: "President Trump appreciated that an atmosphere of peace and stability was created on the Korean peninsula and in the region, although distressed with the extreme danger of armed clash only a few months ago, thanks to the proactive peace-loving measures taken by the respected Supreme Leader from the outset of this year."