Uber has suspended the licence of one of its drivers after a lesbian couple were allegedly booted out of his car in New York City.
Alex Iovine, 26, and her girlfriend, Emma Pichl, 24, said they were told to get out of the vehicle for sharing a "peck" in the backseat on Saturday.
The driver has been identified as Ahmad El Boutari by the New York City Taxi and Limousine Commission, WABC-TV reported. The pair had ordered the taxi to take them from Brooklyn to Manhattan.
As they were crossing the Manhattan bridge, Iovine said the couple leaned over to share a quick kiss. "We were sitting on opposite sides of the car," Iovine told the New York Daily News. "We leaned in for a peck, and that's what it was, a legit peck."
Iovine said that the driver suddenly pulled over once they had crossed the bridge and they were told to get out of the car. Iovine said she then began filming the confrontation on her phone.
"It is illegal," the driver is seen telling the couple in the cellphone video, obtained by WABC-TV. "It is disrespectful."
"Kissing is not illegal," the women protested.
"I don't want to argue with you," the driver said. "Just get out of my car."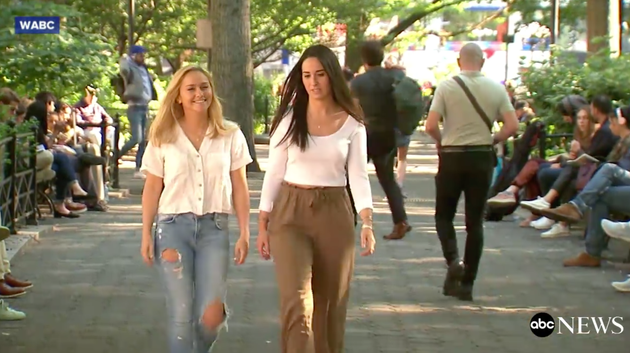 A spokesman for the New York City Taxi and Limousine Commission said they were investigating the incident. "The blatantly discriminatory behaviour described by the complainant is repugnant," said the spokesman.
Uber CEO Dara Khosrowshahi told the New York Post on Monday that drivers like El Boutari "don't belong on Uber."
"This is an open society and Uber is a platform that is available to anybody regardless of your background, your orientation, and that is sacred to us," Khosrowshahi said. "It's an unfortunate circumstance and we will do everything we can for that not to repeat."
El Boutari, 35, told the Daily News that the couple had been acting "crudely" in his car before the kiss and said that one woman put her feet on his seat and played loud music on their phones.
Iovine denied that the couple had "disrespected" El Boutari's car, adding: "We always handle ourselves appropriately in public."
The couple said they were deeply shaken by the incident, which occurred during Pride Month.