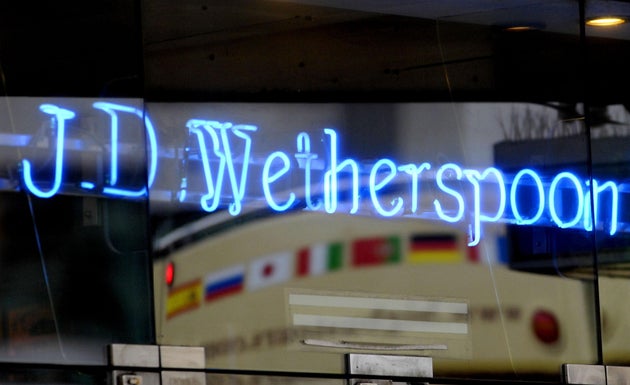 Wetherspoon will be selling more drinks from the UK and non-EU manufacturers in the run up to Brexit, the popular pub chain has announced.
French champagne will be replaced with other sparkling wines from the UK and Australia and more British wheat beers will be sold.
The switch will affect all 880 Wetherspoon pubs from July 9.
Wetherspoon chairman Tim Martin, a strong supporter of Brexit, said: "This move helps us to broaden our horizons so that we create an improved offer for the two million customers who visit our pubs each week.
"It is the start of a review all products in the next six to 24 months, with the object of making our business more competitive."
Martin accused the EU customs union of being a "protectionist system" which is "widely misunderstood".
He said that tariffs were imposed on wine from Australia, New Zealand and the US, and also on coffee, oranges, rice and more than 12,000 other products.
Martin has maintained – contrary to industry expert opinion – that Brexit can mean cheaper food for British customers.
His comments came after the chairman of Sainsbury's, David Taylor, the British Retail Consortium and former Deputy Prime Minister Nick Clegg warned Brexit without an EU trade deal will drive up food prices. Clegg said leaving the EU without a deal would mean a 22% tariff on food from the EU.
However, he could not say when asked by HuffPost UK last year if his prices will drop.
In his latest announcement, Martin said that the products Wetherspoon pubs are introducing are "at lower prices than the EU products they are replacing".
He added: "We intend to honour existing contracts with EU suppliers, some of which have several years to run."
Martin has been vocal in his support of Britain's departure from the EU and previously said he was "100% certain" Brexit could mean cheaper food in the UK.
In the run up to the referendum, anti-EU beer mats were supplied to Weatherspoon pubs across the country, encouraging people to back Brexit.
Martin was not deterred and printed beermats for people to read as they down cheap pints at 895 Wetherspoon's pubs across the country.