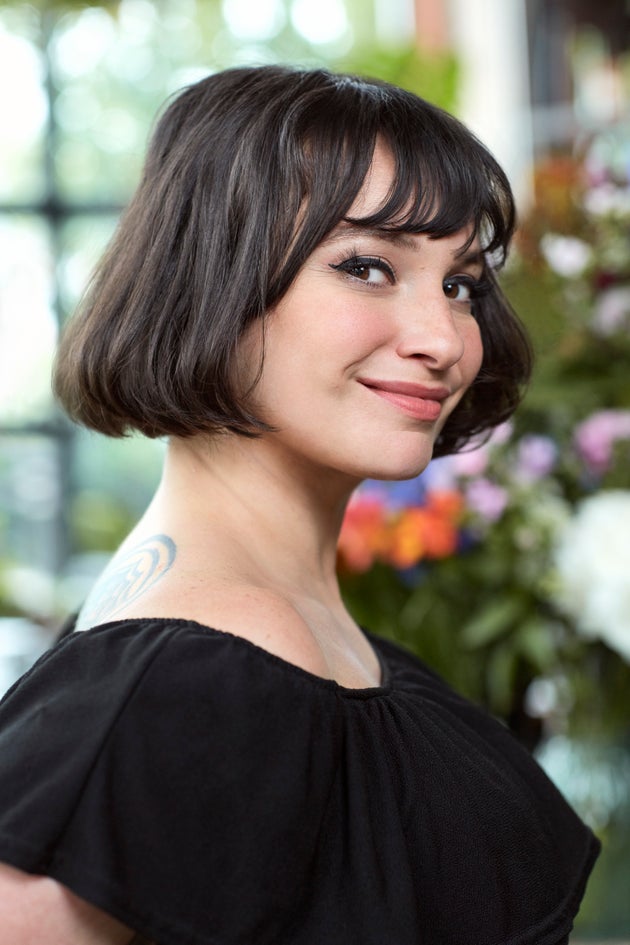 When someone makes it big through untraditional means, it overturns everything we know about success. In the truest sense, it inspires us to reach for things we didn't think possible and dream big.
Gizzi Erksine is about as untraditional as it gets – in fact, in the chef world, there is probably no one like her. For a start, she's a woman in a male-dominated industry. Then there's the fact that she isn't just a top chef – she runs her own pop-up restaurants, works on TV, writes cookbooks and has just opened her first ever permanent project, Mare Street Market in Hackney, which is an unbelievably cool space that houses a restaurant, deli, record shop and a florist.
Not bad for a London girl from humble beginnings, who left school at 15 and worked as a body piercer for seven years before going to Leiths Cookery School.
Although people assume she was born with privilege, Gizzi laughs and says: "I didn't have a network at the beginning. I was lucky enough to get into Leiths and was probably the poorest person among my friends growing up. I went to state school my whole life and at one point we slept on cardboard boxes. Hard graft and being vocal about what you want is key to success."
What Gizzi did have was personality, and as social media becomes an important shop front of our lives, that counts for a lot when you're building up your own squad of cheerleaders.
When she was about 16 or 17, she was backed by a man named Grant Dempsey, who gave her a job in a Camden-based piercing studio called Cold Steel. She then went on from working in reception to becoming one of their best piercers.
It's a formula that has worked for Gizzi for most of her life, which is that hard work and passion has to marry with opportunity, otherwise it falls flat.
Her passion for food began – like many people – at home. She says that her mother was a Bohemian character who would cook up a storm and loved the fact that Gizzi was adventurous and would try things from game to offal. "She used to laughingly say, 'you're the only one of my daughters who eats everything!'. That actually gave me confidence to explore my interest in all things food."
She first realised that she could do something with her own cooking talent when she moved out of home. She was tinkering around with cookbooks and making food for herself and her then-boyfriend and loved the act of delighting people with food. "I couldn't stop thinking about all of the things I couldn't wait to cook."
That interest in the unknown – from sourcing ingredients to learning new cooking methods – is also what excites her about the 'Backed By' initiative – that she's working on with American Express – where she'll support and nurture a new talent. "I'd like to back someone who has something to show me or something new and interesting, maybe even a food I haven't discovered yet!"
Her own career in food started when she was having lunch with her mother and she bumped into an old friend and restaurateur Will Ricker – who owned Great Eastern Dining Room. She told him about her plans to be a chef and he offered her the job to work in his kitchen, under Ian Pengelly – of Gilgamesh and House of Ho fame – to see if she was serious about it.
She was, and used all the money her grandmother had left her after she passed away to pay for her place at Leiths. Although she was doing really well, she still didn't have enough money for catering equipment and general bills, and was working all hours of the day and finally got evicted from her one-bedroom flat.
"I had school from 9-5pm and would go from there to do night service in the restaurant and on the weekend, I was working at the piercing studio. And it wasn't enough. By the third term I had passed out."
As she was crying, she was spotted by Caroline Waldegrave who owned Leiths and became one of her most significant backers.
"She scooped me up and took me upstairs – I couldn't stop crying. She said: "I'm going to pay for your last term because you're absolutely brilliant and you are one of our best students and we need to get you through this."
"So very sweetly she gave me a loan and I finished school. It was one of the kindest things anyone's done for me, and she saw something in me that made her want to do it. And I ended up winning the Leiths' intern prize which meant going on to BBC Good Food magazine. Without her, I wouldn't be doing what I'm doing today."
Talking about her turn to pay it forward, she says that the kitchen within Mare Street Market is already proving a great space to nurture new talent. She also thinks there is room to overturn that classic "shouty chef stereotype" as well.
"My godson, he's working here and is 21. He's a hard boy to tame and I relate to that. He's been working here as a chef, and has been working under two of the nicest, most placid people in the industry which goes away from this whole idea of "chefs being aggy".
"Watching this kid grow into someone who actually loves structure has been special."
One thing that Gizzi is keen to pass on is that it's great to be impulsive and creative but structure helps you excel at what you do. "I learned this very early on in my career, but if you're late, it has an impact on everyone around you," she says. "But I understand that needs to be taught in a way that makes people respect you, not by shouting. Some people require that hard and fast attitude but a lot of the time it is about nurturing and nourishing."
Looking ahead, what is she looking for in the person she'll support through the 'Backed By' initiative? "I want something fresh and new and a person who is a dynamo and will fight for what they believe. What I want is someone who has thought about what they want, and how they, as a person, will sit within it."
Gizzi Esrkine has teamed up with American Express for 'Backed By' a new initiative to offer a budding food entrepreneur the opportunity to win a unique backing experience with her. For more info and for your chance to win click here.
Promotor: American Express Services Europe Limited has its registered office at Belgrave House, 76 Buckingham Palace Road, London, SW1W 9AX, United Kingdom. It is registered in England and Wales with Company Number 1833139 and authorised and regulated by the Financial Conduct Authority.