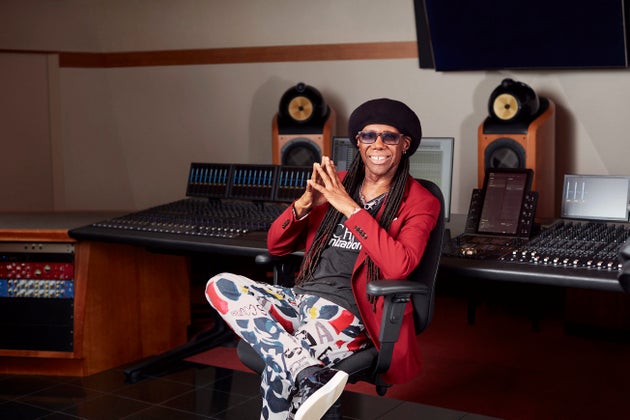 "Musicians", says Chic front man and legendary music producer Nile Rodgers, "are some of the most altruistic people in the world." Considering he has worked with and backed countless of them in their careers, he'd know.
"Everything that I know was inspired by someone else," he says. "Either they gave me the inspiration directly or I heard them, and I indirectly thought 'oh my god, that's the most amazing thing ever, if I could just do a portion of that it would change my life.' So recognising that we all influence each other when it comes to music has been incredibly important for me to share."
When musicians use their vocal power for good it becomes an incredible engine for change. We saw it happen back in 1984 with charity supergroup Band Aid, and, still today, we see music being harnessed as a uniting force that creates goodness in the aftermath of tragedy.
For Nile, his first experience of this was shortly after 9/11, when he lost three dear friends in the attack. His loss was to spark the conception of the We Are Family Foundation – an initiative to 'nurture and mentor the vision, talents and ideas of young people who are positively changing the world'. He says that the foundation is about unity, and spreading a universal message of peace.
"I had just done a film where I had appeared with Nelson Mandela," he says. "People from South Africa were saying "We Are Family" is such an uplifting song."
He says that everyone kept telling him to re-record the song to jumpstart the healing process after 9/11. Initially, he rejected the idea because he felt that he'd already produced that song for Sister Sledge.
"But then everyone kept telling me how it's used for weddings and bar mitzvahs. I started to reflect and I realised 'wait a minute, once you release a piece of music and put it out there, you are giving it away.' And people can interpret it anyway they like."
Eleven days after 9/11, Nile managed to bring together 200 artists to work on and record a new version of "We Are Family". The stories of people getting to the recording studio are incredible in themselves.
"I called Diana Ross and she was in Las Vegas," he says. "They didn't allow any planes to fly for a few days. So she got in a car and drove cross country. I called Patti LaBelle – her car had broken down in the Lincoln tunnel and some guy picked her up and drove her to the recording studio. There was just so much beautiful, altruistic stuff that happened as a result of recording this record."
Nile then approached "Sesame Street" – where he had worked many years before – where a children's version was recorded and the movement continued to spread. When he decided to create a charity out of all the positivity generated, he arrived at focusing on a mission statement of spreading love and education.
The guiding principle is fostering understanding. "If I know more about you," he says, "I'm less likely to be afraid of you." The foundation has since gone on to fund cultural diversity programmes, mentor children and funded 17 schools across Mali, Nicaragua, Nepal and Malawi.
His other project, Three Dot Dash, has an even keener focus. It powers and champions the most influential teen entrepreneurs who have found a solution to address a basic need – whether that's food or drinking water. They have teen leaders and pair the young people up with mentors and connect them to a vast global network that helps them realise their ideas.
One take away from talking to Nile is to never give up on people, and to believe that people have the capacity to do good and make real change. It's a mentality that quite literally, is changing the world.
Nile has teamed up with American Express for Backed By, a new initiative to offer a budding musician the opportunity to win a unique backing experience with the man himself. For more info and for your chance to win click here.
Promotor: American Express Services Europe Limited has its registered office at Belgrave House, 76 Buckingham Palace Road, London, SW1W 9AX, United Kingdom. It is registered in England and Wales with Company Number 1833139 and authorised and regulated by the Financial Conduct Authority.