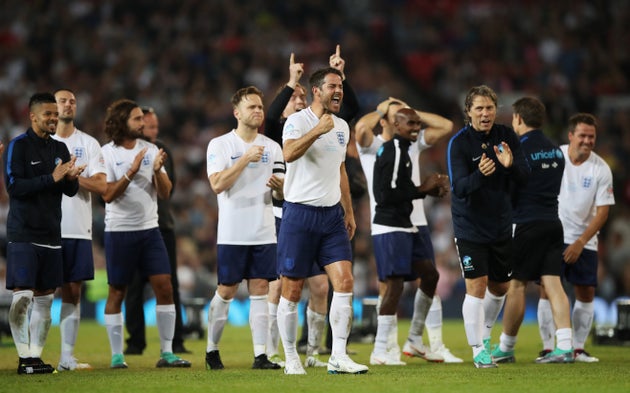 Football is a global game which brings everyone together – and last night's (Sunday's) fantastic Soccer Aid for Unicef match at Old Trafford was no exception.
Every pound that the British public donates to Soccer Aid this year is to be matched by the UK Government, up to £5million.
This will double the difference the donations make for children around the world.
It will be transformational for so many, by helping to stop preventable diseases in children and end child hunger. It will save the lives of new born babies.
I want to say a huge thank you to the British public for all their support and generosity to Soccer Aid for Unicef this year.
But the UK government is not just doubling donations to Soccer Aid.
In 2017/18, twenty-five charities across the country have benefitted from UK Aid match funding.
Together with public donations, this means, that through UK Aid Match, more than £66million was raised for life-changing projects in 20 different countries around the world over the year.
The UK Aid match scheme sees the Government match public donations for qualifying schemes £1 for £1.
It gives the British public a say in how aid is spent and helps these projects achieve even more.
UK Aid Match programmes have helped save lives and create new opportunities for thousands of people across some of the poorest parts of the world.
It has helped vaccinate children against preventable killer diseases, given people clean drinking water and food, stopped infectious diseases from reaching our shores and helped to create jobs so people can earn a living.
These charities do vital work improving the lives of some of the world's poorest people
We could not have done all this without the extraordinary generosity of people in the UK and their determination to support others in need.
The real winners from last night's game are the children who will benefit from the generosity of the British public.
The money raised will help tackle preventable deaths of new and expectant mothers and children under-five.
It will go towards Unicef programmes in Lesotho and Eswatini, improving the lives of the most vulnerable women and children, and ensuring access to quality maternal care and HIV services.
The project will improve the quality of nutrition they receive.
Overall, it will benefit close to 180,000 women and children under-five.
DfID has supported Soccer Aid since 2012, backing projects across the world.
The impact of Soccer Aid and DfID's support of it through UK Aid Match are global – and crucially lasting.
But more work still needs to be done.
Everyday around the world 830 mothers die and 7,125 babies are stillborn.
Some 7,200 babies die in their first month of life.
The majority of these deaths are entirely preventable through better nutrition and improved health care.
This is the work that Unicef will be able to do more of because of the Soccer Aid campaign.
UK Aid Match will mean the donations of the British public will go twice as far.
So thank you again to everyone who has donated and raised awareness of Soccer Aid for Unicef.
The British public can be proud that its donations are once again transforming children's lives.
Penny Mordaunt is the International Development Secretary and Conservative MP for Portsmouth North