It is, to the day, five months since Horizon Zero Dawn hit stores.
Set in a post-apocalyptic world occupied somehow by Bronze Age tribes and cyborg animals, the Sony-published RPG was released to universal acclaim in February and is a virtual lock to win most if not all game of the year awards going. It's been 151 days since it came out, and it's taken me ages to finish, yet I don't think I could have enjoyed it more.
You see, when I was younger and had fewer adult responsibilities, I flew through games. I was the type to brag to my high school pals that I finished Grand Theft Auto: San Andreas in a week, and tell you about my Football Manager saves that spread into the 2020s (Liverpool still never won the league and England still never won the World Cup, for what it's worth).
There was something about how encapsulating these internal worlds were, how much I thought of retreating into them when I was having an unhappy time in our real one, that made playing games one of my favourite escapist pursuits. It still is.
Now though, I find I have less and less time to pour into them. Not as much energy for those all-nighters and a smaller capacity to shove away the guilt I felt spending all weekend in front of a screen – not to mention now having to consider my partner's TV-watching needs.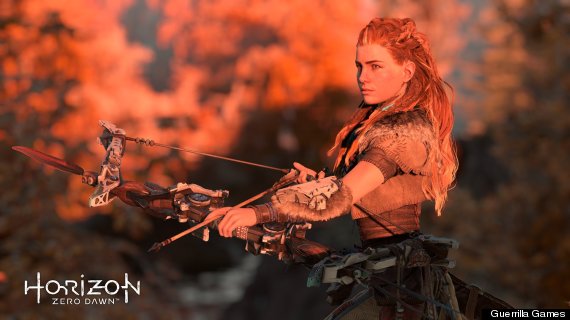 Taking my time with Horizon Zero Dawn has been an unfamiliar but wholly rewarding process. The slow unravelling of protagonist Aloy's epic story of self-discovery lends itself to an extended playthrough, and the game's endlessly explorable world of debris and mystery beg you to stick around and soak in as much as you can. Traversing through dangerous lands and sneaking past seemingly undefeatable monsters of biblical scale has rarely felt more threatening in a game – everything is at stake in every moment of combat.
Aloy too has, in her own way, slowed my progress. She's a strong-willed, witty and layered character that you want to spend your time with, her search for meaning in her life gripping you throughout. You yearn for a satisfying conclusion almost as much as she does. She's a remarkable and well-drawn woman of integrity in a period of real strength for female heroes – the recrafted Lara Croft, Wonder Woman, Daenerys Targaryen… and Lord knows I can't through a blog without mentioning Star Wars' Rey and Jyn Erso.
Without giving too much away, the overarching themes of Horizon Zero Dawn are very Relevant To Our Times without being preachy, and weighted just enough in reality to make you think this could reasonably be our future – though it's probably safe to say we're not headed to a future of cybernetic sabretooths that consume biological matter for fuel.
It is, in short, possibly the best game I have ever played. No story since Red Dead Redemption has kept me as engrossed, no world has felt so well-crafted since Metal Gear Solid IV, and no game has nailed the feeling of your power and understanding growing with your on-screen avatar since… maybe Madden NFL 07 when I finally understood the rules of American Football.
As one to never have enjoyed playing online – games have always been about getting away from other people, not having them scream down a microphone at me – Horizon Zero Dawn's focus on creating an expansive, captivating single player experience stands out. It's an approach more games should, and probably will, take as the medium matures.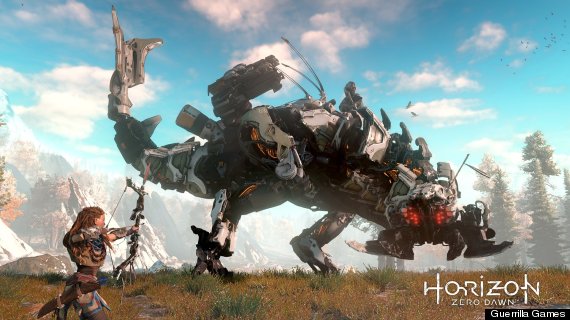 But besides the game being just so damn good, I have to give a lot of credit to adult life forcing me to take the game on chunk by chunk. Picking up and putting down Horizon has made every fight has felt more hair-raising, every minor revelation that much more revealing. Each character you meet and desperately hope to survive – or indeed kill – is more impactful for having to listen to their words and their motivations more intently.
As any grown-up who plays games will know, I'm often asked when I'll grow out of it and stop playing with something designed for kids. If I can enjoy more games long-form like this, it won't be any time soon.
With palpably exciting narrative-led games like A Way Out and Red Dead Redemption 2 on the way, I think maybe I'm done binge-playing video games. Social media reaction and day one reviews dominate our impression of not just games but film, TV and music, but it might be that this slower, more wholesome, holistic and, oh God I can't believe I'm writing this, mindful approach to finishing games like Horizon holds the key to understanding their true worth.
— This feed and its contents are the property of The Huffington Post UK, and use is subject to our terms. It may be used for personal consumption, but may not be distributed on a website.