In our regular series 'Best Jobs In The World' we meet the people whose jobs sound more fun than work. And if cheese isn't your thing? Meet the woman who works as a toy inventor.
Cheese-lovers, prepare to explode with envy. Ned Palmer is a freelance cheesemonger who gets to consume a shed load of cheese and wine for a living.
Palmer, 45, runs The Cheese Tasting Company which hosts cheese tastings and food-pairing workshops (cheese teamed with either wine or craft beer) for corporate events and private groups.
He's arguably got one of most desirable jobs on the planet, so we caught up with him to find out what a typical day involves as well as how you too can become a full-time fromage expert.
READ MORE: Best Jobs in the World: The Woman Who Designs Toys For A Living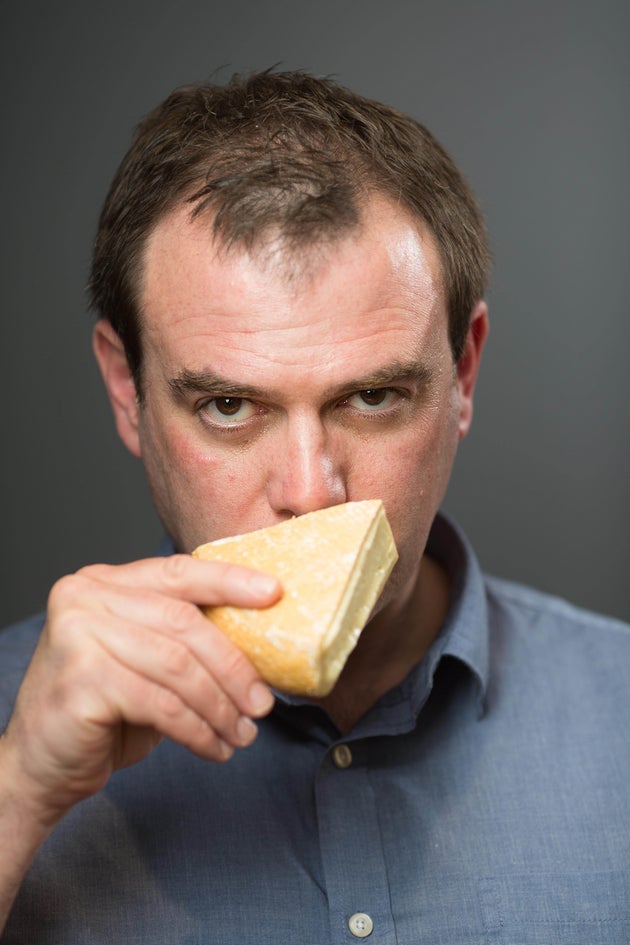 What does your job involve?
I get up at 7am everyday and work at a desk in the bedroom. I check my emails first thing and respond to anything that is actually urgent. In the morning I do the harder and more deadline-heavy jobs like drawing up quotes, invoicing and updating the website.
The afternoon is when I go and buy what I need for tastings or try cheese (mostly at Borough Market or at various cheese shops) or new wines and beers (I use Laithwaites at Borough for more conventional wines or Aubert and Mascoli for my more adventurous clients). If I have meetings with clients I try and push them to the end of the day, as I find it really hard to settle into focused work after I've been out and about.
If I am away making cheese then I'll get up around 5am. Making cheese involves stirring starter culture into a vat of milk, ladling curd into moulds, turning cheeses in a cellar, and washing racks and other kit. There's always a lot of washing. If I have time, I go to say hello to the animals. I don't think I've ever got away with much less than a 12-hour day when cheesemaking.
How long have you been doing the job and how did you get into this field?
I set up The Cheese Tasting Company in 2014, but I've been hosting cheese tastings for more than 10 years. I got into cheese in 2000 when I started helping my friend Todd Trethowan sell his Gorwydd Caerphilly at Borough Market. He thought I might stop bothering him with questions about cheese if he got me a job at Neal's Yard Dairy, the great British cheese shop, where I worked on the retail counter and in the cellars looking after cheese.
After six years there I left to set up my own business. The hours are shorter; there are fewer early starts; and trying cheeses, wines and craft beers is actually part of my job.
What's the best part of your job?
Um. All of it? Okay, here are three things: to keep up with what's going on in the world of cheese I visit cheesemakers and make cheese with them as often as possible. It's fun.
Secondly, at every tasting there's a moment when someone tries top quality artisanal cheese for the first time. Seeing the expression of wonder and joy on their face is life-enhancing.
Last of all, I never get sick of eating cheese. I might spend a day trying new cheeses at Borough Market, come home with a cheeseboard's worth of new stuff, share it with my wife and I'll enjoy each cheese as much as when I tasted it for the first time. So really, I'm happy all the time.
What's the most challenging aspect?
In a sense every tasting is a new job and a new challenge – a few years ago I did a tasting for 10 people in a tiny canal boat, last year I did a tasting for 400 guests in the Main Hall at Inner Temple. Every tasting has to feel as fresh and exciting as the first one I hosted. So although I've been doing this for years I still feel nervous before each one. It's a performance.
Do you have a good work/life balance? What are the hours like?
There isn't really any distinction between my work and my life. I might spend most of a day buying the cheese and wine for a tasting which means going to see all my cheesemonger and wine-merchant friends. Then I'll be prepping and hosting the tasting until say 9 or 10pm which means eating cheese, drinking wine and talking about cheese. So you could say that I work for 12 hours on a day like that, but it doesn't feel like work.
What is a typical salary for your occupation?
I really don't think there is anyone else doing what I do, at least I haven't met them yet. I do okay financially.
How do people react when you tell them what you do?
Amused incomprehension. Then massive excitement when I produce cheese, or at the possibility of imminent cheese.
How many people do a similar job to you around the UK?
I would like to think that I'm unique. I know a few people who host tastings as part of other companies like Neal's Yard or La Fromagerie, but I as far as I know I'm the only freelance cheesemonger in the world, which is nice.