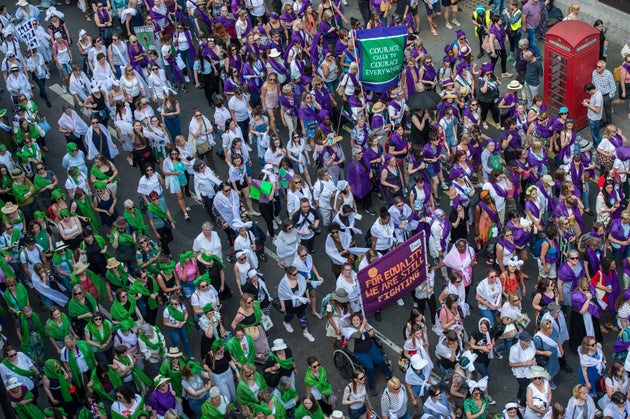 Thousands of people marched through the streets of London, Edinburgh, Belfast and Cardiff on Sunday to celebrate 100 years of female suffrage in the UK.
In the capital, the mass march formed part of a living piece of art to mark a century since women were granted the vote.
Dubbed "Processions" the march featured hundreds of handmade banners, period costumes and purple, white and green sashes – the colours of the suffragette movement.
Those taking part marched from Hyde Park down Piccadilly, past Trafalgar Square and down towards the river.
The event was co-ordinated by 14-18 Now, an art programme connecting people with the First World War, and Artichoke, which stages large-scale art events in public places.
"We came because we wanted our children to understand what happened 100 years ago and that they can't take for granted all the things they have now," said Helen Shah, 42, from Wokingham.
"My daughter, she loves science, she loves cricket – the things women fought for."
Similar marches were also staged in Cardiff, Edinburgh and Belfast.