Thandie Newton paid tribute to the black characters from the 'Star Wars' universe on the red carpet at the 'Solo' premiere in Cannes on Tuesday (15 May) night.
In the upcoming origin story about 'Star Wars' staple Han Solo, Thandie plays a new character, named Val.
As she made her way to the film's premiere last night, she sported a Vivienne Westwood dress emblazoned with images of other black characters from previous 'Star Wars' films including Billy Dee Williams as Lando Calrissian, Samuel L Jackson as Mace Windu and, more recently, John Boyega as Finn.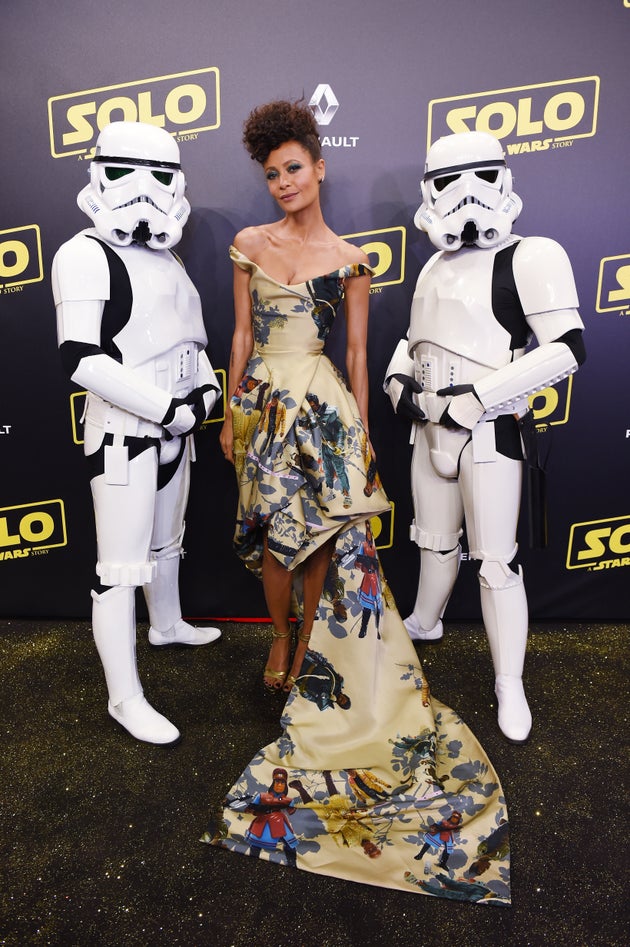 Sharing an image of the dress on her Instagram account, Thandie's stylist Erin Walsh revealed that the actress had come up with the concept of the dress herself, in a show of solidarity with the trailblazers who came before her in the sci-fi franchise.
Erin said: "Thandie had the brilliant idea to make a dress covered in a print with photos of iconic black @starwars characters! She wanted to celebrate her role in the iconic history of the franchise!!"
Also included in the dress's design are Forest Whitaker's character, Saw Gerrera, and Hugh Quarshie's Captain Panaka, both of whom were introduced in the 'Star Wars' prequels in the late 1990s and early 2000s.
Thandie has previously spoken of her pride at playing a character she described as "the first woman of colour to have a prominent role in the 'Star Wars' legacy".
She told Radio Times last month: "There have been others with one line and Lupita Nyong'o was a computer-generated character [Maz Kanata, in 'The Force Awakens' and 'The Last Jedi'], but you didn't get to see the colour of her skin. I'm the first.
"I'm going to have a toy and everything. It's exciting, but that's all I can say. It is a big deal."
The most recent film in the 'Star Wars' series, 'The Last Jedi', introduced Vietnamese-American Kelly Marie Tran as engineer Rose Tico.
Thandie stars opposite Alden Ehrenreich as a young Han in 'Solo', which arrives in UK cinemas on 25 May.