The trailer for Freddie Mercury biopic 'Bohemian Rhapsody' has faced accusations of straight-washing the late Queen frontman.
US writer and producer Bryan Fuller spoke out against the 90 second teaser after it was released online on Tuesday (15 May), noting how Freddie's relationships with men and his AIDS diagnosis did not feature.
As the trailer showed Freddie's relationship with women, Bryan called it out for not explicitly showing his love of men.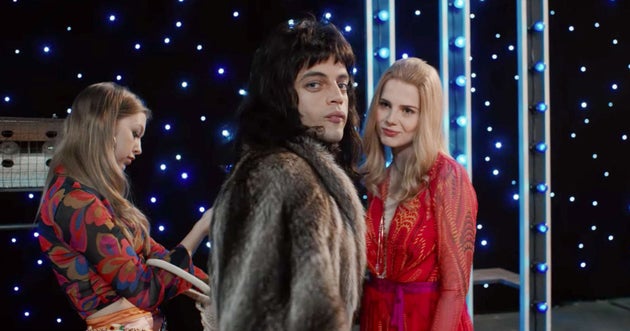 He wrote: "Anyone else mildly annoyed (enough to tweet about it) that the #BohemianRapsody (sic) trailer features gay/bi superstar Freddie Mercury flirting with and twirling with a woman but no indication of his love of men?"
After some of his followers argued producers may have been keeping back certain parts of the story for the full film, Bryan went on: "I disagree. It's #HETWASHING (hetero-washing) for marketing sakes."
While there was a fleeting shot of Freddie with a man (presumed to be Paul Prenter), Bryan said: "The shot of him in close proximity with a man is mere frames, while the relationship with the woman is emphasized. This is not an accident."
He then shared a screengrab from the trailer's YouTube description, where it referred to Freddie's AIDs diagnosis as "facing a life-threatening illness".
"Dear 20th Century Fox," he wrote. "Yes, it was a life-threatening illness, but more specifically it was AIDS. From having gay sex with men. Do Better."
While Freddie Mercury gave varying descriptions about his sexuality during his career, he was in a relationship with Mary Austin from 1970 to 1976, before dating Jim Hutton, who cared for him up until his death in 1991.
Bryan added: "I feel what the trailer is doing is queer-erasure. If they were out and proud with his bi-sexuality they would have indicated he was bi-sexual. Showing him romantic with a woman, but not a man (3 frames don't count) is not a celebration of bi-sexual identity. It's hiding it."
There were many people on social media who agreed with Bryan's assessment of the trailer:
However, there were also those who pointed out how Bryan's comments could actually invalidate the experience of bisexual people.
They explained how just because Freddie is seen with a woman in the trailer, this doesn't automatically 'straightwash' him, as heterosexual relationships are still part of a bisexual person's queer identity.
HuffPost UK has contacted film makers 20th Century Fox for comment, and is awaiting a response.
The film stars Rami Malek as Freddie, with Tom Hollander and former 'EastEnders' actor Ben Hardy also playing his bandmates.
'Bohemian Rhapsody' is released on 2 November 2018.