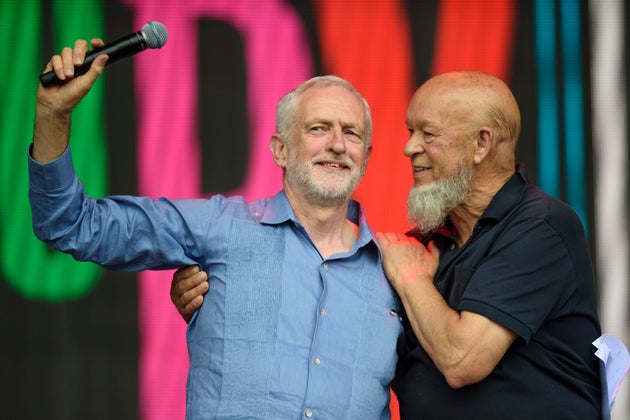 It was billed as Jeremy Corbyn's very own Glastonbury, a fun summer day out packed with politics, music and possibly even sunshine.
But the party's 'Labour Live Festival' in north London next month has so far sold around 15% of its ticket allocation, HuffPost UK has been told.
One senior source said that just over 2,500 tickets have been purchased for the planned gathering in White Hart Lane Recreational Ground in Tottenham – well below the site's capacity of 15,700 people.
In a bid to boost attendance, free coaches will be offered to local constituency Labour parties (CLPs) across the country and extra musical acts are now being lined up.
Trade unions are also being asked to help underwrite the costs of the event, in case the public response to the festival leaves a shortfall in funding, sources said.
One source even claimed that the bill was set to run to between £1m and £1.5m, dwarfing the £500,000 the party spent on its entire local elections campaign this year.
Other sponsors are being still being sought and the Corbyn-supporting grassroots movement Momentum this week emailed all its members to urge them to buy tickets.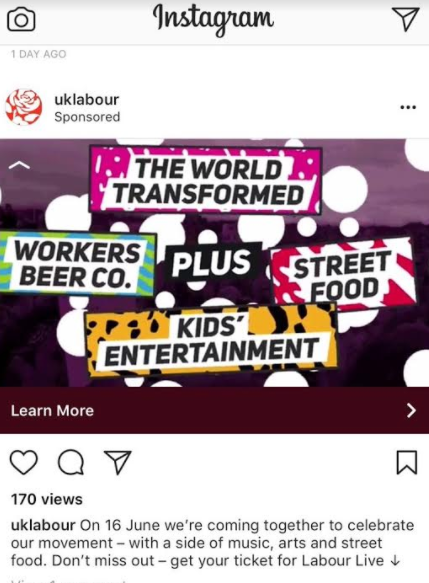 Labour MPs have also been emailed by the party to use their Twitter, Facebook and Instagram accounts to give the festival more publicity and drum up more ticket sales in the remaining weeks.
"MPs are asked to help promote the festival – including amongst their own CLP members – by sharing the below tweets or facebook posts on their social media accounts," the Parliamentary Labour Party (PLP) Office Team advised MPs in an email seen by HuffPost.
Event organisers have struggled to attract any bigger-name music acts than those currently on offer.
Indy band The Magic Numbers, winner of TV's The Voice Jermain Jackman and singer-songwriter Rae Morris are the headline artists so far.
However, party sources told HuffPost that there will be new musical acts to be announced in coming weeks and shrugged off suggestions that the event would not prove popular.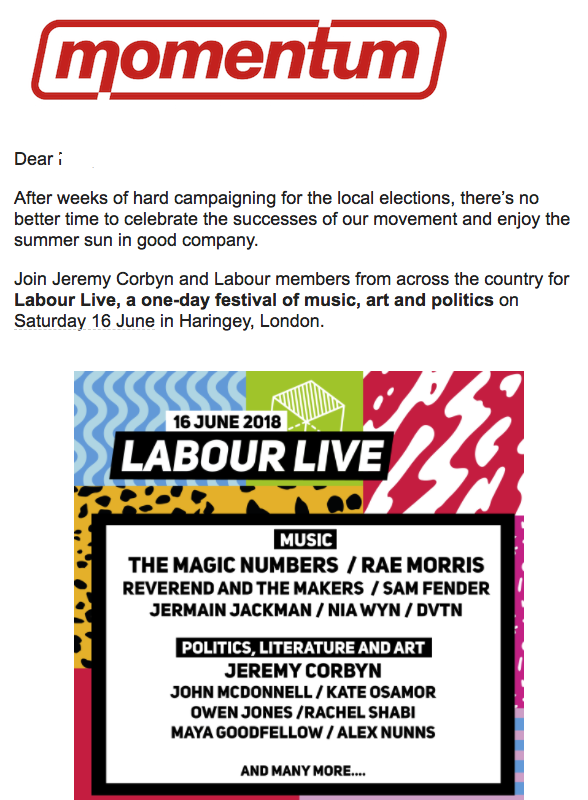 Corbyn himself, as well as Shadow Chancellor John McDonnell and Shadow International Development Secretary Kate Osamor, is due to give a keynote speech. Journalist and activist Owen Jones is also on the speaker line-up.
"It could be a PR disaster at this rate," one party source told HuffPost UK. "The events team are trying their damnedest, but it was always a big ask."
With the festival posing an unprecedented challenge in terms of public safety, licensing and backstage logistics, the party has also been struggling to find staff willing to support the event.
Another factor for party members across the country is that several other big summer events stretch across a few weeks, from London Pride to last weekend's TUC march and the Durham Miners' Gala and demonstrations planned for Donald Trump's visit in July.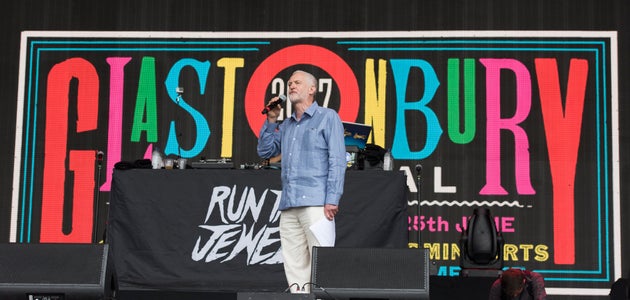 Corbyn's huge youth appeal was underlined at the Glastonbury Festival in 2017, when crowds chanted his name just days after his general election campaign deprived Theresa May of her Commons majority.
Appearing alongside festival organiser Michael Eavis, who called the Labour leader 'the hero of the hour', Corbyn used his speech to attack Donald Trump over his plans for a Mexican border wall and for his threat to pull out of the Paris climate change deal.
Corbyn has also won high-profile support for Labour last year from grime artists and others.
Yet music magazine site NME claimed in March that the line-up for the Labour Live event was a 'missed opportunity'.
It suggested that Stormzy, plus rappers JME and Novelist, and indie bands Wolf Alice and Shame, all strong supporters of his, should have been approached to appear.
The Labour Live event was promoted as "a brand new one-day festival of music, art and politics that brings together our incredible movement".
Defenders of the event say that it will still break new ground for a political party, in keeping with Momentum's successful The World Transformed festival at Labour conferences in Brighton and Liverpool.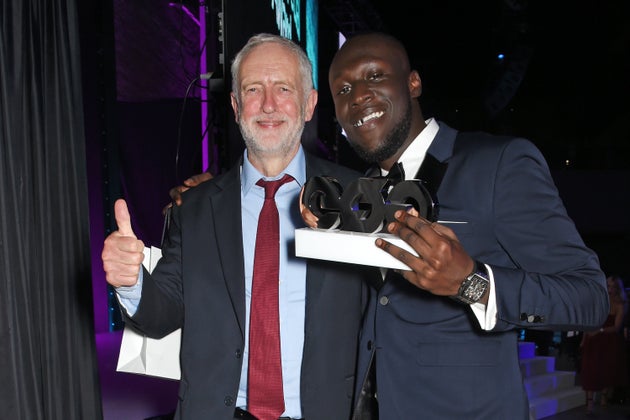 A Labour spokesman told HuffPost UK refused to deny the 2,500 figure, but insisted that it was not party policy to confirm ticket sales.
"Labour LIVE will be a festival of music, art and politics. It is a fun-packed day out for the whole family and we encourage everyone to take part," the spokesman said.
"Ticket sales have been positive, and we are offering free tickets to under 14s. We look forward to hosting Labour LIVE with our supporters and everyone from the local community."
A source said that the party always tried to help CLPs outside London with 'adequate transportation' to the capital if required.
They added that members from Manchester and Liverpool are planning on attending. Event organisers believe that there will be a surge in tickets sold in coming weeks as the date draws closer.
Labour Live will feature two large capacity tents, one organised by 'The World Transformed', and another by trade unions who are planning their own activities for the day.
A party source denied that unions had been approached for financial support.