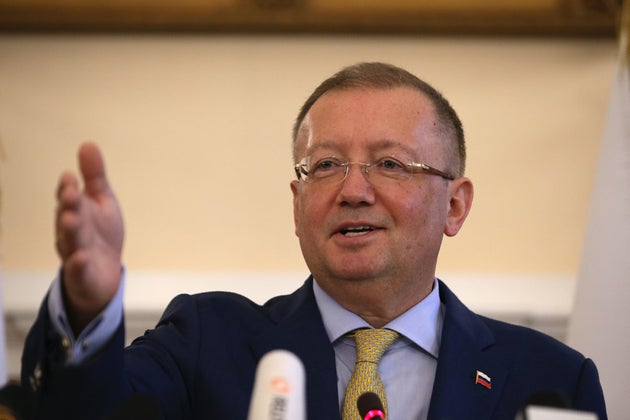 Russia's UK Ambassador has been dubbed 'Comical Ali' by MPs as he repeated claims UK spooks carried out the Salisbury poisoning.
Appearing in Parliament, Alexander Yakovenko denied Russia was behind the attempted murder of former spy Sergei Skripal and his daughter Yulia in the Wiltshire town in March.
Putin's man in London doubled down on his country's belief UK spies were behind the attack, which was carried out using a Novichok nerve agent believed to have been produced in Russia.
During the grilling by MPs and peers, Yakovenko also repeated the claim a chemical weapons attack in the Syria city of Douma in April had been staged by the Syrian rescue group 'White Helmets'.
Labour MP Chris Bryant, chair of the All Party Parliamentary Group on Russia, repeatedly rolled his eyes and looked aghast as the Russian ambassador attacked conventional thinking around numerous international and domestic incidents.
Conservative MP Bob Seely, a former journalist who spent time reporting from Russia in the 1990s, grew increasingly frustrated with Yakovenko's claims, dubbing him 'Comical Ali' – a reference to the Iraqi soldier who told journalists Baghdad was not under attack from American troops while the sound of warfare could be heard just miles away.
Yakonvenko hit back, claiming the UK is breaching international law by not allowing the Russian government access to the Skripals.
When asked why he believes the UK Government would order the poisoning of the pair, the Ambassador argued Theresa May had painted the Kremlin out as "enemy number one" and wanted to fire up anti-Russian sentiment in the country.
He said: "In order to get their support something extraordinary should be done in this country in order to make people believe that this is the Russians that did this, who basically poisoned the Skripals.
"That's exactly what happened. Today we are just working with the assumption that without any evidence we were blamed."
Isle of Wight MP Bob Seely grew increasingly irritated with Yakonvenko's claims, and said: "The Russian state is getting a reputation for being very plausible but completely unbelievable."
He added: "People treat you like they treated Chemical Ali in Iraq – someone who is great entertainment value, you're a wonderful conspiracy theorist."
Seely concluded: "I just think you live in a parallel universe."
Baron Robathan warned Yakonvenko that Russia is becoming a "pariah state" – an accusation dismissed by the Ambassador.
"The world is not just 35 countries of the Western bloc, there are another 160 with whom, you know, we are doing quite well," he said.
Relations between Russia and the UK are at their lowest levels since the Cold War, with both sides expelling diplomats from each others countries in the wake of the Salisbury attack.