Women's activewear brand Sweaty Betty has removed an image on its website following criticism that it "sexualised" a range of leggings and cropped tops for children.
The photo previously shown on the retailer's website of three girls modelling the tropical print outfits was called "inappropriate" by commenters on Twitter, while Kate Dale, strategic lead at Sport England's This Girl Can campaign, told HuffPost UK she feels the image is "at best unhelpful, and at worst very worrying, in the way it portrays girls" and she is concerned it will put young girls off exercising.
"Women come in all shapes and sizes and all levels of ability – it's important that they don't feel they have to look a certain way or wear certain clothes to be active," she said.
After this article was published at 10.30am on 15 May, Sweaty Betty removed the below image, but has not responded to HuffPost UK's requests for comment.
Dale said This Girl Can's research has found 75% of girls and women want to be more active but judgement around how they look is one of the things that can hold them back. "They've told us what they see in advertising and magazine as 'an ideal' can stop them even starting exercise," she said. "It doesn't matter if you have amazing athleisure wear or old tracky bottoms. If you're a woman and you're doing something, This Girl Can thinks you rock."
The clothes for children are available in ages 11-12 or 12-13, or for toddlers aged 2-3 or 3-4.
"Seriously @sweatybetty who signed this off?" Twitter user Becca Johns wrote on 14 May. "I love your products, but I can't buy from you again if you think this is an appropriate way to present kids' clothes. Bad enough that adult women are expected to be sexy whilst exercising but now kids too?"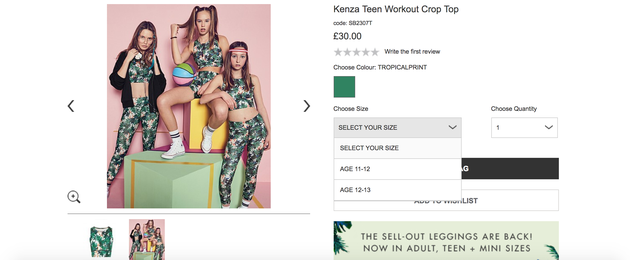 Helen TamblynSaville tweeted: "Oh my gosh, @sweatybetty what are you thinking? Unnecessary sexualisation is bad enough, sexualising a kids' range is even worse. What sort of message does this send out?"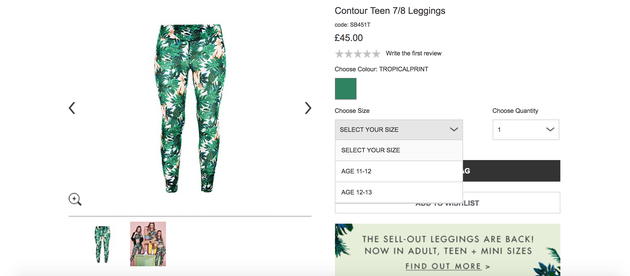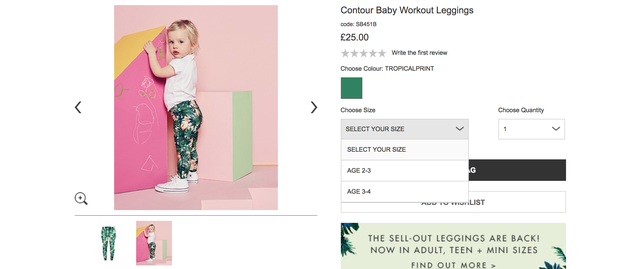 In a blog on the website, Sweaty Betty founder Tamara Hill-Norton, who is a mum-of-three, wrote why she has created a range of teen leggings and added that the promotional photos feature her two daughters, her niece and a model, and were intended to be light-hearted and fun. "Since I founded Sweaty Betty, our core values have always included empower women of all ages through fitness, so I knew I wanted to encourage teens to lead a more active lifestyle in a fun and playful way," she wrote.
"This shoot is quite a step away from our usual more serious and active images, and it was incredible to see the girls all laughing together creating these really light-hearted images."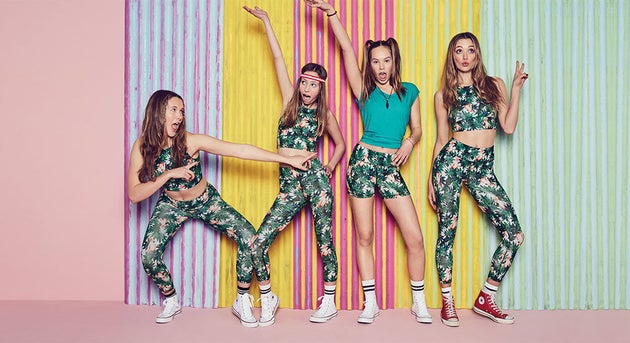 But many people on Twitter felt the photos were inappropriate, as the models were in "provocative poses".