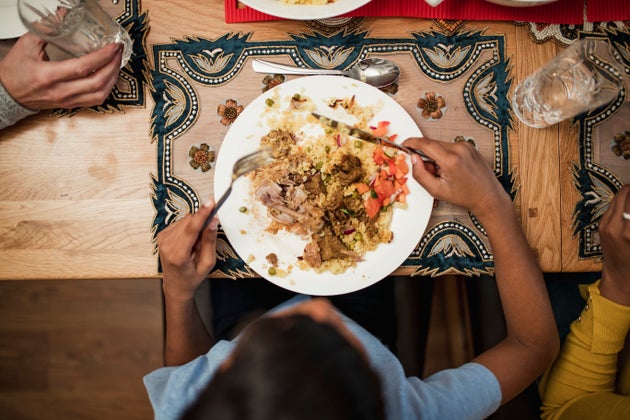 Last month, Ogilvey Noor, published a report, 'The Great British Ramadan', with lots of insights into the economic benefits of Ramadan to the UK. Statistics about the increase in spending, the brand opportunities and the eagerness of British Muslims to have some kind of engagement from famous high street names made for some interesting reading. However, as a British Muslim myself, a narrative about the 'green pound' as it were, and how retailers can benefit from the coming of the month, left me a little wanting.
Ramadan is a sacred month in the Islamic calendar, representing a time of introspection, abstinence and a search for inner peace. It is a time when one is encouraged to take a spiritual journey to rise above the material distractions of the day and aspire to one's essential, human purpose. Ramadan is not only a time for abstaining from the pleasures of food, drink and intimacy with one's partner during daylight hours, but also to demonstrate excellent character and find a greater place for scripture in one's life. A month in which one more avidly seeks guidance from God's final revelation to mankind is clearly a time which brings much meaning, one that emerges not only from the goal, but the very search itself.
This is the Ramadan I know, and like countless others, yearn to see every year. It is a Ramadan that allows one to find peace, tranquility and meaning in every day. Each day is full of meaning, prayer and the pursuit of good, and surely it is these things that should make for a greater reception of Ramadan across our country. Having a whole segment of society increasingly God conscious and engaged in civil society in an increasingly positive manner should be something that wins more hearts than simply those in the boardrooms of our favourite retailers.
Ramadan this year will see around 3% of the British public fasting – that's around two million people. They will be working in our offices, hospitals, schools, armed forces and supermarkets and pretty much in every service we rely on. Many of the fasting will be more engaged than ever in distributing food to the hungry, visiting the sick and the elderly, as well as gathering for prayers in their local communities.
Britain today hosts a range of wonderful fast breaking programs which bring together people of all faiths and none, two fantastic examples being the Ramadan Tent Project and the Big Date. These events provide wonderful opportunities to sit, talk and enjoy a meal with neighbours and those countless people you see, but with whom you never engage. In Ramadan we will also see Muslim charities do amazing things, from excel in their providing opportunities for the rich and poor to engage and benefit each other withcollecting and distributing Zakat, to leading the humanitarian response for the needy across the world with charitable donations. Islamic social finance contributions are unparalleled in Ramadan and are a tribute to the generosity of the British Muslim population. It is on the back of this unprecedented philanthropy that we see in this month that multiple endeavours that make civil society stronger will be founded and also win new attention and support over the course of the month. Switch on any ethnic or Muslim media channel on your TV and you will come to learn of countless efforts from your Muslim neighbours to make the world a better place and, truly represent the Great in Great Britain.
With all this going on in the space of just 30 days, surely Ramadan is something to be welcomed to a greater degree in Britain? Rather than the excitement and experience being contained within a small portion of the population, wouldn't it be better if we could all participate with even more civic engagement, charity, bread-breaking, and smiles? Whether it's simply by having read this article or from knowing friends who will be fasting, most likely you will be touched by Ramadan one way or the other. The question is, are you brave enough to embrace it and, participate in some of the communal activities and blessings only the Muslim community enjoys? You are certainly most welcome to join in. Yes that's right – this Ramadan, everyone's invited!