Prince Harry and Meghan Markle will be serving up trendy bowl food and canapés at their wedding breakfast on 19 May.
According to reports, the couple will have a standing-only reception with light bites served to the 600 guests in attendance at St George's Hall, Windsor Castle. Meanwhile the public attending the wedding, who will not be in the chapel but will be milling around the grounds of Windsor Castle, will be offered "light refreshments and snacks". They've been advised to bring a picnic to keep the stomach rumbling at bay.
The steer towards snacks over a sit-down meal has left us with a few questions to say the least, here are some of them…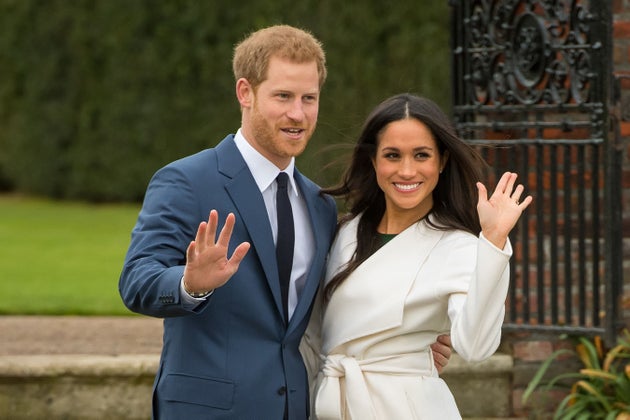 1. WTF is bowl food?
Bowl food is basically a trendy, more substantial version of canapés, which is often served in bowls, obviously. It tends to be fuss-free, so guests can eat it without the need to sit down, allowing them to mingle with others. (We hope there are napkins on hand.)
2. What kind of bowl food will be served?
Royal chef Mark Flanagan revealed the dishes (read: nibbles) served to guests will be "predominantly classics". Flanagan, who is leading a team of 30 chefs and assistants in preparing the banquet, couldn't share the specifics of the menu, but said they are using seasonal produce from the local area. "The recent good weather has really helped us to achieve that," he told Sky News.
What we do know is that handmade chocolate truffles will be on offer (see below). A video of the chefs prepping food also showed them podding garden peas, with artichokes and garlic nearby.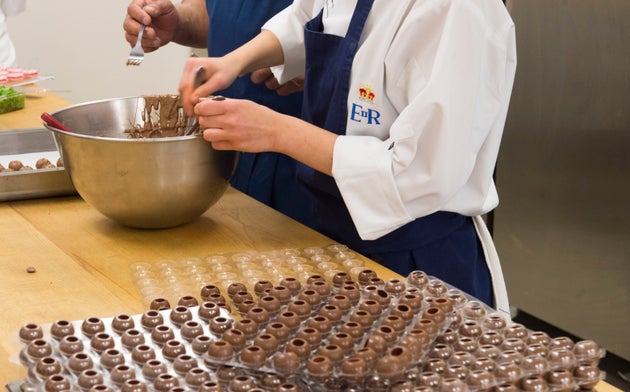 3. Why did they choose bowl food?
Flanagan said the dishes were all Harry and Meghan's decisions. "We purely made suggestions and they've tasted everything, they've been involved in every detail," he added.
The fact the young couple have chosen to shun a traditional sit-down wedding breakfast is perhaps a nod to Meghan's standing in the foodie world. The former actress ran a lifestyle website called The Tig, infamously named after her favourite type of wine: Tignanello.
Food anthropologist Kaori O'Connor from University College London previously told HuffPost UK Meghan's influence might result in some bold choices being made with the menu – and it looks like she was right. "Meghan is an interesting character," she said. "She's known to have food views and practices of an 'actressy-fringey nature' and is interested in 'eating clean'. To what extent this is going to turn up in the menu, I don't know. But you would certainly expect there to be some American element in the food as tribute to her. It could be regional, a family favourite or a food that has a personal meaning to the couple."
4. How will guests juggle food and a glass of fizz?
Anyone who's ever eaten bowl food will know it's a two hand job: one to hold the bowl and another to eat with whether using the cutlery or your fingers. Like any other posh event with bowl food, this begs the question – how are guests going to eat and hold their fizz? (Not to mention any other possessions such as hymn pamphlet, camera, clutch bag, etc.) Our advice to guests: find a nearby table or window sill and hold the fort.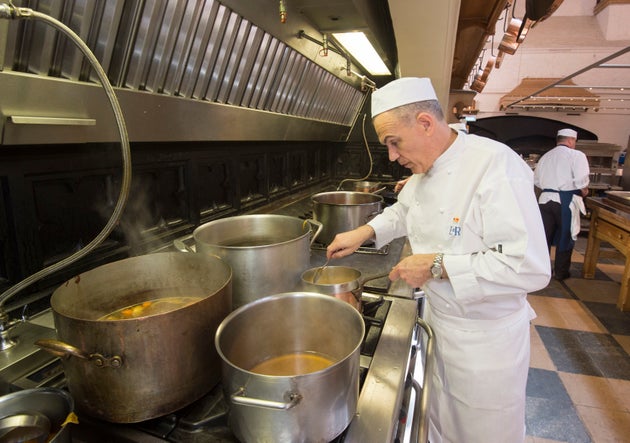 5. Won't people get drunk if there's less food?
The answer is almost certainly yes. Unless, of course, the couple choose to have less booze on offer. But they wouldn't do that, surely?
6. Will there be cake?
Yes, thank God, there will be cake. It's thought guests will pick on canapés during the lunchtime reception, which is when the speeches will take place as well as the tradition cutting of the cake: a lemon elderflower number covered with buttercream and decorated with fresh flowers. The cake has been created by pastry chef and food writer Claire Ptak, owner of the small Violet Bakery in east London.
7. What is the Queen going to eat?
Our guess is as good as yours, but we reckon the Queen will also be partaking in a bit of finger food earlier on in the day. If she gets peckish, she can always nip off to the kitchen.
8. Will there be a sit-down meal later?
It's still unclear whether the couple will have a sit-down meal later on in the day. In the afternoon, the Queen will host a lunchtime reception for her grandson and his new wife. Then, in the evening, roughly 200 of the bride and groom's family and closest friends will attend a second reception hosted by Prince Charles at Frogmore House. Surely someone will host a dinner?!
One thing's for sure, the couple have saved themselves a major argument over the seating plan for 600 people and politics of who sits where. Wise move.