There was a huge shock in store for UK Eurovision entrant SuRie during this year's live final, when her performance was interrupted by a stage invader.
SuRie was in the middle of performing her track, 'Storm', on Saturday night (12 May), when a man ran on stage, grabbing her microphone and shouting a message referring to the "Nazis of the UK media".
He appeared to shout: "For the Nazis of the UK media, we demand freedom."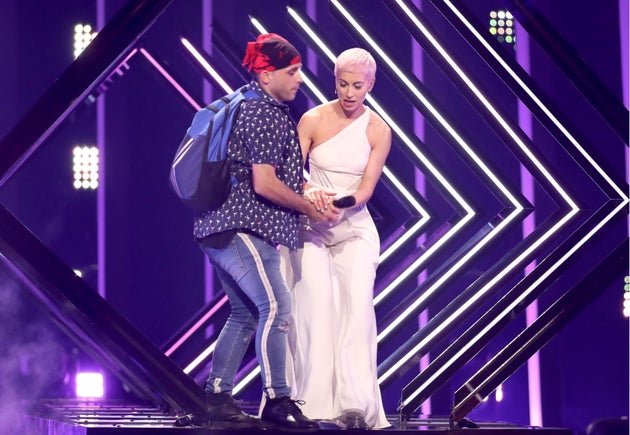 However, he was unable to complete his protest as he was then removed from the stage by security.
SuRie confusedly looked on as the scene played out, while the audience continued to sing the lyrics of her song along with the backing track. She then got her microphone back and made it to the end of her song.
As is standard procedure in incidents like this, Eurovision offered SuRie the chance to perform a second time at the end of the show, though she declined the opportunity.
Commentator Graham Norton explained: "The decision was left to SuRie and she decided she did not want to perform again, and who can blame her, she has absolutely nothing left to prove."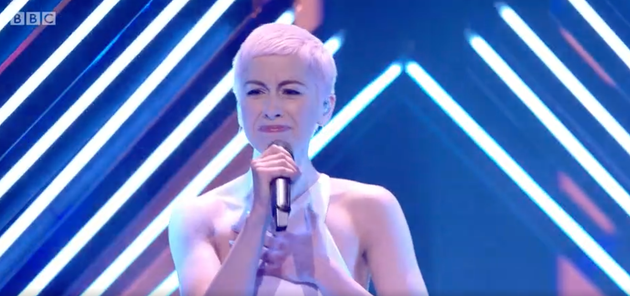 A Eurovision spokesperson also revealed shortly afterwards that the stage invader had been taken "into police custody".
Up until the moment of the stage invasion, SuRie's performance had been among the strongest of the night, with the audience clapping and singing along with 'Storm'.
Her perseverance and strength got a strong reaction from Eurovision viewers, who praised the singer for the way she handled the situation.
Graham also heaped praise on the way SuRie handled herself, noting: "SuRie coped incredibly well, I can't stress enough what a brilliant job she did. She must have been terrified in that moment."
A post on the official UK Eurovision Twitter page noted shortly afterwards: "Just to confirm SuRie is ok. More news when we get it."
HuffPost UK spoke to SuRie shortly before she headed to Lisbon for the Eurovision live shows, during which she observed of her then-upcoming performance: "Everything that is within my power, I will do my very best with, and anything beyond my control, it's my job to just deal with it."
Read the rest of our SuRie interview here.