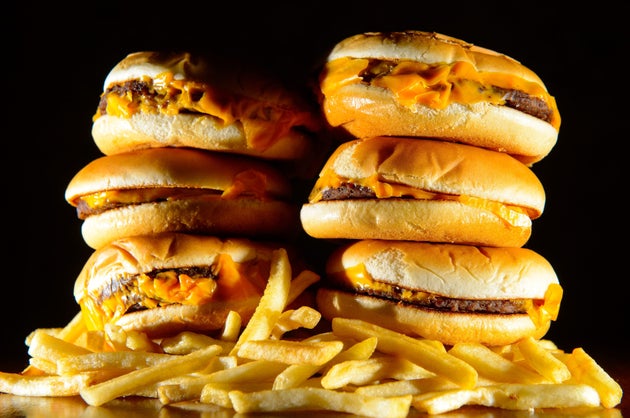 Junk food advertising could be banned on the London Underground network as part of plans to tackle the capital's "ticking time-bomb" of childhood obesity.
The proposals, unveiled by London Mayor Sadiq Khan, would also extend to the capital's buses and bus shelters, as well as the London Overground.
Khan said "bold steps" were needed to "do right" by young people, and to minimise the huge strain being placed on an under-pressure health service.
He said: "It can't be right that in a city as prosperous as London that where you live and the income you have can have a massive impact on whether you have access to healthy, nutritious food and your exposure to junk food advertising.
"I'm determined to do all I can to tackle this issue with the powers I have and help Londoners make healthy food choices for themselves and their families."
He added that he wanted to "reduce the influence" on children and their families by banning advertisements for unhealthy food and drink that are high in fat, salt or sugar across the entire Transport for London network.
His plans, part of his draft London Food Strategy which aims to reduce the level of child obesity in the capital by 2028, will now be subject to a consultation.
He is also proposing a ban on new hot food takeaways opening within 400 metres of schools.
Professor Dame Sally Davies, the Chief Medical Officer for England, said: "The evidence is clear that although it is not a silver bullet, restricting the amount of junk food adverts children are exposed to will help reduce obesity.
"Children are inundated with adverts for unhealthy food so this is a really encouraging move and a bold step in the right direction."
Justine Roberts, founder of Mumsnet, said parents would be grateful for measures that reduce "pester power".
She added: "Food manufacturers have done well in bringing down salt levels in everyday foods, making it easier for families to be healthier; it would be great if they could collectively act on sugar and fat to help parents ensure that children have a balanced diet."
London has one of the highest child overweight and obesity rates in Europe, with almost 40% of children aged 10 and 11 overweight or obese.
Children from poorer areas of the capital are disproportionately affected, with young people in Barking and Dagenham almost twice as likely to be overweight as children from Richmond.