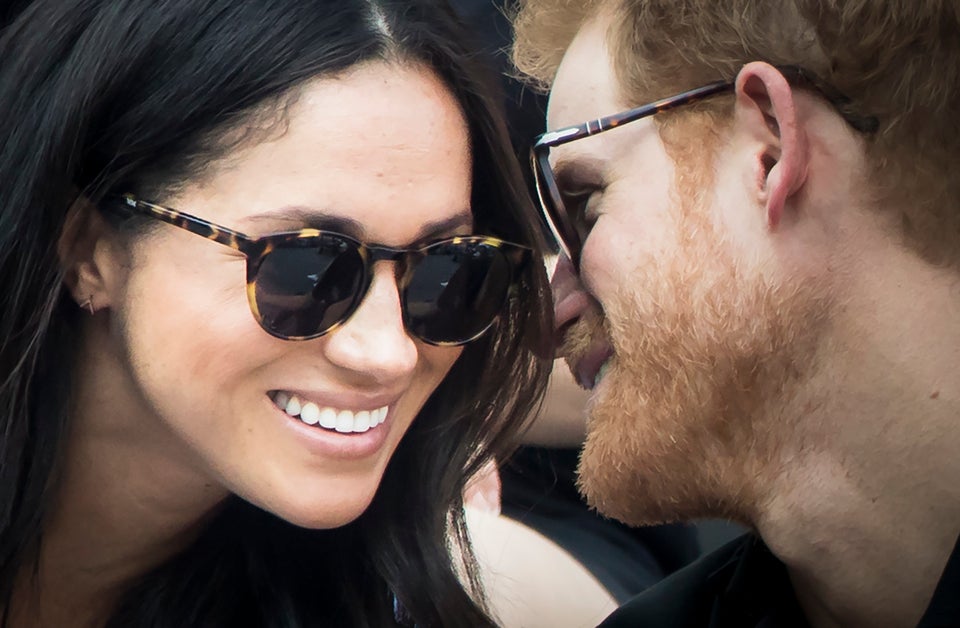 Six-year-old Isabella will be playing the part of Meghan Markle in Queensmead School in Windsor's recreation of the upcoming royal wedding of Prince Harry and Meghan Markle.
"I'm really looking forwarding to dressing up and being the bride," she tells HuffPost UK. "I've enjoyed trying on lots of different wedding dresses but I haven't quite made up my mind yet!"
The school is taking full advantage of the fact it's only a stone's throw from the processional carriage route that Harry and Meghan will take after their ceremony on 19 May.
A few days before the wedding, the nursery and reception kids will stage their own copycat procession along the Long Walk where the real wedding procession will take place, with the senior students waving the younger ones along.
It's just one of the royal wedding-themed activities local kids will be taking part in during the lead up to the big day, when the world will be watching Windsor.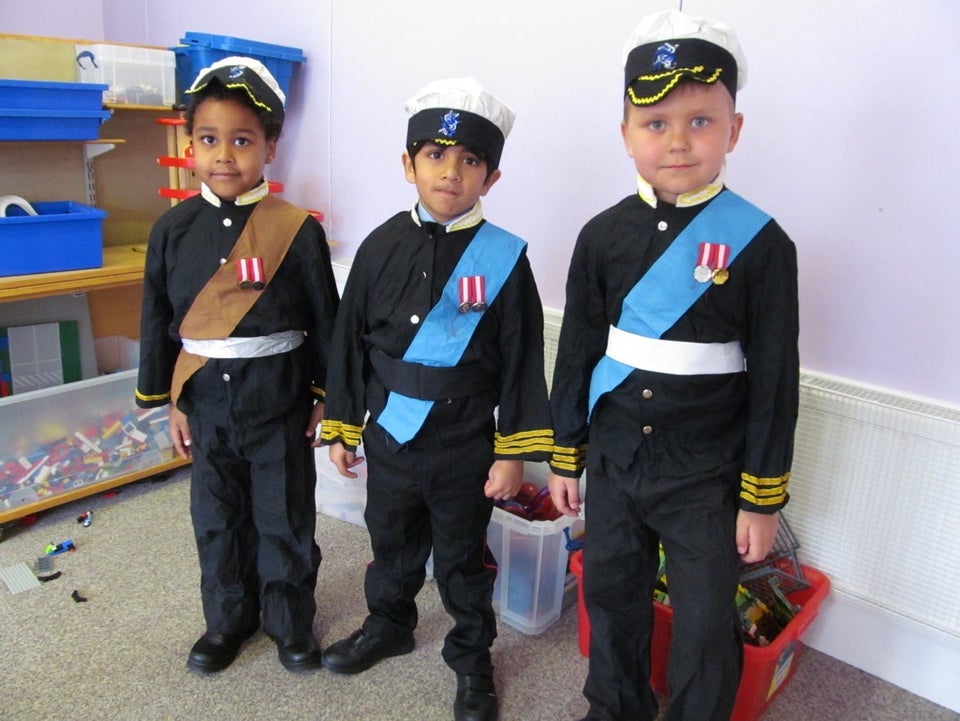 Antonia, also six, will be playing the part of the Queen. She says: "I'm really looking forward to seeing the Queen's real children on the day of the wedding and seeing how they look compared to my pretend children."
The students have started practising their parts and costume productions are underway. "As part of our curriculum study of the royal family, we couldn't have asked for more than a royal wedding to complete the student's learning," says Pat Keen, head of early years at Queensmead. "We are very lucky and privileged that Windsor will see two royal weddings this year," she adds, referring to Princess Eugenie's wedding to Jack Brooksbank that's set for 12 October in the same venue as Harry and Meghan's.
The excitement is palpable among schools near Windsor Castle. "The girls are getting very excited," says Hilltop First School headteacher Lynn Bima. "It's the idea of the princess and the carriage, and they know the street they'll be going down so it's massively exciting."
From parades to crown competitions and games, the plans at schools in the area range from large-scale parties to dances and Guinness World Record attempts.
Some told HuffPost UK they're having low-key celebrations: Clewer Green Church of England school is having a 'mufty' day, while Kings Court, a nursery and prep school, is having a country dancing display followed by a royal afternoon tea.
Others have planned events that will help kids feel pride in their town. Some schools are taking part in the BBC Berkshire 'bunting challenge', to decorate and colour large triangles which will then be used to decorate Windsor on the big day.
"We've fully embraced the opportunity to participate in the preparations for the royal wedding," Suzanne Hull, head at Oakfield First School, whose school is taking part in the bunting challenge, tells us. "The children have created imaginative, colourful designs which range from images of the 'happy couple' to wedding cakes and castles. One group of children even used the bunting to present a poem that they had written for the bride and groom."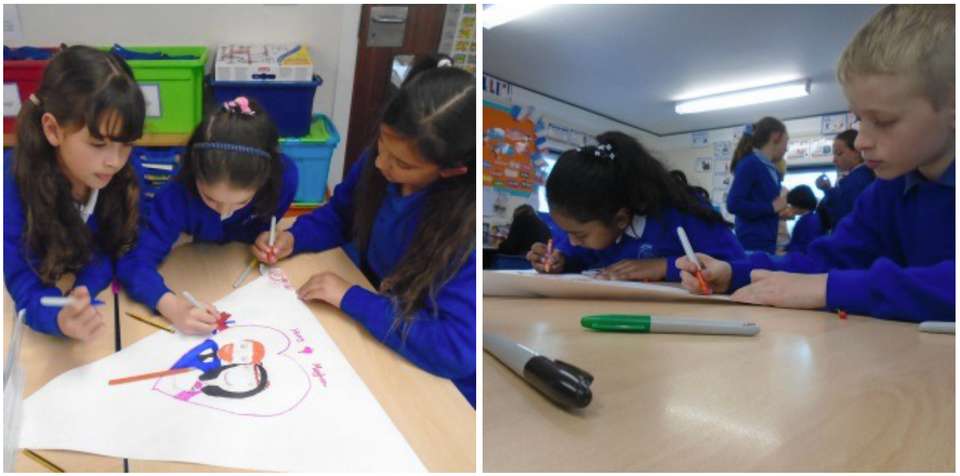 On the day of the wedding the school will have a picnic where kids can watch on big screens, with face painters, strawberries and cream and balloon artists.
Decorating bunting has also been an integral feature at Hilltop First School, which caters for kids from nursery to Year 4. While there was "definitely a buzz in the staff room," when it was announced the wedding would be in Windsor, headteacher Bima says children have only recently realised how much Windsor will be in the spotlight. "There's a sense of pride," she adds.
The school is celebrating a week early, because some older children are on a residential trip for the actual wedding. This week the kids are dressing up as princes and princesses or wearing red, white and blue, and have a competition to create a tiara at home. The Parent-Teacher Association will choose winners on the wedding day.
Parents can also join their kids for an afternoon tea party – complete with fairy cakes, scones, tea and strawberries.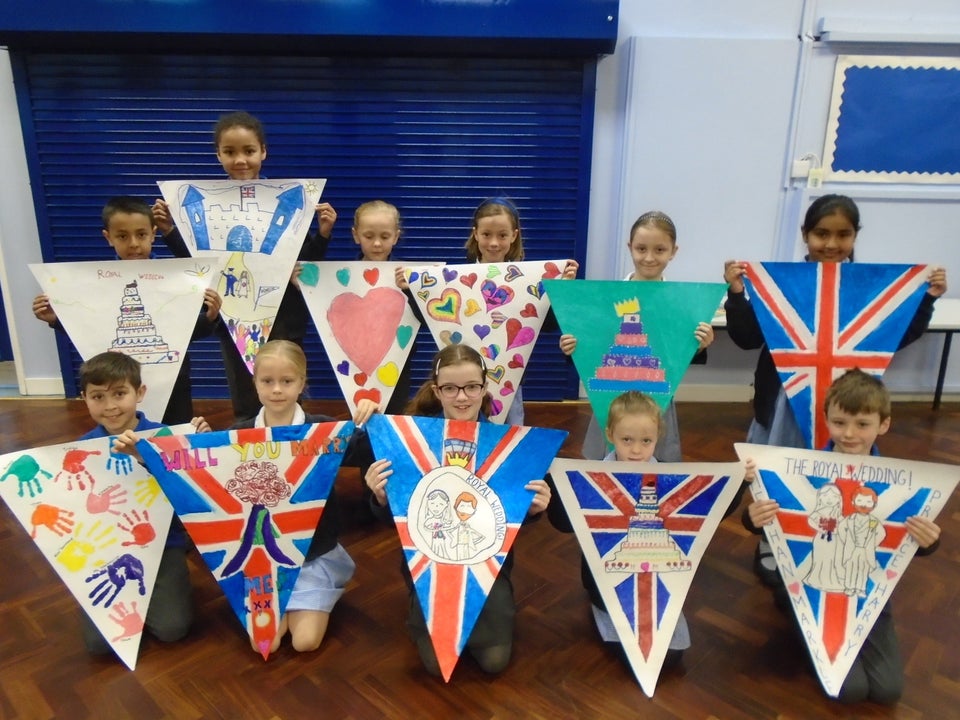 The kids will be having a parade at pick-up time, too: "The children will walk around the playground in their dressed-up outfits, wearing their crowns and parents will come early and form a circle around the kids," adds Bima.
The kids have also been making royal posters to stick around the school – an activity they've loved.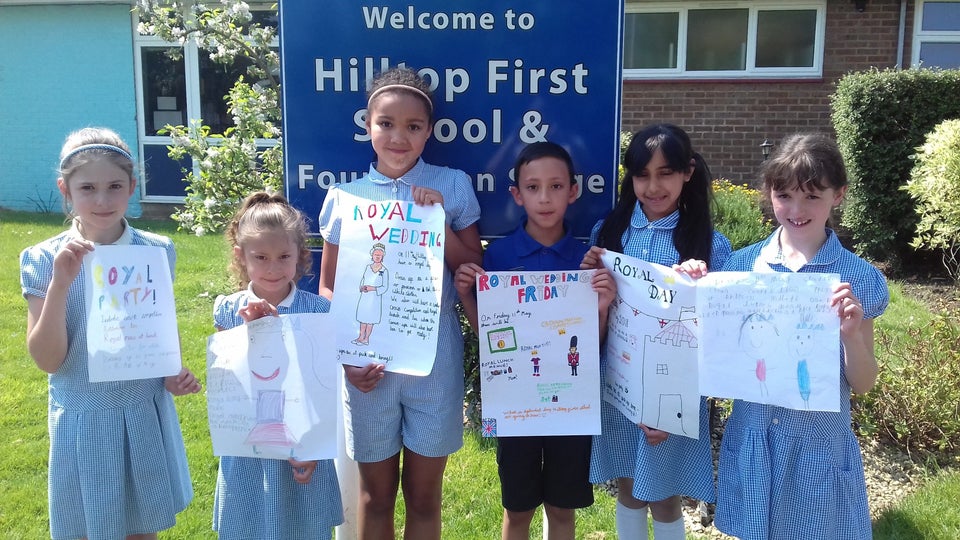 Other schools have been even more ambitious. Upton House School, located two minutes from the castle, has taken part in a Guinness World Record attempt with local design centre Busy Buttons, to create part of the world's longest folded wedding card – which they have called 'The Great Fold'.
It's a concertina card, one mile long, and each child at Upton created their own section. Roy, who is in Year 1, enjoyed the attempt: "I'm going to make the longest card for Prince Harry and Meghan Markle," he said. "It's going to be longer than Upton House School and it's going to stretch all the way from my classroom and into the playground!"
"It's beautiful, art is a big theme here and we have lots of talented artists," says headteacher Rhian Thornton. "The card depicts a landmark in Windsor that Harry and Meghan will pass on their journey as a married couple. All children wrote a special message on there and drew their own pictures."
When finished, the card will be given as a gift for the royal couple.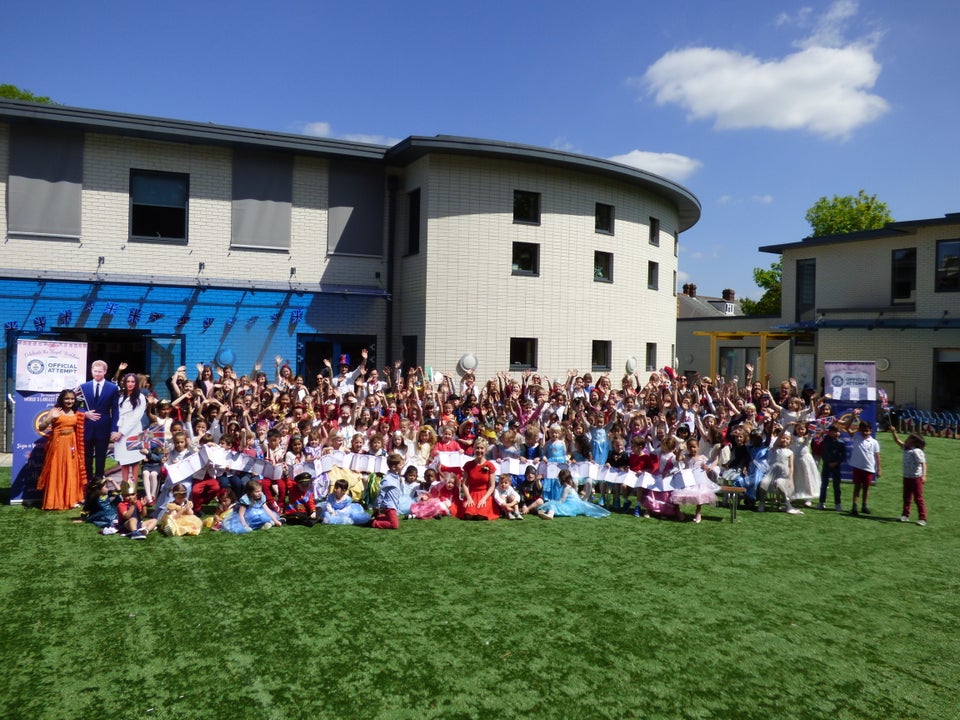 Upton has already had some other celebrations: on 4 May, it had a princes and princesses day and a red, white and blue day, "All kids dressed up in those themes, and everyone really went to town!" Thornton, the head teacher, tells us.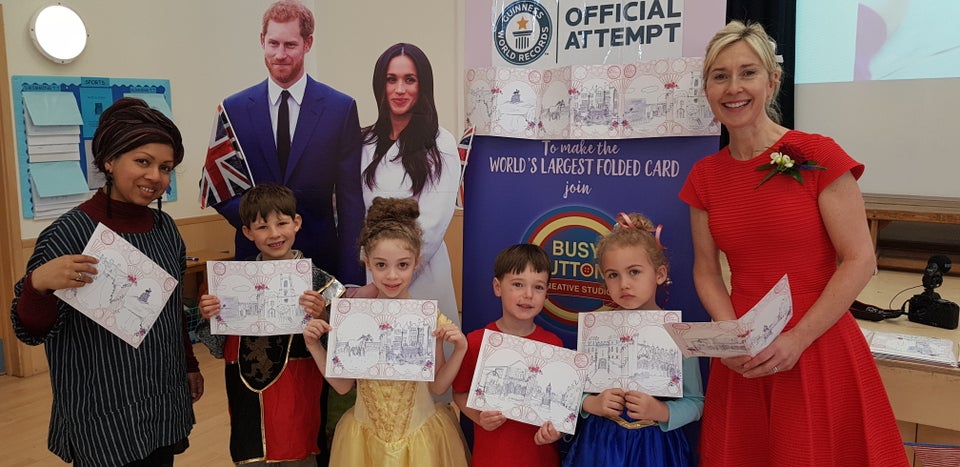 The school also had a royal picnic outside in their courtyard and were lucky with beautiful weather. School chef, Nikki, baked 350 cupcakes in red, white and blue with edible photos of Meghan and Harry on the top. The kids had union jack picnic bags with Meghan and Harry chocolates inside and they had a smoothie bike, where they made red, white and blue smoothies with different coloured fruit.
In the afternoon, the kids took part in a challenge to see if they could put together three royal jigsaws – of Buckingham Palace, Windsor Castle and the Trooping of the Colour – by the end of the day. "Nearly there," says Thornton, when we speak to her at 3pm.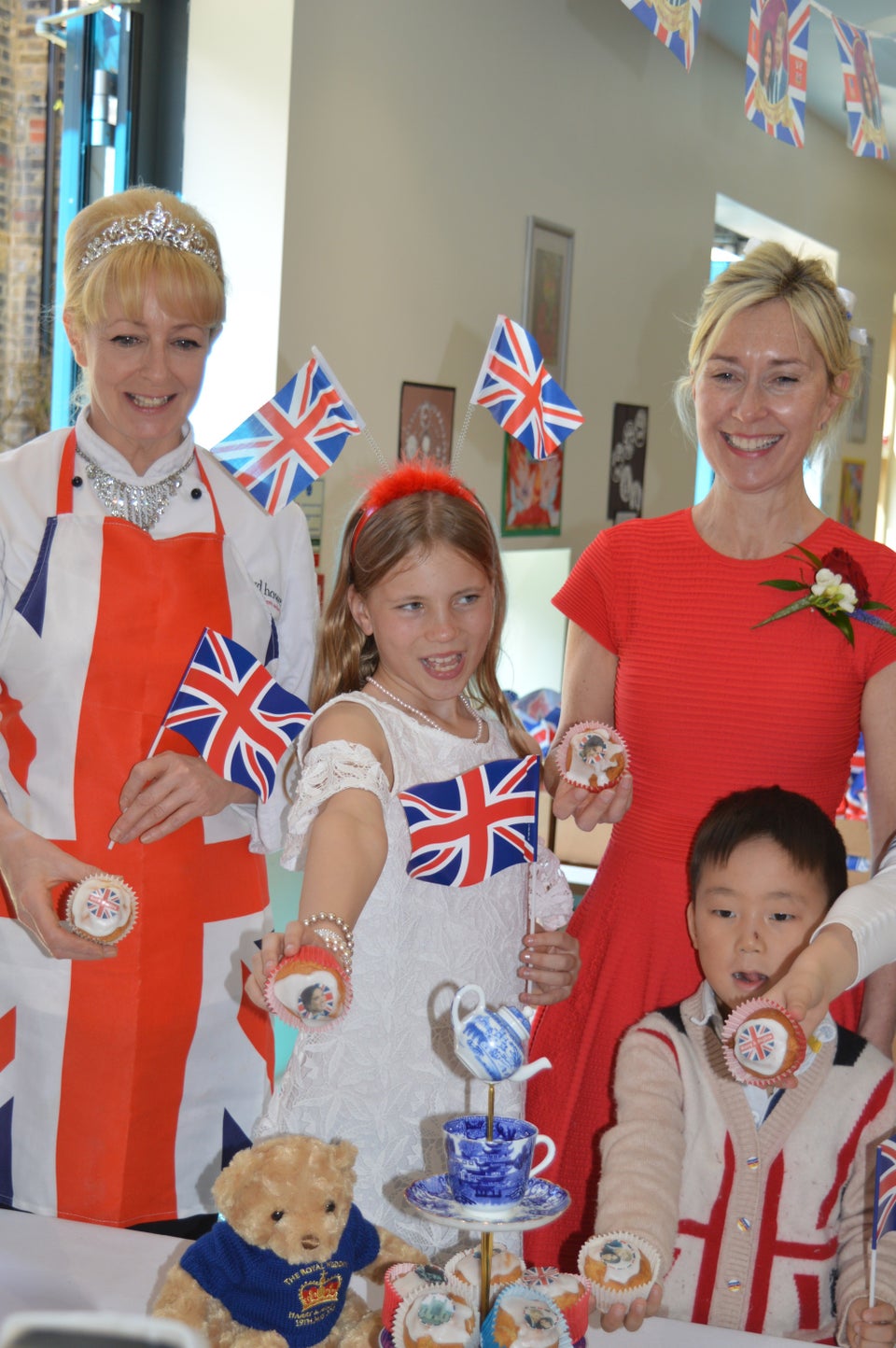 The pupils have been learning about the royals in history lessons, and have life-size cardboard cutouts of Meghan and Harry in their assembly hall, so it's hard for them to forget the wedding is near.
Even the youngest children in the school know what's going on, says Thornton: "I stood in up in assembly and said 'Why is everyone dressed up?' on our celebration day and a three-year-old put her hand up and said: 'Because Meghan and Harry are getting married, miss!'"