A Sikh student has said he is "heartbroken" after being asked to leave a bar in Mansfield because he was wearing a turban.
Amrik Singh said he was told on Friday night that he was not allowed to stay in Rush Late Bar, in Nottinghamshire, because he refused to remove his religious headware.
After the student, who recorded his conversation with staff, said that his turban is a religious requirement, he was told: "I didn't think you were allowed to come in a pub and drink anyway."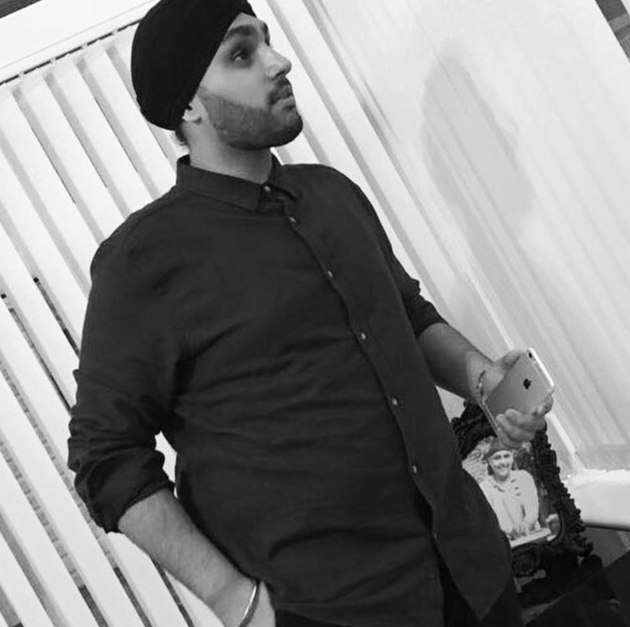 The bar released a statement on Saturday saying the door supervisor involved had been suspended and a thorough investigation launched.
Singh said that he was initially allowed into the venue, but he was removed after about 30 minutes.
"A bouncer approached me saying that I needed to remove my turban," he wrote in a Facebook post.
"I explained that a turban isn't just headgear, but part of my religion and that it protected my hair – and that I was allowed to wear a turban in public. The bouncer ignored this and said I needed to take it off. I refused and was subsequently dragged away from my friends."
He said that he felt "victimised" and so he decided to record the conversation.
"The fact that I was being removed because of my religious views really upset me. My ancestors have fought for the British army previously. Furthermore, me and my parents were born in Britain and all uphold British values.
"I was eventually let back into the venue but was told that I would not be allowed back in in the future because of my headwear.
"This experience ruined my night. It broke my heart. I'm very fortunate that I'm well spoken and I am able to stand up for myself. What if it was someone who wasn't confident was told to leave? I am disgusted."
He urged the venue to "take a long hard look at themselves and change their approach".
The post has been shared more than 5,000 times.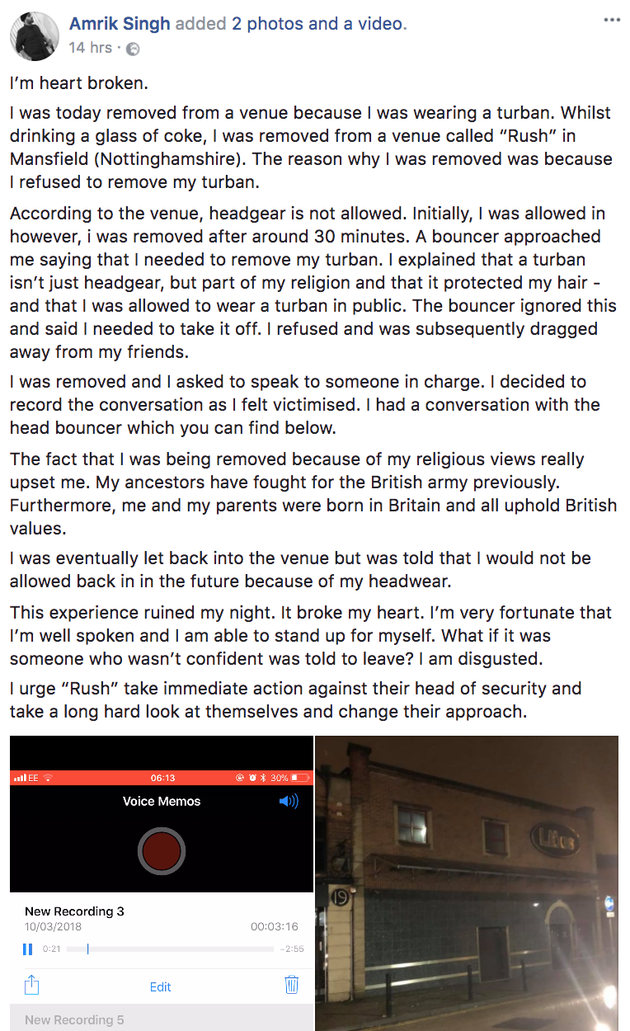 Rush said they were treating the incident "extremely seriously" and that the venue welcomes "all customers regardless of their race, ethnicity or background".
The bar posted a statement on Facebook on Saturday:
"We are extremely concerned about the incident that occurred last night. We are treating the whole incident extremely seriously and have suspended the door supervisor involved and a thorough investigation has been launched. We, as a venue, welcome all customers regardless of their race, ethnicity or background.

"The events of last night do not reflect the venues values and upon completion of our enquiries any necessary action will swiftly be taken. We offer our sincere apologies to the gentleman involved for any upset, hurt and distress that was caused to him and anyone else.

"Just to clarify the gentleman was invited back into the venue after this incident and was able to enjoy the rest of the evening."
Sonya Ward, leader of Mansfield District Council Labour group, called the actions of the bar staff "appalling".