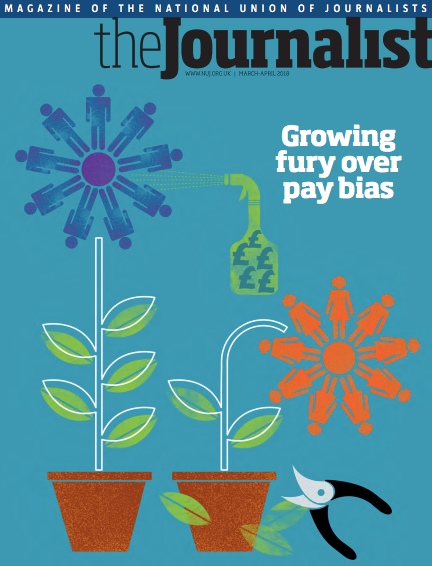 Under the seemingly positive headline of "NUJ leader gets 23% pay increase", the short article details the salary increase of the group's General Secretary, Michelle Stanistreet.
It reads:
"Michelle Stanistreet NUJ general secretary, has had a 23 per cent salary increase. The move, which takes her basic pay from £68,017 to £83,666, was made to correct a pay anomaly between her and her deputy, the assistant general secretary."
It goes on to reveal what was supposed to be a 12.5 percent difference between the salaries of Stanistreet and her deputy, Seamus Dooley, was "eroded" and only noticed when she took maternity leave.
Dooley deputised in her absence.
Using the figures available in the article its possible to work out Stanistreet was being paid £5,000 less than her deputy before the issue was addressed.
In the piece, Barry McCall, chair of the finance committee of the union's ruling national executive council, said: "The NUJ takes its commitment to equality extremely seriously and would never knowingly discriminate against any employee."
But this has been called into question as the official salaries were published in the NUJ's own accounts.
Taking average exchange rates and the depreciating value of the pound into account it appears the General Secretary was paid more than the required 12.5 percent difference in 2015 (around 17 percent) but this changed dramatically the following year when the difference had narrowed to around three percent.
The article appeared directly underneath a piece on the BBC being "challenged over equal pay" which is a preview of the edition's main article.

Barry McCall, chair, NUJ Finance Committee, explained the anomaly in a statement, saying "The pay of NUJ officials, including the general secretary (GS), is covered by a collective agreement with the officials' chapel. Under our long-standing house agreement with the Officials' chapel the general secretary is paid 12.5 per cent more than her deputy (assistant general secretary).
"Last year the assistant general secretary (AGS) took over as acting general secretary when the GS took maternity leave. At that time a serious anomaly was laid bare. The AGS was actually being paid more than the GS.
"The finance committee of the national executive council, which has oversight of staff pay, resolved to rectify this anomaly and to seek the restoration of the pay differential specified in the house agreement. Negotiations took place with the officials' chapel covering this and other pay issues, including the terms and conditions of assistant organisers, whose posts were upgraded.
"As part of the negotiations the pay differential between the GS and her AGS, which had inadvertently been breached, was restored. No claim was made for retrospection.
"The negotiations and their outcome were reported to the finance committee and the NEC at all stages."