To mark International Women's Day 2018, HuffPost UK has been considering the practical ways you can support women. Because while it's great joining in the conversation and showing your support on 8 March, we can also make a real difference by actively backing women – personally and professionally – every single day.
Making a habit of championing and empowering women can involve actions as small as congratulating a female colleague for a piece of work they've done, to signing up to a training scheme to mentor younger women starting out. We've found five of the most powerful things you can do to support females.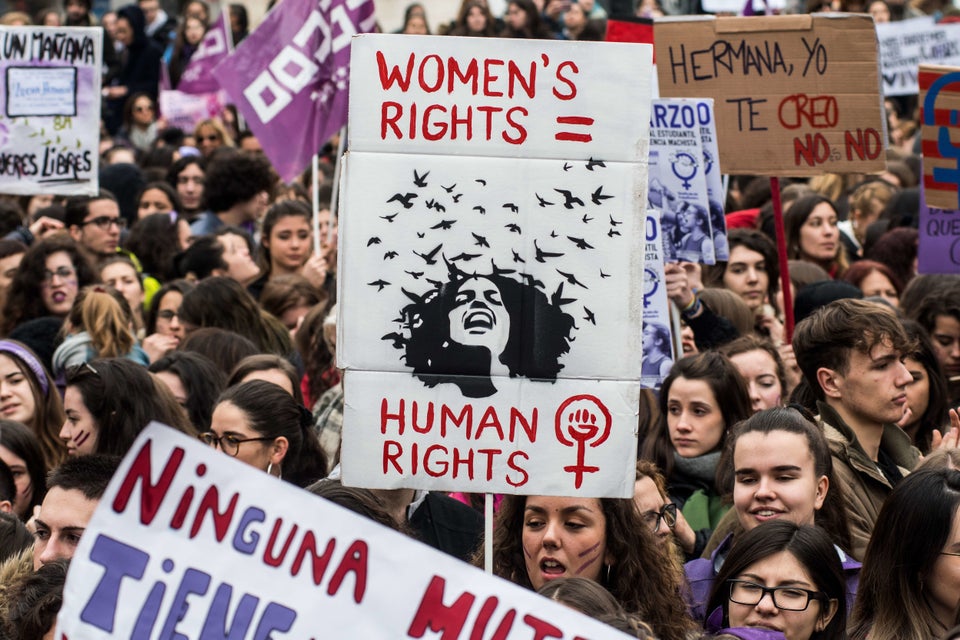 1. Mentor Other Women And Girls
As well as championing the girls in your own life, consider reaching younger women through mentoring schemes which aim to boost girls' self-esteem and give them role models to aspire to. Girls Out Loud is a mentoring scheme based in Manchester, while the Girl's Network runs in London – if you can't find a mentoring scheme in your local area, it may be worth approaching schools and youth groups to see if they'd be up for creating a similar-style programme.
Read more about mentoring here.
2. Call Out Sexism At Work
It can be the small things that create an environment in which sexism grows – behaviours that go unchecked and unchallenged but make the workplace a place where women don't thrive. "The only way to make a change, to stop these small acts, is to call it sexism and challenge it," argues Petra Wilton, director of strategy and external affairs, for the Chartered Management Institute (CMI). Point out sexism in everyday life by calling out businesses and brands on social media using the hashtag #EverydaySexism or share your story online by submitting your personal experience on the Everyday Sexism form.
Read more about calling sexism here.
3. Share Your Stories And Listen To Others
Bravely speaking out and sharing your story can, quite literally, change the conversation. "The power of story-telling is that it both brings an issue to life and enables others to identify with it in a way that all the statistics in the world fail to do," says Sam Smethers, Fawcett Society's chief executive. As well as sharing, we should make sure we're listening to other women – do this by reading books written by women, seeing films with strong female characters and reading women commentators.
Read more about sharing your story here.
4. Donate To Women's Charities
There are a number of not-for-profit organisations doing their part to advance women around the world, and many rely solely on donations and volunteers to keep their work going. Committing to volunteering, or giving a financial contribution to charities fighting for women and their rights, can make a real impact.
Read more about how you can help here.
5. Buy from Female-Run Small Businesses
The number of women setting up their own businesses has risen by 45% in the last decade, compared with a rise of 27% among men, but according to a team at Aston University, men are still nearly twice as likely to be entrepreneurs. Kerry Curtis from the Federation of Small Businesses (FSB) says harnessing this untapped potential in women entrepreneurs could potentially lead to an extra 340,000 businesses, support 425,000 new jobs and add £10.1 billion to the economy.
Read more about the female entrepreneurs building their own brands.
Get involved: We want to know what daily acts of feminism you do or come across. Email amy.packham@huffpost.com to share your story.